With two months already elapsed, 2021 is moving along at a steady pace in terms of local and regional government. The pandemic is not over, but there are signs that we've moved into a new phase.
For now, meetings in Albemarle, Charlottesville, and some other localities continue to be held virtually in order to halt community spread. It's too early for a return to City Council Chambers or Lane Auditorium, so for the next while it's possible to continue to be in many places at once. If you've ever wanted to get involved in local government, take advantage of online meetings while they are still the norm.
And if you do want to get involved, this newsletter is intended to get you to the information you need. For nearly two years now, I've written this each week to help you and others keep track of what's coming up.
I thank those who are supporting this endeavor, and I encourage you to send it on to other people. Thanks as always to the Piedmont Environmental Council for their sponsorship of this newsletter.
Monday, March 1, 2021
Charlottesville City Council meets virtually at 6:30 p.m. and there's a lot of key items on the agenda after Community Matters and the consent agenda. (meeting info)
First, Council will be asked to endorse the Affordable Housing Plan crafted by Rhodeside & Harwell (RHI) as the first step toward completing the Comprehensive Plan update and a rewrite of the city's zoning code. A major recommendation in the plan is for the city to spend $10 million a year on affordable housing. (latest draft)
"With $10 million in average annual spending over ten years, Charlottesville could grow its existing stock of subsidized homes by nearly 70 percent, preserve nearly 40 percent of existing subsidized housing at risk of becoming unaffordable or obsolete, and provide direct assistance annually to up to 2,000 households facing housing instability," reads the staff report.
That $10 million is to be broken down as $7 million in direct subsidies to support below-market housing, $2 million in tax relief, and $1 million in administration. The staff report states that the first five years of direct subsidies are already proposed in the city's capital improvement program. These are for the Friendship Court redevelopment being undertaken by Piedmont Housing Alliance and renovation and new construction at two city public housing sites.
Next, Council will be asked to endorse the Cherry Avenue Small Area Plan, a document whose creation was guided by the Thomas Jefferson Planning District Commission while City Manager Chip Boyles was the agency's executive director. Council held their public hearing on this on January 12 as part of a joint meeting with the Planning Commission. The Fifeville Neighborhood Association has also been heavily involved with its development. (link to draft)
"The plan should serve as a to-do list, helping to determine changes to local land use codes, capital investments, development of recurring programs, and adoption of one-time initiatives," reads the staff report.
Council is specifically being asked to add the Cherry Avenue document to the city's Comprehensive Plan. Previous Councils did the same for the Strategic Investment Area and the Hydraulic Small Area Plan.
After that, Council will get an update on the Historic Resources Committee's review of the city's Honorary Street Designation program. (staff report)
The final two items relate to the city's next budget. First, Boyles will present the city's budget for fiscal year 2022, followed by a presentation of the school budget by Superintendent Rosa Atkins.
Boyles' first budget totals $190,689,839 and is a 0.26 percent decrease from the existing year's budget. His budget message accentuates the positive, but acknowledges that the city has spending limits. (budget page)
"This budget continues to provide substantial investment in the services that our residents, businesses and visitors have come to expect from the City of Charlottesville, but still makes some reasonable choices and changes in service levels as we continue to look at efficiencies," Boyles wrote.
A few quick facts from the budget:
The capital budget includes nearly $7.5 million in funding for affordable housing initiatives
Charlottesville saw over $73 million in commercial construction in 2020
The budget includes funding to hire a Deputy City Manager for Race, Equity, Diversity, and Inclusion to oversee Human Rights Commission and Police Civilian Review Board
Council is being asked to consider seeking state permission for an additional local sales tax to pay for capital projects. This would require a local referendum. (state code 1) (state code 2)
Only $1 million is recommended for the 7th Street Parking Garage and an additional $7 million programmed for FY23
No additional funding is recommended for the West Main Streetscape and there is only one of the project.
Superintendent Rosa Atkins is presenting a $94.25 million budget request to Council. This request was approved by the Charlottesville School Board on February 22. Read Katherine Knott's story in the Daily Progress for more information.
There are three items on Council's consent agenda.
Final reading of an amendment to the city's CDBG grant to become compliant with federal rules on spending money on a timely manner (staff report)
First reading of approval to appropriate $600,000 in additional funding for adoptive services (staff report)
First reading of a $180,750 grant from the Virginia Transit Association to provide fares for working families (staff report)
More self-storage coming to Albemarle
There are a lot of projects on the agenda of the Albemarle Architectural Review Board. They begin at 1 p.m in a virtual meeting. (meeting info)
The highlights:
Tuesday, March 2, 2021
The Albemarle Planning Commission meeting starts at 6 p.m. and it is important to state first what is not on the agenda. A public hearing for a 94 foot cell tower in Greenwood will not proceed because the applicant has requested "infinite deferral." (meeting info)
The second, though, is sure to be an eventful one. A Virginia Beach company called RST Development is seeking a rezoning of 19.5 acres off of U.S. 29 in the Hollymead area to build a maximum of 370 units split between 259 multifamily units for rental and 108 townhouse units for sale.
That's a net density of 19.89 units an acre. The Comprehensive Plan designates the land as "urban density residential" which calls for a range between 6 units and 34 units.
The existing zoning is R-1 and without the change the developer would only be permitted to build between 19 and 29 units. The rezoning application includes a condition that 50 percent of the units would be rented to households who make less than 80 percent of the area median income.
"The County's Principal Planner for Housing has reviewed this section of the plan on affordable housing and has expressed no objections to the proposal or the language used," reads the staff report.
However, planning staff are not recommending approval at this time, in part because at least one of the proposed buildings would be "inconsistent with the recommendations of the Places29 Master Plan." There's also a concern about the number of students the rezoning would add to area schools.
Immediately to the south is the Brookhill mixed-use development which was rezoned to the Neighborhood Model District. To the east is the Forest Lakes neighborhood whose homeowners association is opposing the development.
"Forest Lakes is getting geared up for our involvement in this," wrote Scott Eliff of the Forest Lakes Community Association in a January 25 email included in the packet. "Strong view that this should be denied – [on] a wide range of grounds, with a lot of supporting analyses. We'll be prepared when Planning Commission gets scheduled."
There's a campaign to oppose the development on the Forest Lakes website, including a 15 minute video in which Elliff talks about what he considers the flaws in the project. Language in a petition claims it would decrease property values and ruin "entryway aesthetics" for the existing neighborhood. The petition also claims there has been "virtually zero involvement of the local community."
A community meeting for the project was held on July 20, 2020. That meeting can be reviewed on YouTube.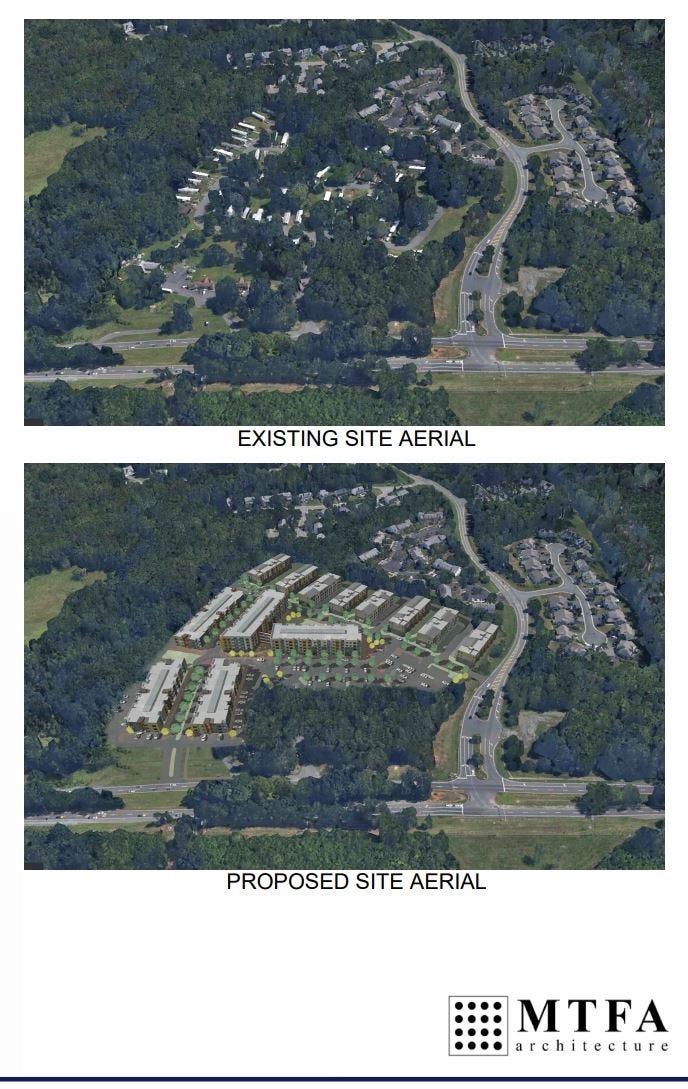 Other meetings:
The Greene County Board of Supervisors will hold a budget work session beginning at 4:30 p.m. (agenda) (budget page)
The Nelson County Board of Zoning Appeals meets at 7 p.m. in person at the General District Courtroom in Lovingston (agenda packet)
Wednesday, March 3, 2021
The Albemarle Board of Supervisors meets at 1 p.m. today for what appears to be the lightest agendas for a regular meeting in some time. However, two of the items are substantial.
There is a proposal to increase some fees paid by developers to cover the cost of processing land use applications and other permits. A public hearing is scheduled for April 21, 2021 but Supervisors will discuss the current proposal. (staff meeting)
In the evening is a public hearing on the proposed $466 million budget for FY22. You can review the 261-page budget here but I recommend reading Allison Wrabel's story in the Daily Progress for an overview or my very brief summary. Or watch the video!
Fluvanna community survey
The Fluvanna Board of Supervisors will meet in-person at 4 p.m. but a Zoom link will be available for those who wish to participate. (agenda packet)
Over 500 people responded to a survey of Fluvanna residents conducted last fall. Most respondents rated Fluvanna as an "excellent", "good", or "fair" place to learn, live, play, raise children, retire. Nearly twenty percent of respondents rated Fluvanna a "poor" place to run a business. Just over a third responded that the county was a "poor" place to shop. Just over forty-one percent of respondents said Fluvanna is at a "standstill" and 35.5 percent said the county is "moving in the right direction."

To get a sense of what issues are salient in Fluvanna, you might consider reading through the responses to question 12 – What is the most important issue facing Fluvanna in the next five years? Some highlights:
"Losing our rural communities and safe roads by allowing dense subdivision builds"
"We need more lanes on 53 to Cville. Someone needs to control Aqua and lower the water rates. We need more businesses in the county to take the tax burden off of the residents."
"We need businesses that employee more than 10 people! And require new houses being built to 10 acre minimum!!"
"We need a real grocery store that can support the number of households in our community and need a sufficient number of gas pumps for the number of house holds in our county."
"People need to realize the lake is so large, that Fluvanna isn't rural. How much money leaves Fluvanna to go to shop/eat in Louisa, Albemarle, Charlottesville, and Richmond?"
"Climate change is real. Virginia has finally acknowledged that. People WILL be moving inland. Fluvanna needs to be prepared with goods, services, and roads to accommodate new people."
"Racial equality, environmental sustainability, maintaining parks"
Thursday, March 4, 2021
The first meeting of the Thomas Jefferson Planning District Commission without Chip Boyles as director will begin virtually at 7 p.m. with interim director Christine Jacobs taking the helm. (meeting info)
On the agenda:
A review of what work the Rideshare program will undertake in FY22.
A review of the Rural Transportation Planning work program, which includes the Zion Crossroads Gateway Plan to assist planning for an area designated by both Fluvanna and Louisa for growth.
That plan also includes a portion of the Route 29 North Corridor study underway for both Albemarle and Greene between Airport Road and U.S. 33.
Jacobs will present a "100 day-plan" to commissioners.
As of February 23, there have been 12,766 individual searches of the Porchlight affordable housing search portal.
In other meetings:
Charlottesville City Council will hold its first work session on the budget at 4 p.m.
Albemarle's Natural Heritage Committee will meet at 5:30 p.m. (agenda)
Charlottesville's Bike and Pedestrian Advisory Committee will meet at 5:30 p.m. (meeting info)
Friday, March 5, 2021
At noon, Albemarle County will continue its information series on stream health with a discussion about the local water supply plan with officials from the Rivanna Water and Sewer Authority. (meeting info)
Thanks for reading! I know there's a lot of information here, but there's a lot of information out there, too! Drop me a line if you have questions, comments, or have more information.
---
This post was contributed by Sean Tubbs. Sean is a journalist working to build a new information and news outlet centered around Charlottesville and Virginia. In 2020, he launched a daily newscast and newsletter and also created a semi-regular podcast on the pandemic.
Support for Sean's "Week Ahead" update comes from The Piedmont Environmental Council.