I must admit this is a slow week for upcoming meetings, but this entry in particular ended up being around the same length. Two (or three) meetings this week are important meta meetings and take some additional context. That's the primary purpose of these weekly summaries.
But, this week is different. It's the fifth one of the month, making it difficult for regular meetings to be scheduled. That makes it a good week to schedule big events for Comprehensive Plan updates.
The main two entries for Monday both have to do with major planning efforts in the two largest communities of the Thomas Jefferson Planning District:
As always, thanks to the Piedmont Environmental Council for their support of this newsletter and notably the hours that go to produce it each time.
Monday, August 29, 2022
Albemarle County continues AC44 process with first of several community workshops
Albemarle's Comprehensive Plan is being reviewed in four phases under the name AC44. The public process has officially been underway since last November, when the Board of Supervisors adopted a resolution of intent to make amendments to a document last updated on June 10, 2015.
"Engagement for the Comprehensive Plan update will apply the new [county value of Community], through an equitable engagement process designed to represent a diversity of voices and to reach community members whose perspectives have not historically been well-represented in County processes," reads one paragraph in the resolution.
Where do we stand nearly ten months later?
Here's what the county has been up to: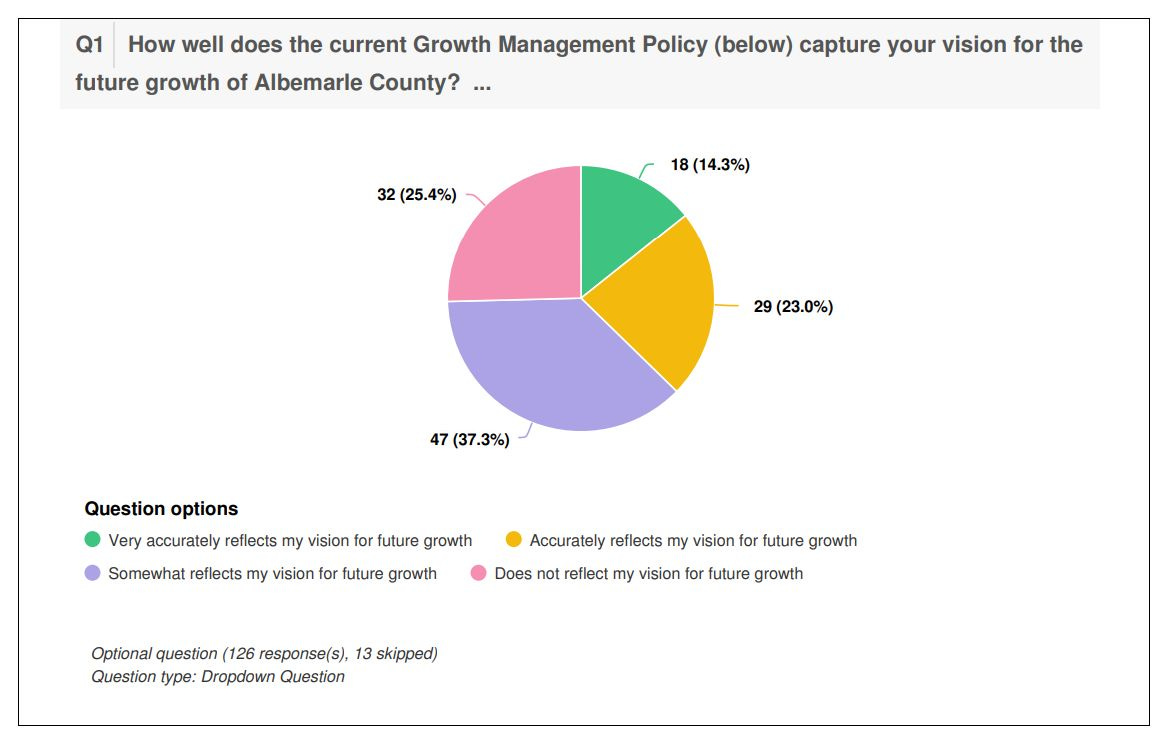 Now we're caught up to the end of the summer. The public engagement continues tomorrow night with the first of several community workshops.
"We want to hear your 'big ideas' about how we can guide future development, natural resource protection, transportation systems, and other related topics," reads the meeting page for the 6 p.m. event.
What big ideas might be found in the response to the second questionnaire? There's a lot of responses in the feedback summary, but the following are the first chance respondents had to write out their views in response to Growth Management Option #1:
"Explore opportunities to provide more density and more infill development within the existing Development Areas, while retaining and enhancing green infrastructure"
Here are some of what popped out at me during my review in chronological order beginning with how they appear on page 30. There is no information in this report that identifies respondents. (read the Growth Management Options Feedback report)
"With the lack of restrictions on vineyards/cideries and their increasing wedding business, it would appear you are preserving space for the very affluent to make money off greenspace, and asking everyone else to live in very dense communities."

"Need to ensure amenities are developed along with density. Lots of density currently going in along 5th and Avon streets without any community amenities. Need walkable parks, retail, safe bike and pedestrian trails, schools!"

"What is this 'projected growth' nonsense? Have you not heard the phrase 'if you build it they will come?' STOP APPROVING MORE GROWTH IN THE COUNTY. It's wildly unsustainable, ugly, bad for climate change and water supply, and lacks infrastructure."

"Infill sites are normally more expensive to develop which in turn raises cost on final product which eliminates the affordability aspect. Not all sites currently in the growth area are feasible to be developed which won't allow us to reach the projection."

"We keep building but we don't provide roads on the 29 corridor. We need to take shopping centers that are vacant and redevelop them into apartments/condos/townhomes/greenspace!"

"You are not communicating well to your audience. This option is not clear. It appears you are ready to sacrifice the designated development areas in terms of quality of life, to protect the other 95% of 'rural' area"

"It would help me be in support of this option if there was some indication that there would be a directive to allow more by right uses in some of the rural areas. Rural citizens should not have to drive 35 miles for basic services."

"Build a comprehensive high school in the north. High school centers are a waste of money and do not help with overcrowding."

"Walking infrastructure, tree canopy, multi-use paths, and using low polluting transport are key to having this option work. I'm not sure how this project could meet equity goals if it doesn't improve quality of life for those living in development areas."

"There is vocabulary used that I don't understand, namely because this isn't a topic I have talked about/interacted with before—break it down into common language that people can connect with and have a conversation."

That last one is a Big Idea I can get behind and do my best to try to explain all of these processes. I hope to attend this Big Ideas workshop tonight and share whatever I can learn. I want to focus more on this discussion over the years, which also includes a concurrent update of the zoning code.
There aren't very many articles about this topic, but I hope to continue updating you as best I can on land use policies in Albemarle. The county's U.S. Census count for 2020 is 112,395 and the latest Weldon Cooper projections model a 2050 population of 155,102.
If you're interested in getting involved for the first time, for real, attending this in-person meeting would be a good way to help build whatever you want to see. As you see in the responses I've highlighted above, there's a lot of disagreement. But that's always going to be the case in a complex community such as the one in which we all live.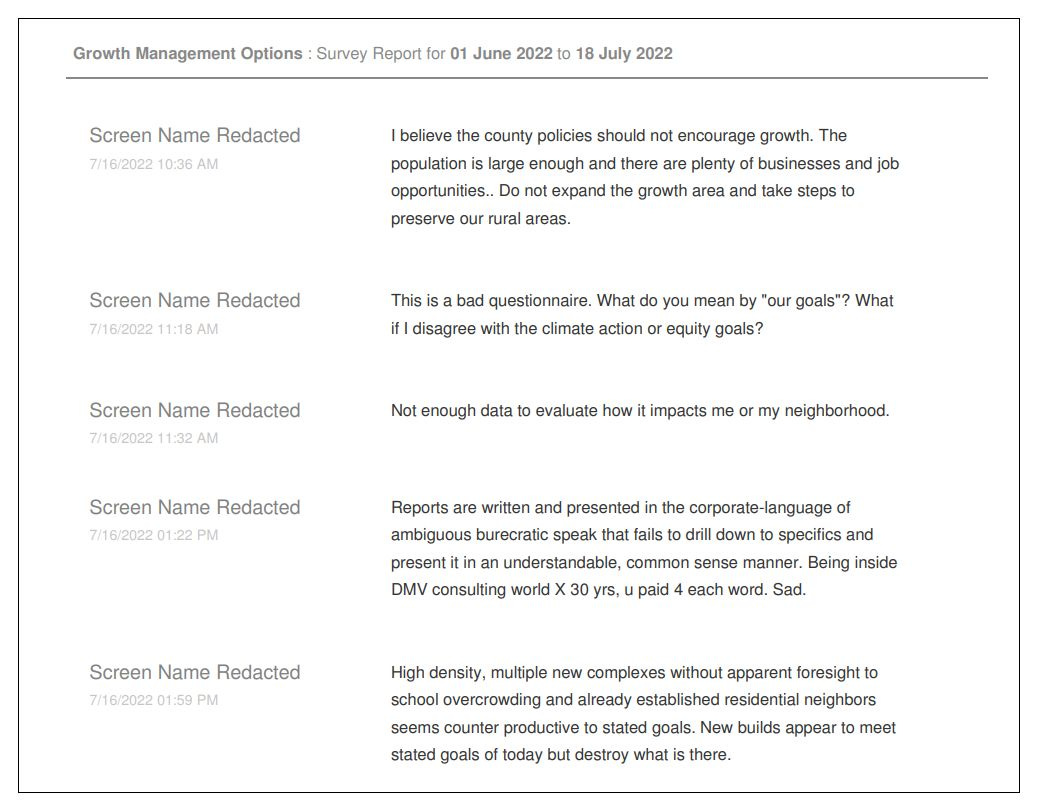 Cville Plans Together advisory group to meet
Charlottesville is a lot further along in its overarching review of its Big Land Use Documents. The firm Rhodeside & Harwell was hired in late 2019 to complete a Comprehensive Plan, craft an affordable housing strategy, and rewrite the zoning code.
Two out of three of those tasks have been completed, and the third has been underway all the summer as various stakeholders have weighed in on a document called the Zoning Diagnostic and Approach report.
"The [Comprehensive Plan] acknowledges the negative legacies planning and zoning have had and how they have been used to divide, exclude, and diminish communities of color and historically marginalized communities," writes James Freas, the city's director of Neighborhood Development Services, in the introduction to the diagnostic report.
"Frequently, the tools of planning and zoning were used to either advance large-scale change or prevent it entirely," Freas continues. "Tools like urban renewal removed neighborhoods like Vinegar Hill wholesale while zoning was used to reinforce or create homogenized neighborhoods and then prevent them from changing."
Freas writes that the new land use policies in Charlottesville must address racial equity and supply more housing that is affordable.
"Meeting this commitment requires that our zoning allow people to build more housing units throughout the city, that it establishes incentives to include affordable units in new multi-family development, and that is sensitive to the potential for displacement," the NDS director continues.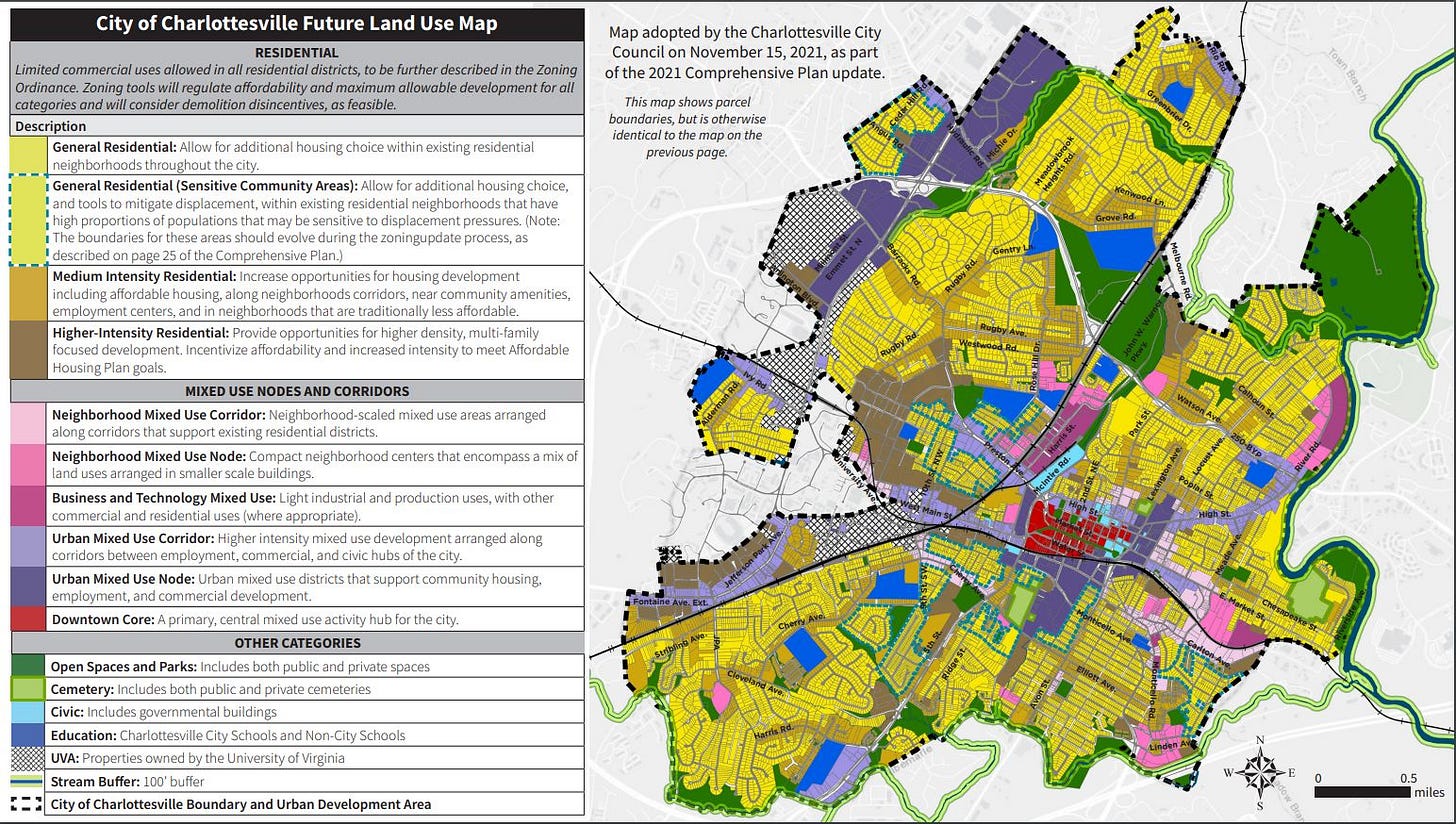 The Comprehensive Plan's Future Land Use Map envisions additional density on every single residential parcel across the city. The zoning rewrite is intended to turn that idea into reality, by reducing the role elected and appointed officials will make in future land use decisions. Instead, the idea will be for more decisions to be made at the administrative level by city staff.
Since the Affordable Housing Plan was adopted on March 1, 2021 and the Comprehensive Plan was adopted on November 15, 2021, hundreds of parcels have changed hands and the City Council has made several decisions to approve more density. This includes approvals of two rezonings sought by the Piedmont Housing Alliance for two projects on Park Street, as well as the approval of a rezoning and a special use permit for 28 units at the end of Valley Road Extended, a cul–de-sac in Fifeville.
This public review might no longer exist if the recommendations are implemented.
"Both the rezoning process and the special use permit process are reviewed in a discretionary fashion, in which the review body is allowed to reject the rezoning or permit," reads page 10 of the report. "This provides significant leverage to the City, but also creates a frequently contentious, unpredictable, and time consuming process."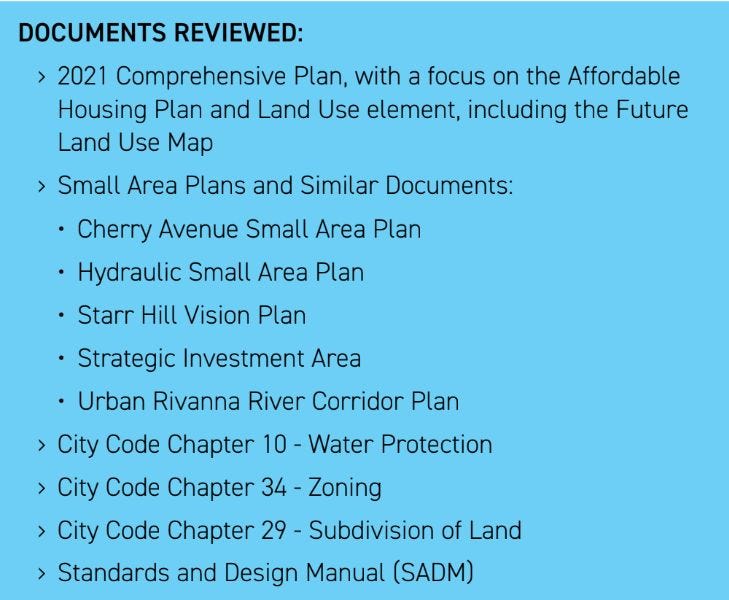 This past week saw the publication of a draft inclusionary zoning policy intended to encourage construction of below-market units by offering incentives. Public comment is being taken through a survey through September 6. Here's the form in English and here's the form in Spanish. The City Council and Planning Commission will hold a work session on the final draft of the zoning diagnostic on September 27.
Until then, the Steering Committee for the overall Cville Plans Together initiative will meet for a virtual meeting beginning at 5:30 p.m. This group includes representatives from groups with a stake in the process and this is their first meeting since March. Over the course of the two and a half hour meeting, they will be taken through three topics:
Residential District Testing – (pages 20 – 54 in the draft report)
Better Zoning Standards – (pages 56 – 83 in the draft report)
Zoning for More Affordable Housing (pages 9 – 18 in the draft report and the entire Inclusionary Zoning Analysis)
I will record the whole thing and use it as a vehicle to try to explain the process to a wide audience. The meeting can be viewed by all and it will likely be posted on YouTube with all of the other videos in the series.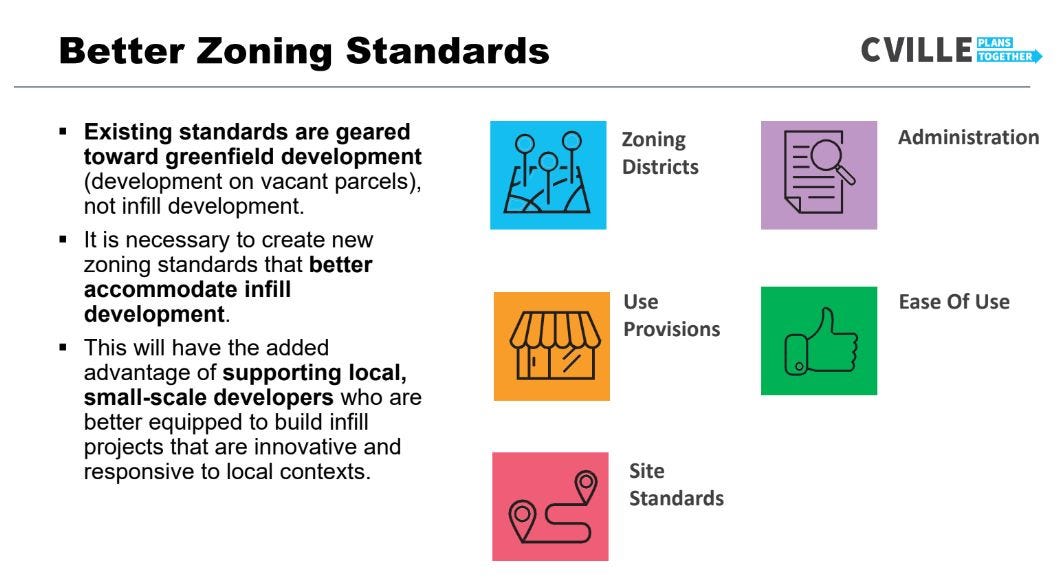 Tuesday, August 30, 2022
It's a quiet day.
The only meeting I could find is that of a subcommittee of Charlottesville's Human Rights Commission. The Community Engagement group will meet virtually at 12:30 p.m. There's no agenda posted two days before, which makes it harder for a publication called Charlottesville Community Engagement to know whether to pay attention. (meeting info)

Wednesday, August 31, 2022
It's the final day of the month. There are no meetings that I could find. Does that mean it will be a quiet day?

Thursday, September 1, 2022
Regional planning board to get update on cigarette tax
The Thomas Jefferson Planning District Commission will meet in-person at 7 p.m. at the entity's offices on Water Street in downtown Charlottesville. (meeting page)
One item that will be presented close to the beginning of the meeting is one of my favorite acronyms – the CAPER! This has nothing to do with a nice piccata, but stands instead for the Consolidated Annual Performance and Evaluation Report for federal funding from the U.S. Department of Housing and Urban Development.
"The HOME program's goals are to assist first-time homebuyers, preserve existing housing stock by rehabilitating owner-occupied homes, and develop new housing units for home ownership or rental," reads an overview written early in the report.
The HOME Consortium includes the Albemarle Home Improvement Program, the Fluvanna / Louisa Housing Foundation, the Nelson County Community Development Foundation, and Skyline CAP. The City of Charlottesville seeks proposals for its allocation through a competitive process. Previous examples of funded projects include downpayment assistance through Habitat for Humanity of Greater Charlottesville and energy efficiency programs run by the Local Energy Alliance Program (LEAP).
The comment period is underway through September 19, 2022. Do you have something to say?
The TJPDC will also get a presentation on the Blue Ridge Cigarette Tax Board. Earlier this year, several counties began implementing a cigarette tax. That's a power they did not have until action taken by the General Assembly in 2020 to equalize taxing authority between cities and counties. The TJPDC runs the tax board on behalf of several localities, though at least one nearby locality has opted not to participate.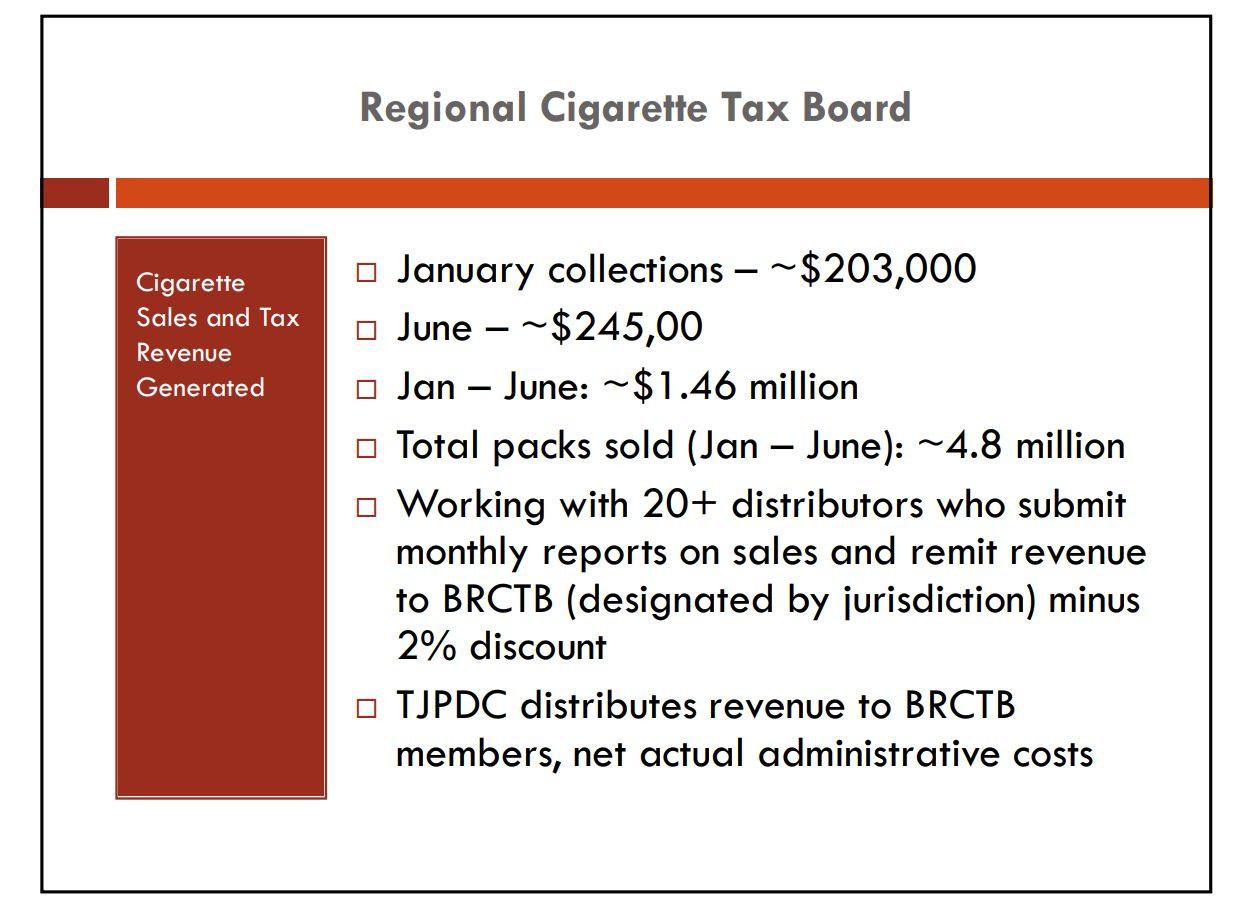 In other meetings:
The Nelson County Electoral Board will meet at 10 a.m.
The Albemarle Natural Heritage Committee will meet in-person at 5:30 p.m. for the first time in over two years in room 235 of the county's office building on McIntire Road. There will be a presentation on bee research that has been conducted in county parks by a Ph.D candidate in the University of Virginia's Department of Environmental Sciences. There's more stuff on the agenda, too, and if you want to go, you'll have to go in person. The era of online-only meetings is over. (meeting info)
Did you miss the in-person meeting on the AC44 process this past Monday? There's a virtual event beginning at 7 p.m.
Friday, September 2, 2022
The Fluvanna County Electoral Board will meet at 12:30 p.m. This is the only meeting I am aware of but perhaps there is one I missed? This is likely. 
---
This post was contributed by Sean Tubbs. Sean is a journalist working to build a new information and news outlet centered around Charlottesville and Virginia. In 2020, he launched a daily newscast and newsletter and also created a semi-regular podcast on the pandemic.
Support for Sean's "Week Ahead" update comes from The Piedmont Environmental Council.