Different localities have different ways of doing things and in many ways this work and the Fifth District Community Engagement work is akin to research in political science. I owe my journalism career to my undergraduate degree in that field from Virginia Tech, and the 12-credits I got for an interview in 1995 with WVTF Public Radio.
Which is a long-winded and self-congratulatory way of saying I'm very interested in how different localities treat the minutes of their elected bodies. As much as I want to have listened to every meeting, I often have to rely on minutes to know what happened. In these times when Charlottesville City Council are meeting every week, I'm grateful draft minutes are posted with agendas.
The same cannot be said of Albemarle County Supervisors where the most recently available set of minutes is from March 9, 2022.
That's one of the things I look for each week, and I'm grateful to have the opportunity to write about this type of thing full-time with the hope of educating more people about how these processes work. On the eve of an election, this information and research seems more important than ever.
Here's some of what's happening this week:
Charlottesville City Council on Monday will take up the $5.9 million purchase of floodplain land that had been slated for 245 apartment units, as well as an amicus brief to support a lawsuit to stop Virginia from leaving the Regional Greenhouse Gas Initiative.
Louisa Supervisors on Monday will consider the amending of a performance agreement for a mixed-use development in Zion Crossroads
Albemarle's Architectural Review Board on Monday will take a look at the initial site plan for the 525-unit Old Ivy Residents Project
Albemarle County on Monday will hold a virtual webinar on draft goals for Comprehensive Plan update
Election Day is Tuesday
The Fluvanna Planning Commission on Wednesday will have a public hearing on the intake for the waterline from the James River to Zion Crossroads
The Crozet Community Advisory Committee will talk transportation and land use at their November meeting this Wednesday
Will the public facilities required for two Amazon Web Services data centers be consistent with the Comprehensive Plan? The Louisa County Planning Commission will consider the matter on Thursday
There are no meetings in Greene County or Nelson County this week.
Thanks to the Piedmont Environmental Council for their support and sponsorship of this newsletter and the time it takes each Sunday to do the work.
Monday, November 6, 2023
Charlottesville to consider joining amicus brief arguing for Virginia to stay in RGGI
Charlottesville City Council holds its first regular meeting of November with a work session at 4 p.m. followed by a regular session at 6:30 p.m. Both are in City Council Chambers. (meeting overview)
The work session is another preparation for the upcoming development process for the FY25 budget. In all there are presentations on four departments. They are Neighborhood Development Services, Parks and Recreation, Public Works, and Utilities. (view the document)
There's a detailed presentation from Parks and Recreation, which lists Riann Anthony as acting director. Did Dana Kasler leave?
There's also a detailed presentation from the utilities department. Both identify staffing shortages as a major challenge.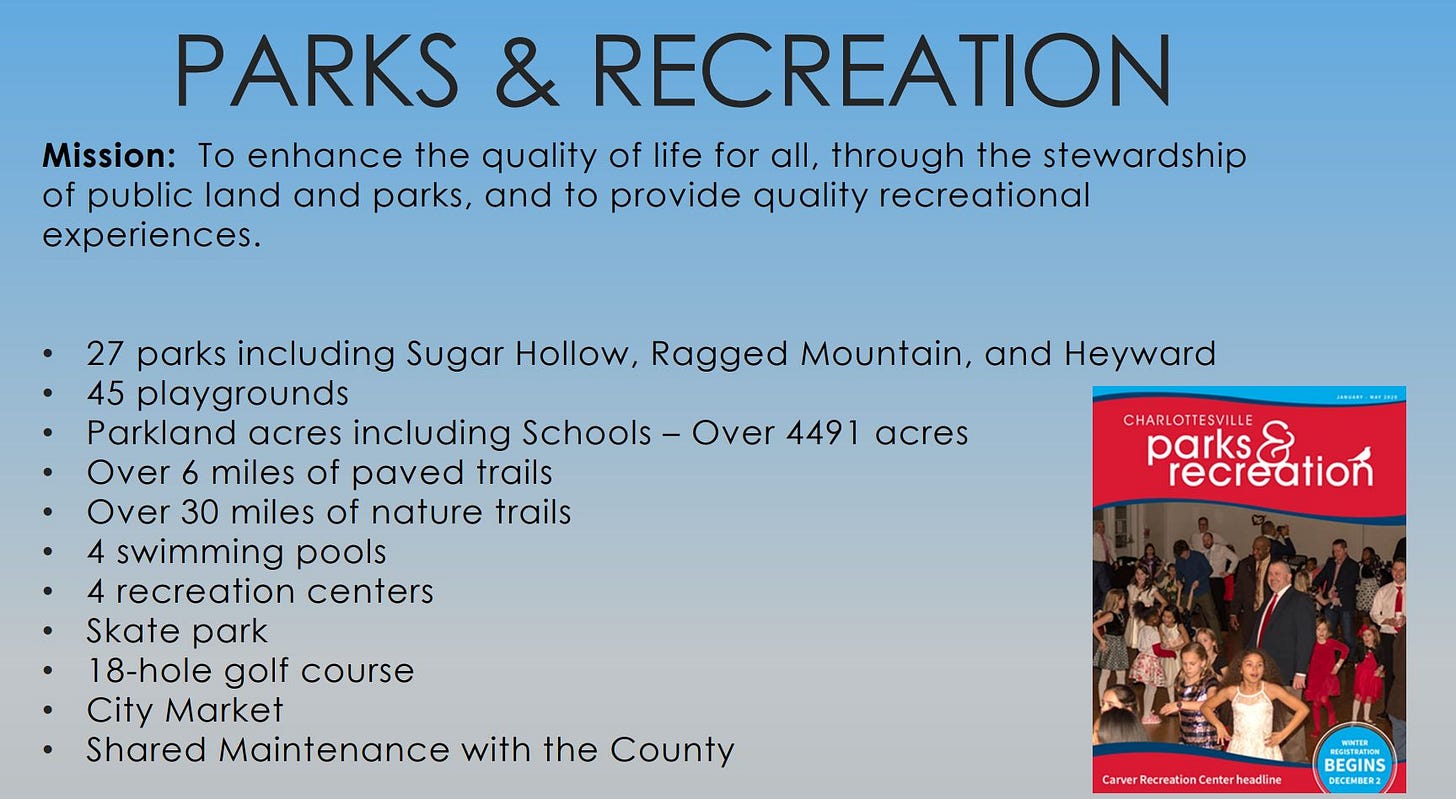 There are two proclamations to begin the regular meeting.
Cynthia Richardson is being honored as the Virginia State Crisis Intervention Team (CIT) Coalition Peer of the Year (read the proclamation)
First Baptist Church West Main Street is celebrating its 160th anniversary this year. (read the proclamation)
Next up is the consent agenda:
After the report from City Manager Sam Sanders, there will be a presentation on the master plan for the Parks and Recreation Department that's underway. The city has hired PROS Consulting to lead the work, as I reported on September 17.
This presentation takes place before Community Matters, the name given to the public comment period. Will public comment be taken virtually, or is that still on hold?
There are four business items on the agenda with two of them related.
Even though the Development Code is perhaps close to being adopted, landowners have continued to go through the existing process. The owner of 630 Cabell Avenue recently added 1,200 square feet to the property, enough to build more housing units. To do that, the section that was added needs to be rezoned to Residential-3 (R3). The Planning Commission voted unanimously to recommend approval. (staff report)
Since taking office in January 2022, Republican Governor Glenn Youngkin has made it a top priority to withdraw the Commonwealth of Virginia from the Regional Greenhouse Gas Initiative (RGGI). Revenue from the sale of carbon credits goes to pay for two state programs. They are the Housing Innovation Energy Efficiency fund and the Community Flood Preparedness Fund.
"In Charlottesville, Piedmont Housing Alliance and the Charlottesville Redevelopment and Housing Authority have been awarded nearly $10 million worth of RGGI money through the Affordable and Special Needs Housing program to renovate and build affordable homes in our region," reads a staff report for a resolution for Charlottesville to file an amicus brief to support the Southern Environmental Law Center's suit to stop the executive branch from leaving an entity they argue is mandated by state law. Read my August 25 story to learn more.
Next, Charlottesville will follow the example of the Jefferson Scholars Foundation and purchase land slated for development. Last November, that entity paid $4.3 million to buy 1.59 acres of land on Maury Avenue where Southern Development had planned to build 64 apartment units.
Now, the city has agreed to pay developer Wendell Wood $5.9 million to purchase nearly 24 acres of floodplain land that Seven Development had been seeking site plan approval to build 245 units. More on this in the story I wrote on Thursday.
Louisa County to amend performance agreement for Zion Crossroads development
The seven members of the Louisa County Board of Supervisors will meet at 5 p.m. for a closed session and convene in open session at 6 p.m. (meeting overview)
One of the first items of business is to approve the minutes from the October 16 meeting. These can be reviewed now before approval. (take a look)
There are eight items on the consent agenda, several of which have to do with capital projects for volunteer rescue stations. There's also an amended performance agreement between the County, Crossing Pointe LLC, Get Active LLC, and GW & FW Holdings. Among other things, the new agreement would increase the tax rebate associated with the agreement from $250,000 to $500,000. (read the new agreement)
There are two presentations for information. The first is from the President of J. Sergeant Reynolds Community College. The second is a discussion on a through-truck restriction for West Green Springs Road.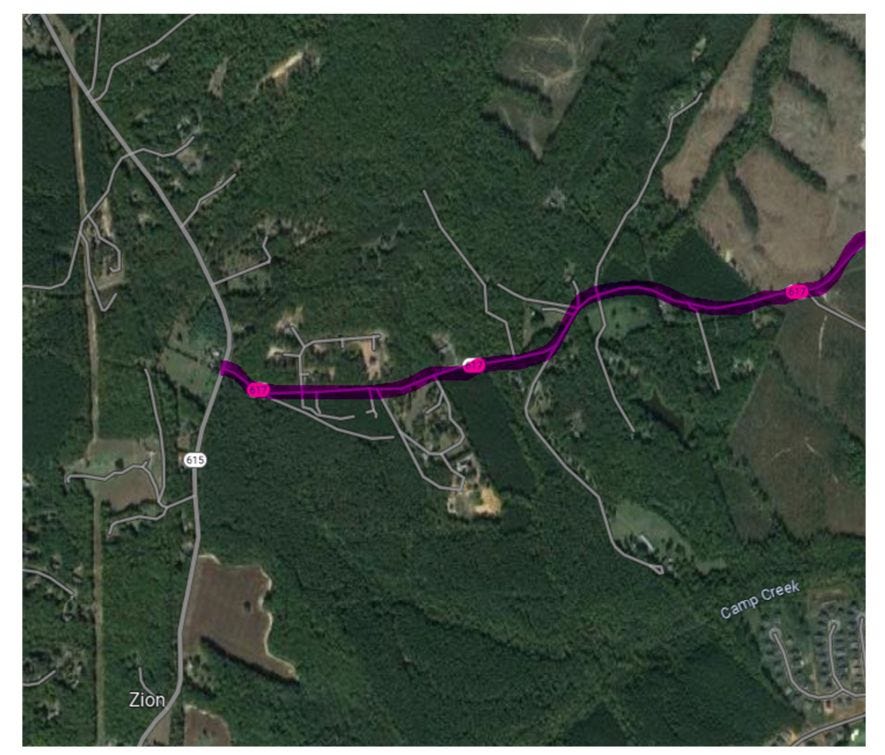 Under new business, there is a resolution to disburse funds from a Virginia Department of Forestry Grant. Brackett's Farm has applied for $4,577 and the Louisa County Cooperative Extension Office has applied for $10,400. (staff report)
There's also a resolution to support a request from the Virginia Association of Planning District Commissions for an additional $150,000 in the next biennial budget for each PDC. (staff report)
There are two public hearings.
The first is for a conditional use permit for a marina, recreational sales and service, parking, and outdoor storage. The Planning Commission recommended approval on October 12. (staff report)
The second is a conditional use permit for Everleigh Vineyards and Brewing Company to have a special occasion facility and outdoor gatherings. The Planning Commission recommended approval on October 12. (staff report)
HAC to meet to advise Council on Development Code
The membership of the Charlottesville Housing Advisory Group consists almost entirely of people who are employed in the nonprofit housing sector. Since the Planning Commission's public hearing on September 14, this group has pushed Council to consider two new zoning districts intended to restrict development rights in the areas the Future Land Use Map designated as "Sensitive Communities."
"We operate within a social fabric that privileges housing as an investment vehicle over housing as a human right," said Piedmont Housing Alliance CEO and HAC member Sunshine Mathon at Council's October 3 work session. "Corporate aggregation of homes across the country including in Charlottesville is the latest expression of this principle." (read that story)
On October 18, 2023, the Planning Commission recommended a zoning ordinance that included the Residential Core Neighborhood A district, despite concerns from at least three Commissioners.
"I've talked to some of my neighbors who live in this area and asked them 'is this what you want?'" said Commissioner Lyle Solla-Yates and 10th and Page neighborhood resident. "Quoting my neighbor Bumblebee, 'my property value is mine. Don't take it.' Everyone has said no, they don't want this." (read that story)
Now the HAC holds its regular meeting ahead of the usual time to once again talk about the Development Code and the changes they'd like to make. The agenda refers to a series of attachments which are not included on the meeting page. (meeting overview)
They'll meet at noon at 700 E Jefferson Street, 2nd Floor Conference Room Charlottesville, VA 22902. That's the Office of Community Solutions, the part of city government that will be charged with ensuring that the many affordability rules that will be imposed are actually followed. 

Albemarle design panel to review Old Ivy Residences
In March, the Albemarle Board of Supervisors unanimously approved a rezoning for Old Ivy Residences that will allow for up to 525 units to be built on 35.37 acres with a variety of different housing types. The Architectural Review Board will take a look at the initial site plan at their meeting at 1 p.m. in Lane Auditorium. (meeting info)
"East of the site are the Huntington Village townhouse community and the University Village condominiums," reads the staff report. "South of the site, across Old Ivy Rd., are large printing, storage, and distribution buildings that support the University of Virginia."
The site plan states that there will be 61 single-family homes, 128 townhomes, and 336 apartment units. Those apartments will have a total of 564 bedrooms. The project comes in at gross residential density of 14.8 units per acre. There will be 819 parking spaces required, more than required.
Approval came over the opposition of many who live nearby who were concerned about traffic impacts. That is beyond the scope of the ARB, by the Virginia Department of Transportation in in the second phase of a "pipeline study" that will identify potential projects to mitigate congestion and provide pathways for non-motorized transport. (view the VDOT study page)
The ARB will look review the design guidelines for the John Warner Parkway during a work session.
"The parcels adjacent to this corridor all have residential zoning, although most are owned by the City of Charlottesville and contain the greenway or the Charlottesville High School playing fields," reads the staff report for this item. "The existence of the parkland, the railroad, and the creek limit the possibility of development along most of the Parkway."
The report notes that redevelopment of the Wetsel property continues in 2023 with the Rio Point development. The land had been the last working farm close to the city of Charlottesville. 
Albemarle to hold virtual meeting on AC44
The critic in me really would have liked to have been able to have kept up with the development of Albemarle County's new Comprehensive Plan. On a long list of stories I want to write are a summary of the Board of Supervisors' September 6 discussion on growth area expansion. The minutes won't be ready for at least another year, and the action report doesn't say much.
So I will attend Monday's 6 p.m. webinar on the AC44 process to see where things are and what county staff have to say about what's been happening lately. (meeting info)
"This virtual open house will offer opportunities to learn about and share input on draft Goals and Objectives for the following five Comprehensive Plan chapters: Environmental Stewardship, Parks and Recreation, Historic, Scenic, and Cultural Resources, Housing, and Economic Development," reads the blurb.
Here's a link to several stories I have been able to write that are now archived on Information Charlottesville.
In other meetings:
The Albemarle Fire EMS executive committee meets at 4:30 p.m. (1630 hours) the Albemarle County Department of Fire Rescue in Conference Room 2. Items on the agenda include a discussion of the EMS Public Service Response and one on the Special Operations Team Training Policy. (meeting info)
Tuesday, November 7, 2023
It's Election Day and as far as I can tell, there are no high-level meetings in the Thomas Jefferson Planning District Commission.
In other meetings:
The Albemarle Board of Equalization will have a hearing starting at 9 a.m. in Room 241 of the county's office building at 401 McIntire Road. (meeting info)
The Charlottesville Electoral Board meets at 7 p.m. in the evening to begin the canvas of the 2023 general election. (meeting info)
Wednesday, November 8, 2023
Charlottesville City Council to hold another work session on the Development Code
What will end up being in the Development Code that City Council adopts after a public hearing on December 5? There's still time to know what changes requested by the Housing Advisory Committee will make it into the final draft, but at the moment it's hard to come by information.
Council will hold another work session at 6 p.m. in CitySpace. What will they talk about? Just like last week, there's no information in advance on the city's meeting calendar. As of Sunday, there are no materials in advance. I will try to write when I can from the November 1 work session, but I have to write up the October 25 meeting first! I think it's crucial to have third-party accounts of this to document who wants what and who gets what in the final product. (meeting info)
There's also a special meeting of Council called for November 13. No information about that eight days out.
Fluvanna Planning Commission to hold public hearing on intake for Zion Crossroads water supply
The Fluvanna Planning Commission will meet at 6 p.m. for a work session with a regular session at 7 p.m. They meet in the Carysbrook Performing Arts Center at 8880 James Highway in Fork Union. (meeting packet)
The work session has three components.
First, County Administrator Eric Dahl and Finance Director Tori Melton will introduce project rankings for the Capital Improvement Plan project.
Then the Commission will go through the project rankings for the five-year CIP.
Finally, Commissioners will go through state code requirements for solar facilities.
In the regular meeting, Community Development Director Douglas Miles will begin with a report.
There will be two public hearings.
The first is a special use permit request from White Oak Tree Solar LLC for a utility-scale solar facility on 439 acres of land in the Fork Union magisterial district. This is for a 38 megawatt facility. Most of the packet pertains to this application.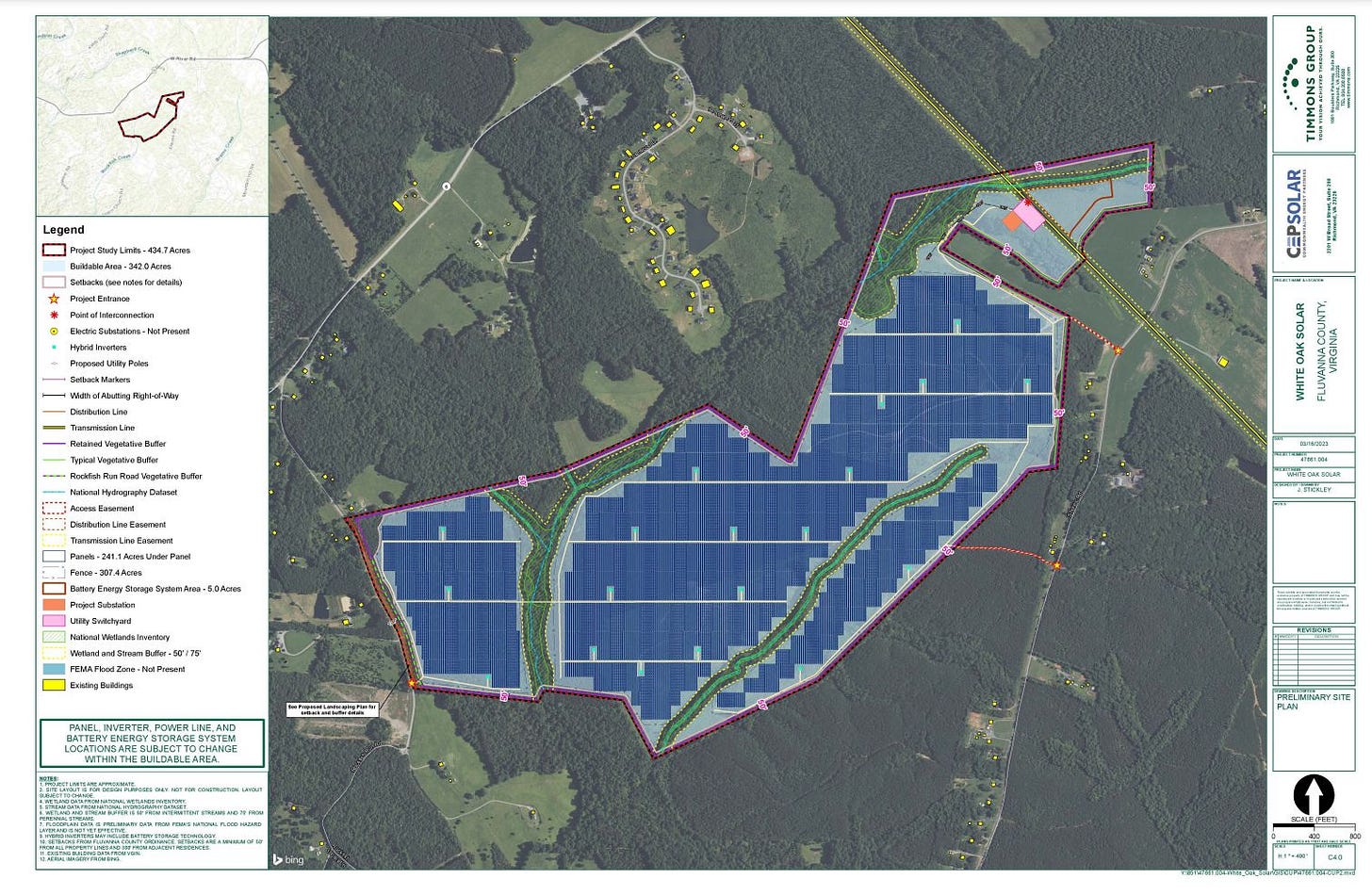 The second is for a special use permit for the raw water intake and pump station on Bremo Road to be operated by the James River Water Authority.
"The 2009 Comprehensive Plan was amended by the Fluvanna County Board of Supervisors back on November 20, 2013 to allow and support this project that would be located in the eastern end of the County in what is designated as a Rural Preservation Area," reads the staff report (page 255) "The 2015 Comprehensive Plan still calls for Rural Preservation and it now also calls for Rural Residential which would support rural homes and the 2015 Infrastructure Chapter includes a 2015 JRWA raw water line map."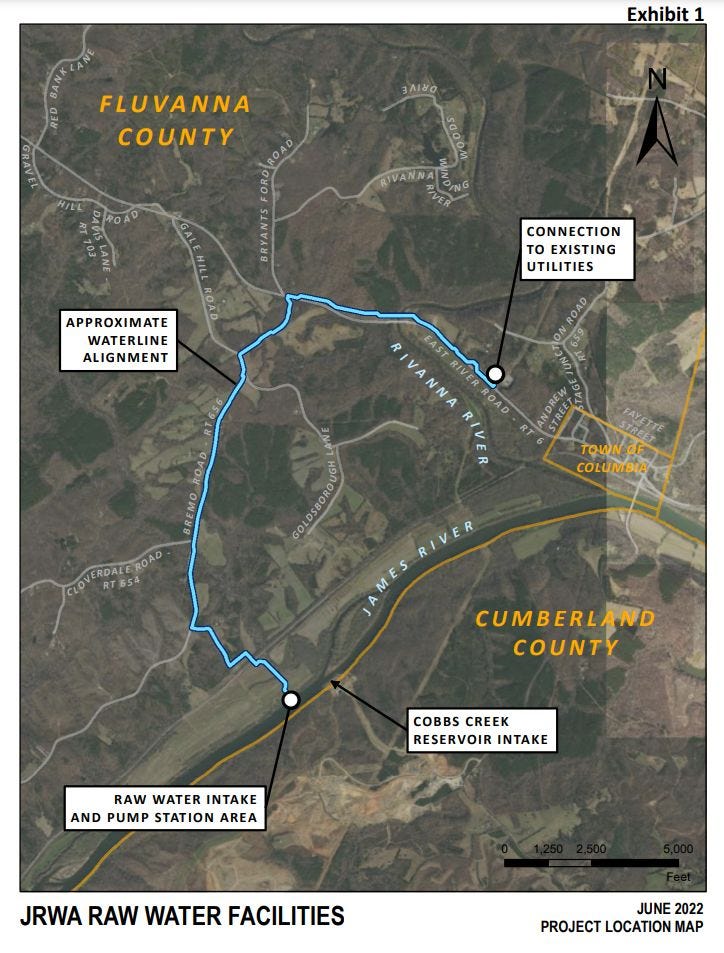 Crozet advisory group to talk transportation
One of the main issues in the Supervisor race for the White Hall District is the provision of infrastructure. Challenger Brad Rykal has argued that not enough has been done to address transportation concerns. Incumbent Supervisor Ann Mallek has argued she's been fighting for projects to support growth.
The outcome of that election will likely be known when the Crozet Community Advisory Committee meets at 7 p.m. on Wednesday. The main item on the agenda is a discussion related to the AC44 process on transportation and land use. County staff will present the "draft multimodal plan and Activity Center recommendations for the Crozet Development Area and draft updated and consolidated land use designations."
Here are some resources to prepare for this meeting:
The Crozet Master Plan was last updated on October 20, 2021 (download the plan)
Albemarle Supervisors briefed on transportation projects including cost escalation for Eastern Avenue South in Crozet, Sean Tubbs, Information Charlottesville, August 10, 2023
Albemarle Supervisors briefed on methodology for county's new transportation priority list, Sean Tubbs, Information Charlottesville, October 26, 2023
County Demotes Eastern Avenue in Transportation Priorities, Lisa Martin, Crozet Gazette, November 3, 2023
In other meetings:
The James River Water Authority meets at 9 a.m. at 132 Main Street in Palmyra, but there's no information on the agenda. (meeting info)
The Community Policy & Management Team meets in CitySpace at noon for a retreat at which CQI Data will be presented, as will an update on the strategic plan. This group consists of both Albemarle and Charlottesville officials. (meeting info)
Thursday, November 9, 2023
Louisa Planning Commission to review Amazon data centers against Comprehensive Plan
The Louisa County Planning Commission will have a work session at 5 p.m. but I can't seem to find any information about what they'll talk about at this event. (portal)
There is a regular meeting at 7 p.m. (meeting info)
There are two public hearings.
One is for a conditional use permit to have an agricultural operation on over 42 acres of land on Old Tolersville Road near Mineral zoned R-2. The 2040 Comprehensive Plan calls for low density residential at this space, but staff otherwise are supportive. 
"We are requesting to use the land as it has been used in the exact manner for over 100 years," reads the letter from the landowners. "The land we purchased has always been in agriculture and deserves to be utilized as such.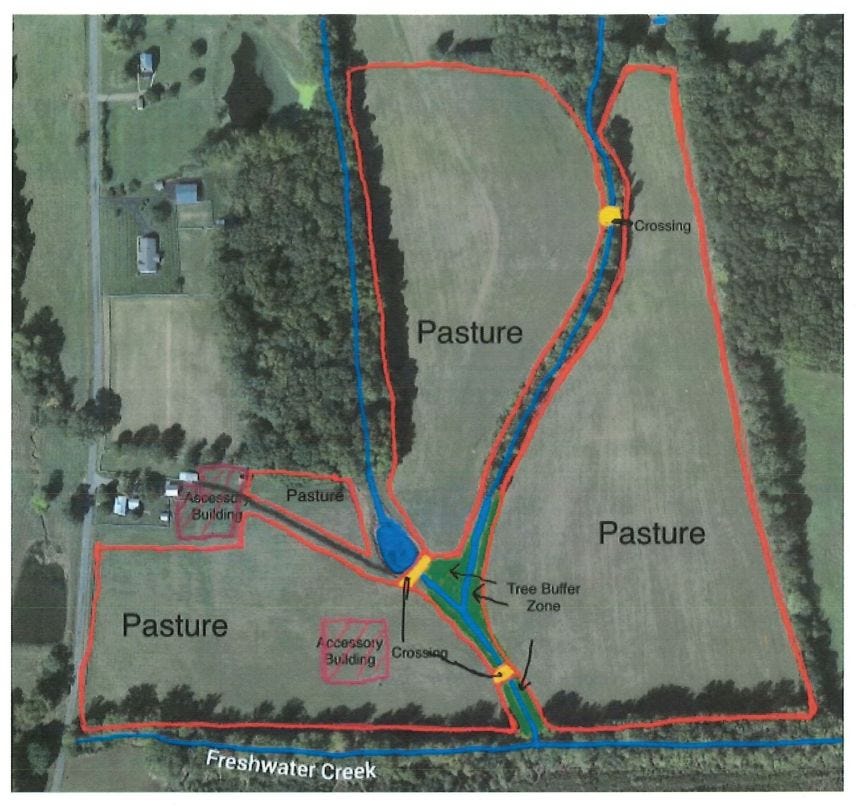 The second is for a rezoning request to rezone nearly 22 acres of agricultural land to allow for the division of seven lots for residential use.
Under new business, Amazon Web Services needs two separate reviews on whether public facilities for their two future data center campuses comply with the Comprehensive Plan.
"Through this review and determination, the Substantial Accord process and determination promotes coordinated planning in the siting of public facilities and maintains compatible land use patterns, thereby further improving the County's ability to provide effective and cost-efficient services to the public," reads the staff report.
At issue are electrical substation facilities, transmission lines, a new street connection, and extension of public water and sewer.
Charlottesville Tree Commission to get update on various plantings
The Charlottesville Tree Commission meets at 5 p.m. in the Parks and Recreation Office in the Market Street Parking Garage. (meeting info)
The group will get updates on the request for proposals for the downtown tree replacement plan as well as a $300,000 grant that flows from the Inflation Reduction Act. There are also updates on a multitude of proposed tree plantings across the city, including Parks and Recreation's upcoming RFP for trees at Jenkins Park, Belmont Park, Jordan Park, and Green Leaf Park.
ReLeaf Cville is planting 75 trees in the Rose Hill neighborhood
Charlottesville Area Tree Stewards were scheduled to plant 22 trees at Rives Park yesterday
Parks and Recreation will hire Shenandoah Habitats to plant 900 seedlings in Frys Springs, Forest Hills Park, Azalea Park, and the Rivanna Trial.
In other meetings:
Friday, November 10, 2023
Local government is closed in observance of Veteran's Day.
---
This post was contributed by Sean Tubbs. Sean is a journalist working to build a new information and news outlet centered around Charlottesville and Virginia. In 2020, he launched a daily newscast and newsletter and also created a semi-regular podcast on the pandemic.
Support for Sean's "Week Ahead" update comes from The Piedmont Environmental Council.