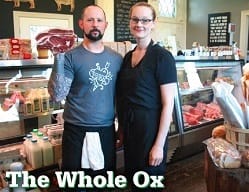 'Know your farmer' is a popular phrase these days, but Derek and Amanda Luhowiak, owners of The Whole Ox Butcher Shop in The Plains, think people should get to know their butcher as well.
Amanda, a native of Fauquier County, explains, "a lot of people care about where their food comes from, but they don't have time to go out to the farms. We've built relationships with the majority of the farms we work with, visited many of them and know their operations. Our customers trust that we've done our research by asking the questions they would ask." Their idea is simple: create a shorter link between farmers and consumers.
As the shop's name suggests, their products are based on processing whole animals—using everything from nose to tail, making sure that nothing goes to waste. "We even use the bones to make stocks and soups," says Derek.
Derek was a vegetarian for nine years, so when he decided to eat meat again, he wanted to "make sure it was humanely raised, good for the environment, and good for people." It's important to Derek that they're able to provide the customer with information about where the different cuts of meat come from on the animal, how they are processed and how they might be prepared in a dish.
This holistic philosophy is also evident in the relationship they have with their customers. "Derek and I want this to be an extension of our home. We want people to be very welcome and not only shop, but hang out for a little bit, poke their head in the kitchen, and talk to us, even have a taste of wine. They should have a really fun overall experience," says Amanda.
More information about the shop can be found at buylocalvirginia.org >>
This profile was featured in the 2014 Northern Piedmont Buy Fresh Buy Local guide >>
See more profiles of farms and businesses >>