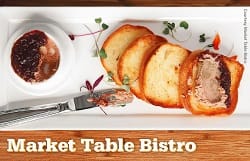 Opening a restaurant like Market Table Bistro was always a dream for Rebecca Dudley and Jason Lage, both of whom went to culinary school and later met while working at Lansdowne Resort. They each grew up in rural locations where farm to table wasn't a trend as much as it was a way of life. Lage's mother and grandmother cooked with primarily locally sourced and seasonal ingredients, and that's a concept he has always wanted to bring to his own business.
In 2010, Dudley and Lage formed a business plan to go along with their passion for cooking seasonal, locally sourced food. Then they came across a building in Lovettsville that was built in the 1800s and fell in love with its charm.
"I was told by 100 people that I would never be in business more than three months in this location, and I was nervous about being so far from everything else," Lage says. "I'm much closer to the source now, and I wouldn't change the location for anything."
Dudley and Lage developed relationships with 52 local farmers, and in peak season (May to October) 80% of the food on Market Table Bistro's menus comes from those farms— including the wines, liquors and even the artwork on the walls. Lage, who is the executive chef, does as little as possible to the food, always aiming for pure, straightforward flavors. In the next year, they plan on adding wild and foraged foods such as mushrooms and herbs to their list of local ingredients.
"Food should be soulful and comforting, but it also should be refined" Lage says. "We want people to feel like they are eating at someone's house—someone who really knows how to cook."
More information about the restaurant can be found at buylocalvirginia.org >>