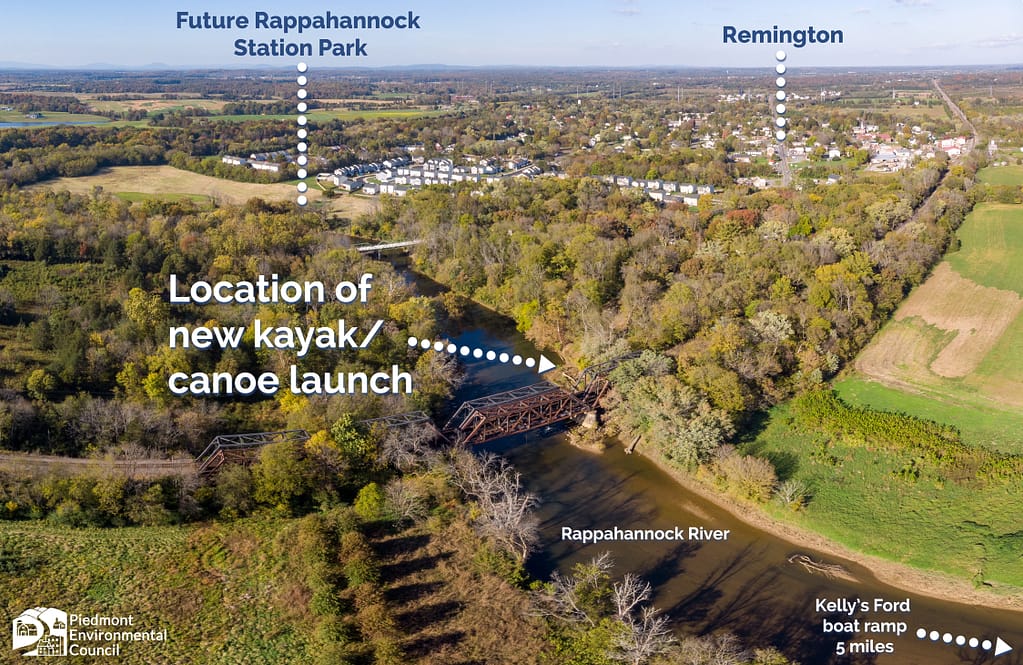 The publicly accessible Rector Tract kayak/canoe launch is just a short walk from downtown Remington on River Road, off of James Madison Street, located at 12233 River Rd, Remington, VA 22734. Visitors can park just inside the site entrance and head down the hill on foot to reach the boat launch. The property is owned by Fauquier County and open daily, dawn – dusk.
Improving public access to waterways is an amazing way to connect communities to nature, boost public health and encourage a conservation ethic. Unfortunately, there are few places in our region where it is easy to get on the water and enjoy those benefits. PEC has been working with partners to address this need.
In August, 2021, Fauquier County's second Rappahannock River kayak/canoe launch officially opened at the Rector Tract, offering county residents a new public access point to the state-designated scenic river.
In 2019, our partners at the American Battlefield Trust acquired the Rector Tract and donated it to Fauquier County. The property is protected with a conservation easement held by the Virginia Department of Historic Resources. 
With funds from the Virginia Environmental Endowment, an independent nonprofit grant-making foundation, PEC contributed $20,000 for materials associated with the boat launch construction. Vulcan Materials Company donated all the gravel needed for the launch. With funds from The PATH Foundation, Friends of the Rappahannock donated $6,000 for the archaeological study and structures for signs, and, with volunteers from Fauquier County Parks & Recreation, The Piedmont Environmental Council, Virginia Department of Forestry, and John Marshall Soil & Water Conservation District, planted native trees and shrubs to help with erosion control and to add beauty to the park. The Virginia Department of Wildlife Resources will maintain the launch with assistance from Fauquier County Parks & Recreation staff, who served as project lead, provided technical assistance, labor, and volunteer coordination.
The effort is part of a broader goal to create an upper Rappahannock River water trail system, opening up public access to the Rappahannock River in Fauquier, Culpeper, and Rappahannock counties. Local studies have shown that river access is important for improving one's quality of life, and in a 2017 Fauquier County Parks and Recreation Needs Assessment Survey, river access for boating, kayaking, and swimming was identified as the second highest priority for facility improvements, falling just behind greenway trails for walking, biking and hiking.
The new boat launch in Remington makes traveling on the river easier for residents up and down the Rappahannock. Visitors that put in at Riverside Preserve, near Waterloo Bridge, previously needed to travel nearly 25 miles downstream to the next take out point at Kelly's Ford in Culpeper County. Now, kayakers and canoers have the option of a 20-mile paddle from Riverside Preserve to Rector Tract, or a much shorter 5-mile float from Rector Tract to Kelly's Ford.
In April, 2022 the Upper Rappahannock River Water Trail received the Governor's Environmental Excellence Gold Medal award for its contribution toward implementing the Virginia Outdoors Plan. Read more >>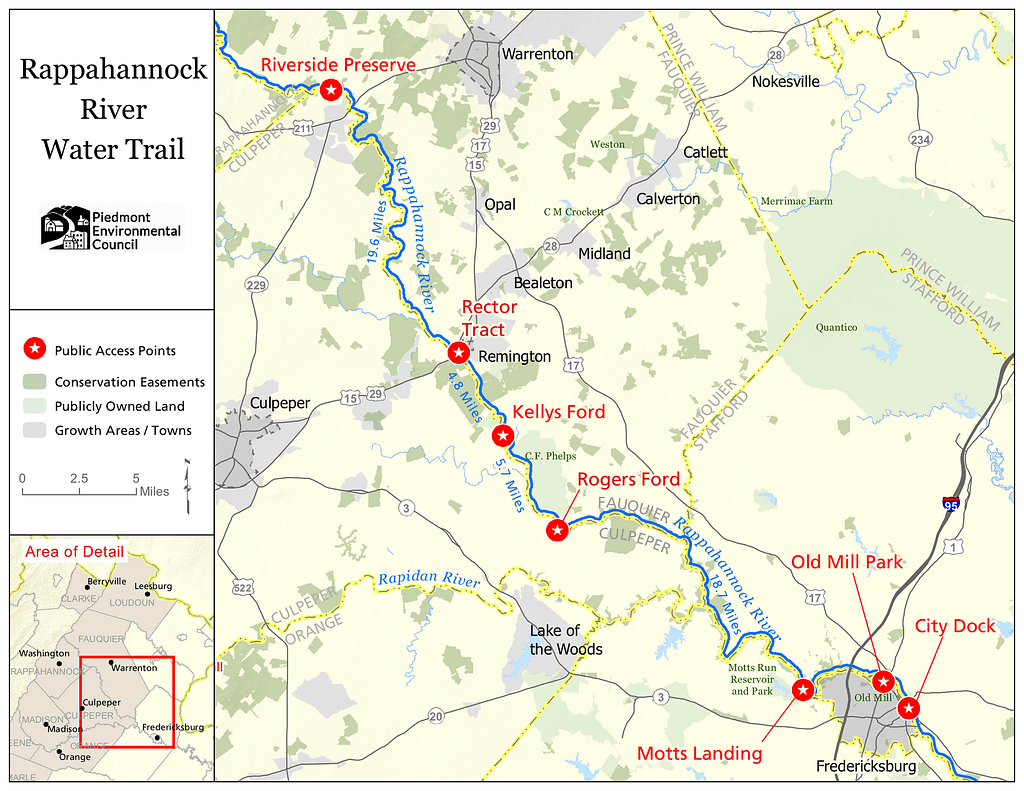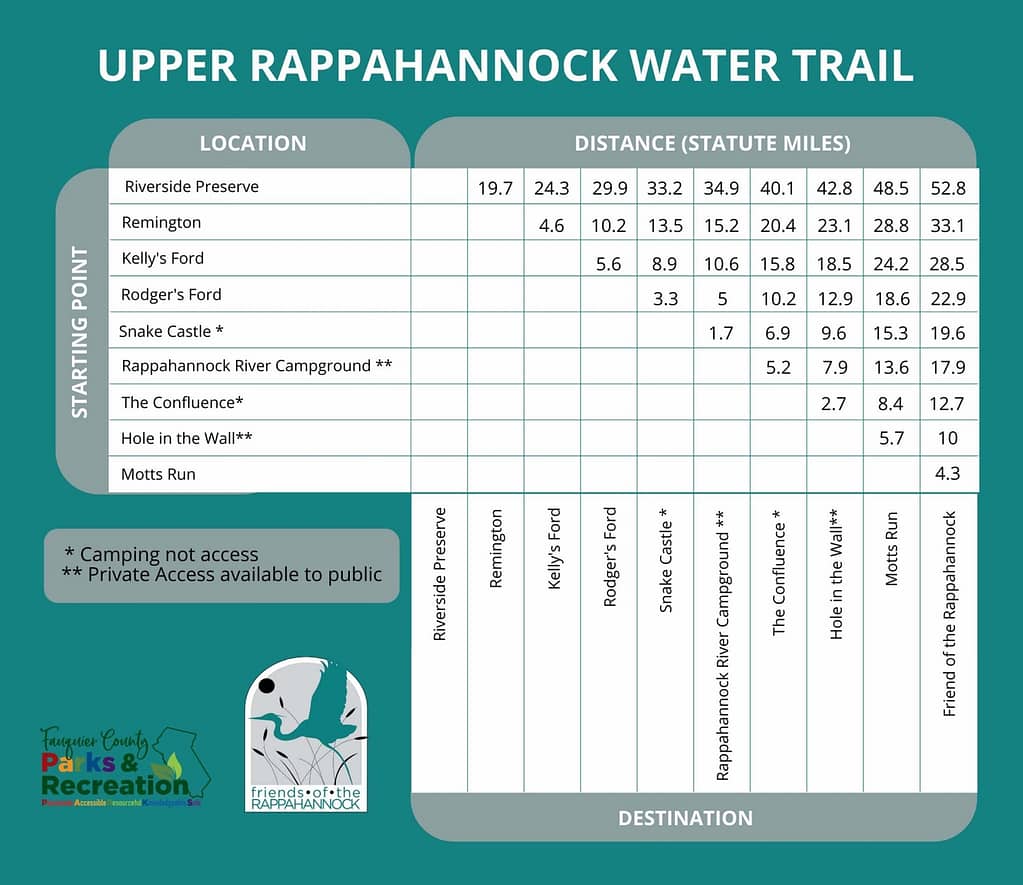 Creating Public Access + Protecting Historic Resources in Remington
The Rector Tract is part of a larger effort to protect historic land and create public access right there in Remington – the future Rappahannock Station Battlefield Park is 26+ acres just a couple of blocks north of the Rector Tract. The park is not open yet but is planned for passive recreation.
This land part of the First and Second Battle of Rappahannock Station during the Civil War. The first battle in 1862 was inconclusive but the second resulted in a critical victory for the Union Army. I think it was the only major battle fought in Fauquier County. More about the history:
In 2006, PEC helped raise funds and obtain grants to help Fauquier County purchase the land that was slated for a housing development. PEC and the Virginia Department of Historic Resources then protected the land with a conservation easement. In 2010, an American Battlefield Preservation Program was awarded to the County which funded the creation of the "Rappahannock Station I & II Civil War Battlefield Master Plan." The plan was adopted in 2012, but little progress was made toward implementing the plan.
In 2017, PEC renewed the push for the Rappahannock Station Battlefield Park with help from the $19,000 PATH Foundation grant and a $5,000 grant from the Kordlant Fund. With these additional funds and the strong support of Supervisor Chris Butler, Phase 1 of the park construction was funded in the approved 2018 County budget. Phase 1 includes survey work, access to the site, parking, and construction of an interpretive trail around the property.
The Battlefield Park and Rector Tract are also part of an initiative called Remington Walks! In 2016 PEC received a grant from the PATH Foundation to improve park, trail, and pedestrian opportunities in this small but fast-growing community in southern Fauquier County.
Thanks to Our Partners
American Battlefield Trust, Virginia Department of Historic Resources, Virginia Department of Wildlife Resources, Fauquier County government departments, Friends of the Rappahannock, Remington Community Partnership, John Marshall Soil & Water Conservation District, PATH Foundation, Virginia Environmental Endowment, A. Morton Thomas & Associates, Vulcan Materials Company, and resident volunteers.