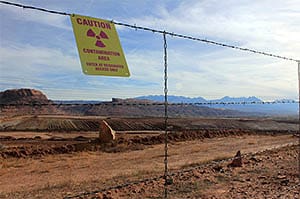 In 2007, Virginia Uranium, Inc. (VUI) made their intentions clear: they were going to persuade lawmakers to lift the Commonwealth's standing moratorium on uranium mining and milling. The company had their eyes set on a large deposit of uranium in Southwest Virginia, and they adamantly ignored the numerous warnings and unknowns. Determined to break ground in Pittsylvania County, VUI poured millions into a massive lobbying effort and PR campaign to make it happen. They pulled all of the stops— including flying legislators to France.
Nevermind that, in the U.S., uranium has only been mined in arid regions—where low rainfall makes it more feasible to contain the radioactive and toxic waste (though, groundwater has been contaminated in nearly every case). Nevermind that it has never been attempted east of the Mississippi—where heavy rainfall, storms, tornados, and hurricanes are annual events. Nevermind that the toxic waste would put the water, air, and soil of numerous communities in Virginia and North Carolina at risk of contamination. Nevermind that multiple studies have linked exposure to uranium and mining wastes to a number of health issues, including numerous cancers and reproductive problems. Nevermind the risks—VUI saw the chance for transitory economic gain, and they weren't going to let warnings of long-term effects get in their way.
VUI fought hard, and it seemed like their work paid off when four bills were introduced to this year's General Assembly—bills aiming to make uranium mining in VA a reality.
David vs. Goliath
But we've been fighting back all along. PEC and our ally organizations have been joined by numerous localities, businesses, and individual citizens in the fight against VUI and their millions of dollars. By the time those four bills hit the Assembly's floor, 58 government entities—representing over 45 localities in VA and NC—had taken action to uphold the moratorium on uranium mining and milling. Thirty-one of those localities are in VA, including the county that would have felt the most immediate impact: Pittsylvania County. And that's just the government entities—there were almost 70 additional organizations from both states that had taken a stand in support of the ban.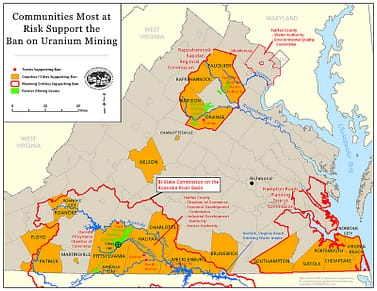 We fought for our air, we fought for our water, and we fought for our soils. We fought for economic development that plays off the region's strengths without jeopardizing existing businesses and economic engines. We fought for an enlightened vision of the Commonwealth's future—and it worked. VA's legislators couldn't ignore the overwhelming support of the ban, and the four bills were killed before they came out of committee.
"In the end," says Rob Marmet, PEC's Senior Energy Policy Analyst, "it wasn't uncertainty that killed the bills this year, but the certainty that this was not in the best interest of the citizens of the Commonwealth and those downstream."
Dan Holmes, PEC's Director of State Policy, is grateful: "As a citizen and father," he says, "I want to thank everyone who played a part in this fight. Citizen action was crucial in this David vs. Goliath battle. Whether you lobbied in Richmond or spread the word amongst your friends and family—you were a part of this victory."
PEC would also like to thank the state legislators whose minds were not clouded by VUI's promises of jobs and economic gain, but who saw it for what it was—a dangerous, unprecedented experiment. If your legislators took a stand against lifting the ban—please send them a note of thanks.
Looking forward
We have won a big battle, but the war is not over. The uranium deposits scattered around VA are going nowhere, and so it is safe to assume that we'll have other battles ahead of us. Senator John Watkins, who was behind one of the bills aimed at lifting the ban, said in a press release:
"…NO, this issue is not going away. It is not going away because it is not good stewardship to leave a God-given natural asset worth $7 billion buried in the ground…"
We cannot agree with Sen. Watkins on what it means to be good stewards of our natural resources. PEC and our allies will continue to keep a close eye on this issue in 2013, and we ask that you do the same. We wouldn't be surprised to see this issue come up in the 2014 General Assembly session.
What you can do
Don't kick up your heels—stay informed. Elections are coming up for the State House, Attorney General, Lieutenant Governor, and Governor—and we encourage citizens to find out the various candidates' views on uranium mining and milling. Let them know that this is an important issue for the Virginians of today and tomorrow.
---
PEC—There from the Beginning
Though uranium mining debate came to the forefront in 2007, it wasn't the first time Virginia had faced this issue. Mining companies took an interest in the Commonwealth's uranium deposits in the late '70s and the early '80s—and these companies weren't just interested in Pittsylvania County. They entered into mineral leases in multiple counties, including Madison, Culpeper, Fauquier, and Orange.
And PEC was there. In '80, PEC appointed a committee from its Board of Directors to study the potential of uranium mining and milling in VA. Their research led them to believe that this was a potentially dangerous idea for the Commonwealth. So, the Board approved a resolution in that urged the adoption of a statewide moratorium on mining and milling of uranium.
The resolution also pledged that PEC would continue working on the uranium front, and PEC has followed through. We not only helped fight the uranium companies in the '80s, but we helped ensure the adoption of the uranium mining moratorium by the General Assembly. Then, when that moratorium came under threat in 2007, PEC stepped up again. We brought in experts to review VUI's reports, and visited mine sites to see impacts first-hand. We educated legislators, communities and local governments on the threats of mining and milling, and we provided leadership and expertise to a broader coalition of groups.
Thanking the stalwarts
PEC's entire staff and board worked on the uranium issue when it came up decades ago, but we would like to remember and honor a few people who gave their heart and soul to this issue.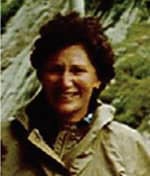 Georgia Herbert was on PEC's staff when this issue first arose in the '80s, and she led an effort to track the activities of various state agencies and legislative commissions, as well as gather resolutions against uranium mining from numerous local governments and organizations. Georgia, who now serves as PEC's General Counsel, continues to advise on our efforts in this fight.
Marie Ridder, a PEC Board member, was heavily involved with VA's environmental policy. She made extensive efforts to personally meet with members of the General Assembly at the time—discussing the risks of mining in the Commonwealth. She was in the gallery of the Capitol Building as the critical votes came to floor that would put the statewide moratorium into place.
Bill Speiden is a farmer in Orange County who has uranium deposits on his land. In '79, a mining company offered him a lease to mine some of his land. Bill researched uranium mining and milling—even traveling out West to see existing mines firsthand. After all of this, Bill not only rejected the offer, but he permanently protected his land with a conservation easement and became a citizen activist and leader. He has led in the effort since, and is currently the Legislative Director of the Orange County Farm Bureau.
Lastly, we would like to remember Todd Benson— a beloved member of PEC's staff who passed away in 2011. When this issue resurfaced in 2007, Todd took on the assignment of identifying and engaging technical experts from around the world. These experts provided guidance and testimony about current uranium mining and milling industry practices and regulation. Todd passionately embraced his role as a leader in protecting communities throughout VA—traveling all over the state and beyond. His resolve mirrored that of his role model, President Theodore Roosevelt. "His passion inspired the rest of us," PEC's Dan Holmes says. "Personally, he played a big role in re-lighting the fire in my belly when it came to this fight."
Though this issue has not laid to rest, the recent victory in the General Assembly cannot pass without a big "thank you" for these people. Your hard work has not been forgotten.