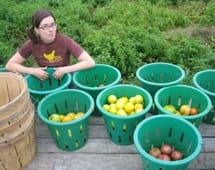 A lot is going on, at and around our 141-acre Roundabout Meadows property at Gilberts Corner in Loudoun County. We've got a new trail opening, the second season for the Community Farm and news to share about the market property at the northeast corner!
New Trail Opening
We are excited to formally open the Old Carolina Road Trail this spring, with plans for a new information kiosk, interpretive signs, and freshly planted native trees and shrubs that will form a beautiful walking corridor. Once a Native American trail used by early colonists as a north-south route through Loudoun County and beyond, the Old Carolina roadbed serves as the backbone for the 1/2-mile trail, which creates public access to the scenic, historic, agricultural and natural resources of Gilberts Corner.
Convenient parking is at NOVA Park's Mt. Zion Historic Park, where visitors can see Mt. Zion Old School Baptist Church, built in 1851 and used as a Union field hospital during the Battle of Aldie in 1863. The trailhead and kiosk will be located in front of the cemetery wall directing hikers to the top of the historic roadbed. The trail takes visitors first past a portion of the 1852 cemetery, where 14 Civil War soldiers are buried, and past the 60 largely unmarked graves of the African-American congregation's cemetery. It then leads visitors into the seven-acre Roundabout Meadows Wildlife Management Area, a sensitive wetland site with a fantastic array of flora and fauna. And finally, the trail goes down to the edge of Howsers Branch, where PEC has been working to restore water quality for the past five years.
A partnership of PEC, NOVA Parks, Fauquier and Loudoun Garden Club and the Mount Zion Cemetery of Aldie, the Old Carolina Road Trail is part of PEC's ongoing effort to make Roundabout Meadows a hub for community engagement, with interpretive history tours, pasture field walks, environmental education, native habitat restoration and volunteer service at the Community Farm.
Call for Volunteers at the Farm
Spring planting season is upon us at the Community Farm at Roundabout Meadows. With our new greenhouse and a goal of 10,000 pounds of produce for Loudoun Hunger Relief, we need more volunteers than ever before.
The season began on Saturday, Feb. 8 when more than 30 volunteers planted 5,000 seeds that will sprout into our first planting of broccoli, cauliflower, cabbage, and kale. Volunteers will transplant these seedlings from the greenhouse to the fields as spring emerges. In March, volunteers can help us begin seeding our warm season crops, such as tomatoes, peppers and squash. In April, we'll need help putting potatoes in the ground and planting our flower and herb gardens, which will support pollinators and other beneficial insects for the farm.
We can accommodate up to 25 volunteers at a time, and minors under age 14 must be accompanied by an adult. Volunteers can be school groups, scouts and clubs, businesses or individuals. "The only requirement is a great attitude and a desire to help us provide fresh, healthy food for the food-insecure people in Loudoun County," said Community Farm Manager Dana Melby.
Find out more about the farm and sign up to volunteer at pecva.org/farm.
Gilberts Corner Market
PEC is proud to announce that we have taken ownership of the Gilberts Corner Market and look forward to enhancing its history as a place to find local food and fiber. As a first step in ensuring local production at the corner, we have happily entered into a long-term agreement with farmer Tyler Wegmeyer, who has been part of the market since 2012. He will continue his popular pick-your-own service, enabling visitors to roam his strawberry patch for the freshest, ripest berries, beginning in May. Gilberts Corner Market is open, and we look forward to sharing more details in a future issue of The Piedmont View.
---
This article was featured in our Spring 2020 member newsletter, The Piedmont View.