Dear friends,
Earlier this fall, my dad passed away peacefully at home with my mom by his side.
As anyone who knows me is aware, I have always been proud of my dad. He was a deeply patriotic American who resigned from the Foreign Service to protest abuse of executive power during the Vietnam War. He led the staff effort in Congress to end funding for the bombing in Cambodia and was made staff director of the Select Committee to Investigate National Emergency Powers, which led to greater oversight of our intelligence agencies. Then he returned to diplomatic affairs, where he worked in U.S.-Soviet relations, served as Ambassador to Ukraine and as senior fellow at the Woodrow Wilson Center. His career was one of integrity and of speaking truth to power.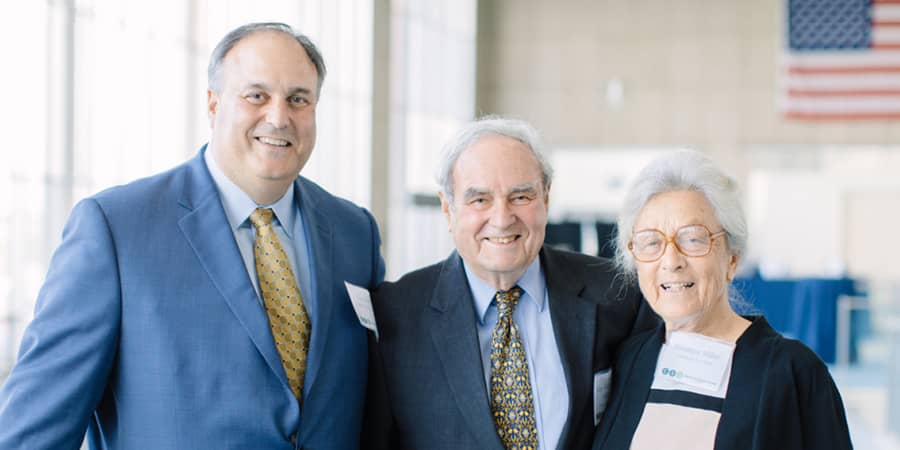 My choice to work at PEC and on long-term solutions to sustainability is a direct response to what I learned from him. 
He loved his house in Hollin Hills, a neighborhood located in the woodlot of Mason Hill plantation just south of Alexandria in Fairfax County, between Route 1 and Fort Hunt Road. The development, designed by Charles Goodman, is now on the National Register of Historic Places and is an excellent example of modern and intentional suburban community design. What made it special for my dad, who grew up in a small, dark Jackson Heights apartment in Queens, New York was that the modern design of floor-to-ceiling windows in wooded lots brought light and nature indoors. He loved to sit and read and listen to classical music, with the sun pouring in and the forest coming through on every side.
"His home and garden in the woods was his Eden."
In the last two years, Dad and Mom would linger at the breakfast table, watching birds at the feeders and fountains that were all around. My brother repaired all the fountains the past few months so Dad could enjoy the sound of running water. His home and garden in the woods was his Eden.
I will miss him. He was a quiet person, spending more time listening than talking. Perhaps it was because he had deaf parents and was comfortable not talking. But he was relentless, and profoundly committed to peace, to the Constitution, and to a fair and open society here and for other countries.
He and I argued for years over the best place to put effort into changing the world. He believed in national and international affairs. I argued for local civic engagement grounded in making all communities better.
Early in my career, I staffed a negotiator in the early treaty discussions around climate change and global warming. I thought I was on the cutting edge and in a new area of foreign policy. Three months later my dad informed me he had created the International Foundation on the Survival and Development of Humanity with Andrei Sakharov and Mikhail Gorbachev, with an initial focus on climate change!
Ultimately, I found my work on international and federal environmental policy frustrating, and I have never regretted shifting my career to focus on the local level, where I believe real change happens. In our last conversation, Dad conceded, and asked me to carry on his work with the new goal of motivating municipal leaders to save the world.
"But he was relentless, and profoundly committed to peace, to the Constitution, and to a fair and open society here and for other countries."
And that is what we get to do every day at PEC. We get to work with an incredible group of people on our staff, our Board and within our communities to push forward on making a peaceful, healthy and equitable world.
As the world strives for a response to the climate crisis, we are working hard to protect the natural and human resources and encourage a sustainable pattern of development and conservation. We are lucky to be working on the solutions, whether it's helping plan for better cities and towns where we can walk and ride or helping save a watershed like the Rapidan. This work gives me joy and a sense of accomplishment every day.
Sincerely,
Chris Miller, President