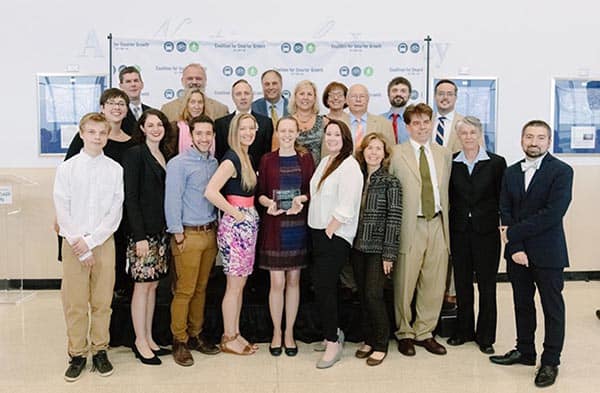 Dear Friends,
Some may not know that PEC is also the fiscal sponsor for the Coalition for Smarter Growth, an organization that focuses on planning and policies that support the best possible solutions for the greater Washington D.C. area. Earlier this month, CSG celebrated their 20th anniversary.
CSG staff have worked relentlessly over the last two decades to help build stronger communities. Together, we have moved from a time when D.C. was losing population, Metro was underutilized and thousands of acres of vacant land surrounded station areas, air quality violated public health standards, the Potomac was not fishable or swimmable and most stormwater went uncollected and untreated. Also, there was only one restaurant, Nora's, that relied on local food production. Now, two decades later, D.C. is fiscally healthy, gaining population and leading its neighbors in its commitment to transit funding, affordable housing and green and grey infrastructure. Local jurisdictions in Virginia and Maryland are implementing smart growth policies — from zoning to bike shares to climate resiliency.
The success of smart growth in the core has inspired small towns and urbanizing areas in the larger region. In Loudoun, with the comprehensive plan review of the Silver Line station areas, we have the opportunity to focus future development and even shifting development potential to more sustainable patterns. In Charlottesville, the community rejected a bypass and is embracing a grid network that links emerging communities along Rt. 29 to the core of the city and urban areas of Albemarle County. PEC is working with partners in communities throughout the Piedmont on a network of connective trails to join the rural conservation areas and local park lands to the vibrant urban development that attracts so many.
In small towns like Remington, there is a growing recognition of the value of connecting development to trails and open space to achieve quality of life, increasingly recognized and expected in the region. The Coalition's focus on smarter growth over the past two decades, beginning with the "Blueprint for a Better Region" vision and working through the details of project implementation at hundreds of sites has resulted in better quality of life — better designed communities, better housing opportunities, commute options, cleaner air, cleaner water, better food and expanded recreational opportunities. At the same time, PEC and other conservation partners in Virginia and Maryland have worked to permanently protect more than 500,000 acres of farmland, new state, local and regional parks, watersheds that include the drinking water sources for all of our communities, and important historical and cultural landmarks and landscapes.
It is the combined effort of making better communities in urban, suburban, exurban and rural areas of the region and a commitment to large landscape scale conservation that will provide for the sustainable future.
On a personal note, during that same time period, my wife Katie and I had the good fortune to raise two wonderful girls, Caroline and Claire. Caroline was born the same year as the Coalition, and Claire a few years later. Both of them live in a better world as a result of CSG's vision, the hard work of its staff, the dedication of Stewart Schwartz, and the collaboration of its partners. Thank you all for the opportunity to work collaboratively to leave the region a better place for my girls and the generations to follow.
Sincerely,
Chris Miller, PEC
---
This letter was featured in our Summer 2017 Member Newsletter, The Piedmont View.