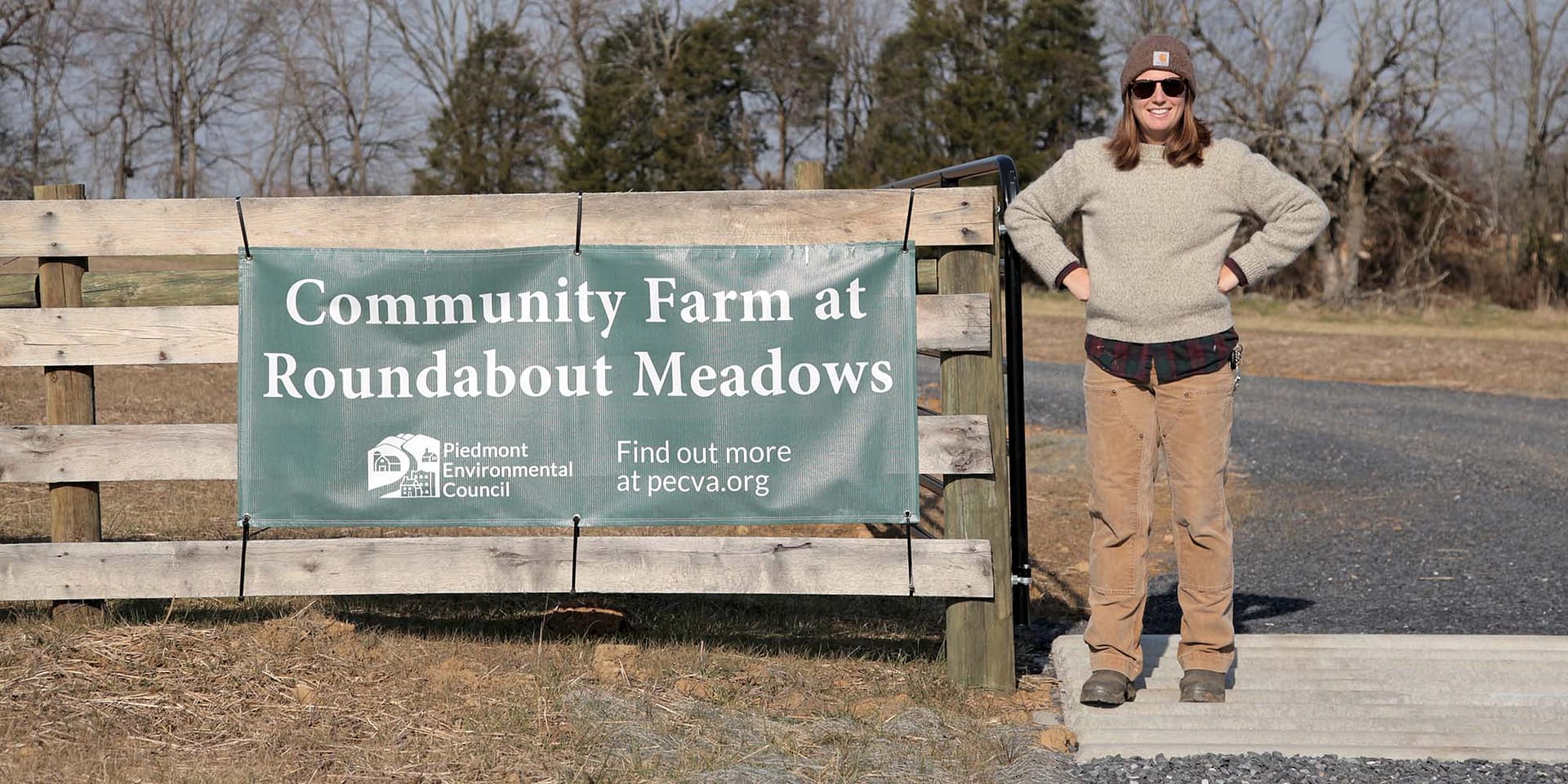 The Piedmont Environmental Council's Community Farm at Roundabout Meadows was founded with two ideas in mind: to connect residents to Loudoun's vital agricultural economy and to provide locally grown fruits and vegetables for its food-insecure families.
Now, it is time for those ideas to blossom, or rather…to be planted.
Starting this spring, the northwest corner of Roundabout Meadows will be the hub of activity. We have eight acres surrounded with deer fencing, and on approximately two of those acres, PEC's community farm manager, Dana Melby, will work with volunteers to begin planting broccoli, cabbage, cauliflower, potatoes, radishes, beets, turnips and collards, from mid-March to the beginning of April. Then, after the last frost, crops such as tomatoes, peppers, tomatillos, green beans, summer squash, watermelon and cantaloupe will be added.
"We will also be implementing cover crops to help improve our soil quality and increase the soil's nutrition," Dana explains. "Cover crops improve soil health, as well as attract pollinators and beneficial insects. They also help reclaim land that was previously fallow, allowing it to go back into production."
The fruit and vegetable crops at the Community Farm were selected with the help of our partner, Loudoun Hunger Relief (LHR), who identified the needs of the local community.
Feeding America reports that approximately 13,390 Loudoun County residents live in food-insecure households, defined by a chronic lack of access to sufficient nutritious food, in 2018. LHR serves many individuals and families in need, including over 1,000 families living without permanent shelter in the county. Nearly half of the people LHR helps are children who lack sufficient, nutritious food. To date, over one million meals have been distributed through the organization!
To address food insecurity and combat high rates of child obesity, diabetes and hypertension, local anti-hunger efforts are increasingly focusing on providing more produce. PEC plans to donate 100 percent of the Community Farm's fruits and vegetables to LHR and other food pantries in the county.
"Loudoun Hunger Relief is thrilled to be partnering with the Community Farm at Roundabout Meadows. Produce is so important to good health and farm fresh produce is even better. We're excited to provide locally grown, fresh produce to our neighbors in need," says Jennifer Montgomery, Executive Director of Loudoun Hunger Relief.
The Community Farm will engage volunteers to help produce local food, which will have a meaningful impact on healthy food access in Loudoun. The long-term goal is to scale up production and volunteer programming over the next 5 years.
"I'm so excited for all that is to come this growing season," says Dana. "With the tremendous help of our volunteers, we will be able to deliver fresh food to those who need it most."
Are You Interested in Volunteering at PEC's Community Farm at Roundabout Meadows?
Help us with planting and harvesting healthy food for Loudoun residents in need! Previous experience is welcomed but not required, as on-site training will be provided. Be prepared to work outside in variable weather conditions, get your hands dirty while doing a good deed, and learn about your local agriculture community. All ages are welcome, but children must be accompanied by an adult at all times. Check the calendar on our website for upcoming volunteer opportunities and events. If you are interested in volunteering, contact PEC's Community Farm manager, Dana Melby, at dmelby@pecva.org or (540) 347-2334 ext. 7068, or visit pecva.org/farm.
MARCH – AUGUST: We need volunteers to plant vegetable transplants and seeds. Bring gardening gloves and a trowel (if you have them), snacks, water, sun protection, bug repellent and weather-appropriate clothing.
MAY – OCTOBER: Help us harvest fresh vegetables. Job stations include harvesting, weighing and packaging. Bring gloves and snips (if you have them), snacks, water, sun protection, bug repellent and weather-appropriate clothing. Roundabout Meadows Community Farm is located at 39990 Howsers Branch Drive, Aldie, Virginia.
---
This article was featured in our Spring 2019 member newsletter, The Piedmont View.