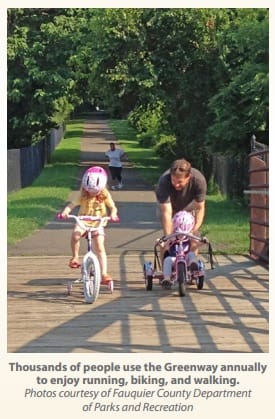 The Warrenton Branch Greenway is a treasured community resource in Old Town Warrenton. The 1.5 mile-long trail not only provides a great outdoor recreational space, but it is also an important historic resource—as it follows the old Orange and Alexandria Rail-road line that was built in the 1850s. Today, thousands of people use this trail annually to enjoy running, walking and biking.
For years there's been discussion of extending the Greenway, and these words have recently turned to action. After over a decade of negotiations, Fauquier County officials have obtained the right-of-way to add about a mile to the Greenway, and this extension is expected to be completed within the next 18 months.
PEC is excited to be a part of this development by committing to raise the remaining $30,000 needed to extend the trail. This money, along with donations from the Fauquier Trails Coalition and a VDOT grant, will be used to double the Greenway in size while connecting to another trail—creating a linear park that will be even more accessible to the community. The extension will connect downtown Warrenton to Lord Fairfax Community College and the Fauquier Education Farm, another important community resource that promotes agriculture and social responsibility.
Maggi MacQuilliam, PEC's Land Conservation Officer for Southern Fauquier and Culpeper Counties, is looking forward to the benefits this project will bring to the surrounding community: "This expansion will promote outdoor recreation; bridge the connection between urban and rural environments; and create another way to access learning and volunteering opportunities at the Education Farm," Maggi says. "We're excited help raise funds for this great cause!"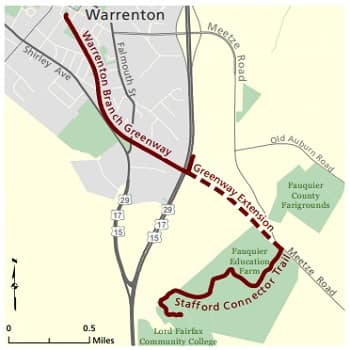 ---
This article was featured in our Fall 2013 Member Newsletter, The Piedmont View.