Last year, we told you about a developer's proposal for a 2,602-acre development across from Lake of the Woods on Rt. 3 in Orange County and next to Wilderness National Battlefield. With the potential for more than 20,000 residential units, Wilderness Crossing would be the largest land rezoning in Orange County history. PEC immediately dug into the project and voiced concerns.
With continued investigation, we found some unexpected and truly shocking information about the history of gold mining at the site. Of the five formally-named gold mines located on the proposed Wilderness Crossing site, which together consist of 15 different surface and shaft mines, none have been closed and cleaned up – a process called "reclamation." Furthermore, the state is on record saying that the largest one, called the Vaucluse mine, should be considered for potential inclusion as an EPA Superfund site.
An ongoing public health threat
Mine reclamation is a standard practice that protects public health, safety, and welfare by addressing on-site pollution, including toxic tailings (rock waste) left over after ore extraction. Tailings from past gold mining of this sort usually contain extremely high levels of mercury and other chemical elements such as arsenic, cadmium, and lead, to name a few.
The Vaucluse mine has a tailings pit that is 60 feet deep and located in the middle of a tributary of Shotgun Branch. Since it was never cleaned up, the tailings pit is likely still leaching toxic chemicals into Shotgun Branch today and is an expected source of contamination in Wilderness Run, and ultimately, the Rapidan and Rappahannock rivers.
Regardless of the development proposal, PEC's priority is to see all of the mines closed and cleaned up as soon as possible, and soils, stream sediments, wells, and aquifers examined for mercury, cyanide and other toxins.
What's next for the Wilderness Crossing proposal?
The Orange County Planning Commission has asked many of the same questions we have. What is the current status of the mines and the soils around them? Can the site be fully remediated and cleaned up of toxins? Who is responsible for clean-up and who would pay for it? How would this contamination and any future remediation impact the proposed development?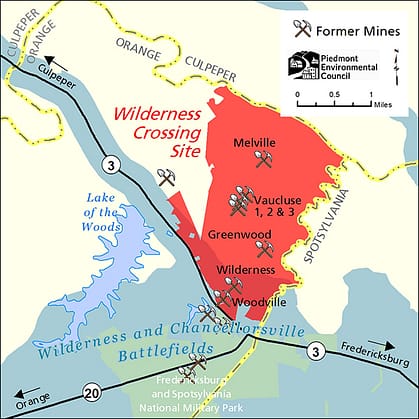 We don't know when these questions will be answered, and it's not clear when a public hearing on the issue will take place. But, we've heard some local officials remark that this is a "state problem," implying that they believe the county can move forward on the land use decision absent remediation. And in a letter dated January 26, the applicant encouraged the county to proceed with the rezoning, indicating an evaluation of the contamination and potential cleanup efforts can happen afterward. We deem this to be an unacceptable cart-before-the-horse suggestion.
Orange County officials have a duty to ensure that the public's health, safety, and welfare are protected
in any decisions made with regard to the Wilderness Crossing application or any future applications for this land. That cannot be assured until answers are provided on the nature and extent of the contamination and
any proposed remedies the applicant and landowner propose. As we have said all along, the county needs to hit "pause," at a minimum, allowing this important conversation to take place prior to rendering any decisions related to development of the property.
What can you do to help?
If you have a moment, reach out to the Orange County Board of Supervisors and encourage them to hold a public briefing with officials from the state. In addition, once hearings on Wilderness Crossing are scheduled, show up and weigh in, either in person or electronically!
PEC will continue to track the Wilderness Crossing development proposal and dig into the contamination issues at the site, updating the public as we discover additional information. In the meantime, we've created a blog post on our website with links to relevant documents, all of which are now accessible at pecva.org/orange.
---
This story appeared in The Piedmont Environmental Council's member newsletter, The Piedmont View. If you'd like to become a PEC member or renew your membership, please visit pecva.org/join.