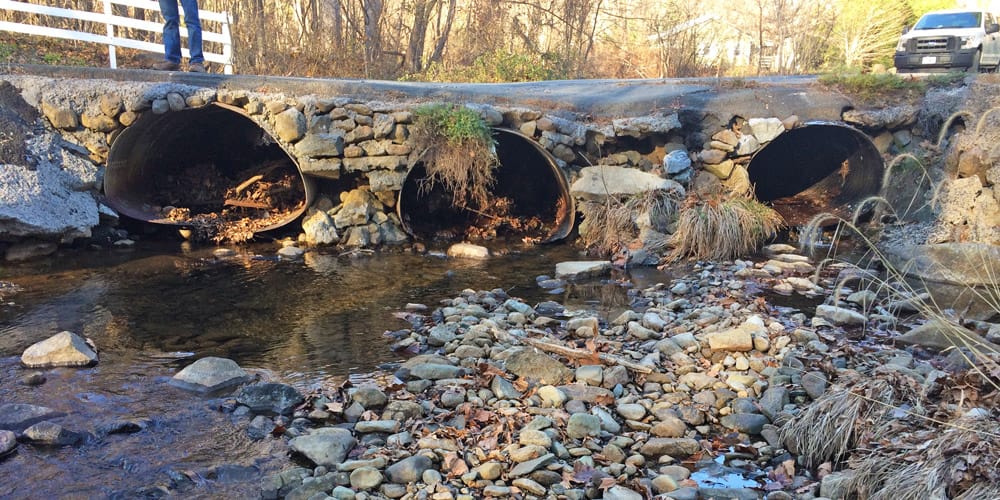 *Press Release*
For Immediate Release:
December 4, 2018
Contact:
Paula Combs,
Sr. Editor and Public Relations Manager,
The Piedmont Environmental Council
(o) 540.347.2334 ext. 7021
(c) 720.480.6969
pcombs@pecva.org
Stream crossing projects aim to ease passage for fish, and people
The Piedmont Environmental Council and Virginia Department of Transportation are collaborating to reconnect brook trout habitat and improve flood resiliency and public road-stream crossings in the Virginia Piedmont. Today, PEC received a $199,057 grant from the National Fish and Wildlife Foundation Chesapeake Bay Stewardship Fund to partner with VDOT on two pilot fish passage and flood resiliency projects in Rappahannock County.
The projects will replace culverts with open-span structures at crossings over two headwater streams, at Bolton Branch and Piney River. Headwater streams in the Blue Ridge Mountains form rare intact habitat for the American eel and eastern brook trout, Virginia's state fish. A 2014 survey by PEC and the U.S. Fish and Wildlife Service found restrictive culverts to be a key limiting factor in restoring eastern brook trout populations in the Piedmont.
Restrictive culverts are also much more vulnerable to intense storms, causing road closures, property damage and flooding. By opening the streambed to its natural width, the new open-span structures will be much more resilient in the face of intense weather events, improving safety for travelers and saving taxpayers money.
"VDOT believes collaboration with local partners like PEC will improve resiliency and community engagement and establish a model that can be replicated throughout Virginia," said Garrett Moore, chief engineer of VDOT.
The Department of Game and Inland Fisheries will also be working with VDOT, PEC and other partners to develop a collaborative partnership that will create a strategy for stream restoration and aquatic organism passage in the Piedmont and beyond.
"We are excited to work with VDOT on this initiative, creating more resilient road crossings, reducing flood damage and opening miles of stream previously inaccessible to fish," said Claire Catlett, field representative with PEC.
Chartered by Congress in 1984, the National Fish and Wildlife Foundation (NFWF) protects and restores the nation's fish, wildlife, plants and habitats. Working with federal, corporate and individual partners, NFWF has funded more than 4,500 organizations and committed more than $4.8 billion to conservation projects. Learn more at www.nfwf.org.
The Chesapeake Bay Stewardship Fund is dedicated to protecting the Bay by helping local communities clean up and restore their polluted rivers and streams. The Fund advances cost-effective and creative solutions with financial and technical assistance.
---
Fish Friendly Crossing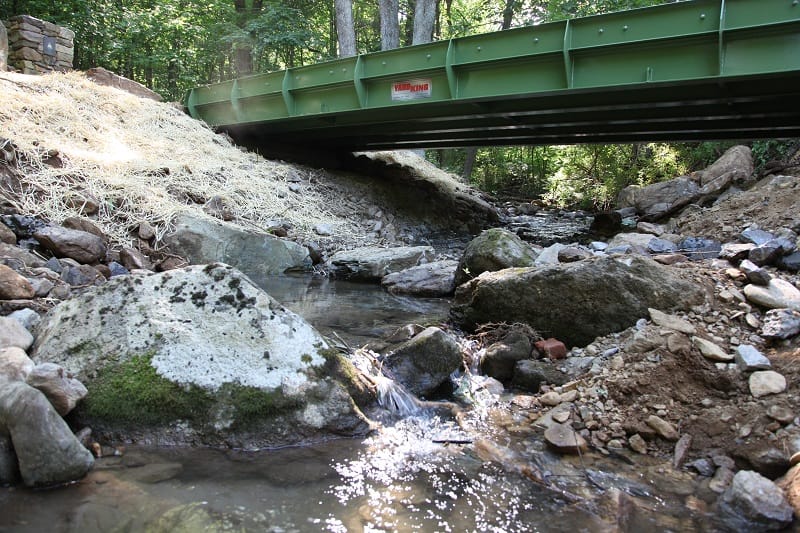 Learn more about two of our stream culvert replacement projects from 2017 >>