We are happy to be hosting this petition, created by Aldie Heritage Association, in support of a smart and needed local transportation improvement. We hope you'll sign on! Take Action >>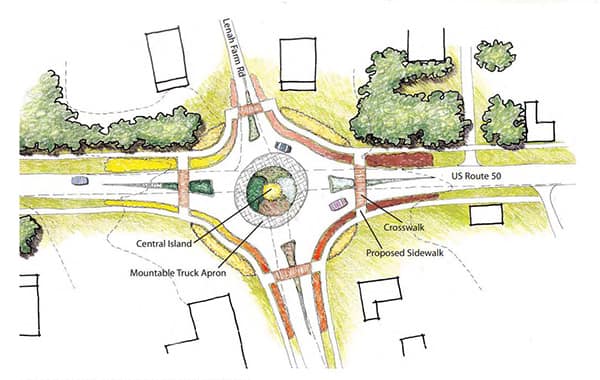 Petition Text
Needed transportation improvements take time to be planned for, budgeted for and implemented. So I join with other residents in asking Loudoun County and VDOT to proceed towards implementation of a roundabout at the intersection of Rt. 50 and Lenah Road for the following reasons:
Due to the level of traffic, the existing stop sign at the intersection of Lenah Road and Rt. 50 creates a traffic hazard and accidents occur there regularly, particularly for drivers turning left to and from Rt. 50.
Drivers turning at the intersection often have long waits or must act quickly to get across the intersection.
Traffic on Lenah Road will get heavier as more development in the area occurs, creating an even bigger traffic problem in the future.
A traffic light at this intersection would stop traffic flow, cause back-ups, and negate the benefits of the roundabouts further west, particularly during rush hours.
A roundabout would immediately improve traffic and stay in keeping with the character of the area.
A conceptual design already exists for a roundabout in this location. It was developed during the planning phase of the Rt 50 calming project, but was not included at that time due to a lack of funding.
The Loudoun Board of Supervisors recently worked with VDOT to pay for and install a roundabout in Fairfax County to help solve Loudoun traffic problems.
In order to qualify for funding and construction, a roundabout first needs to be included in the Countywide Transportation Plan and then prioritized.
Please move swiftly to address this increasingly dangerous intersection and keep traffic flowing smoothly.