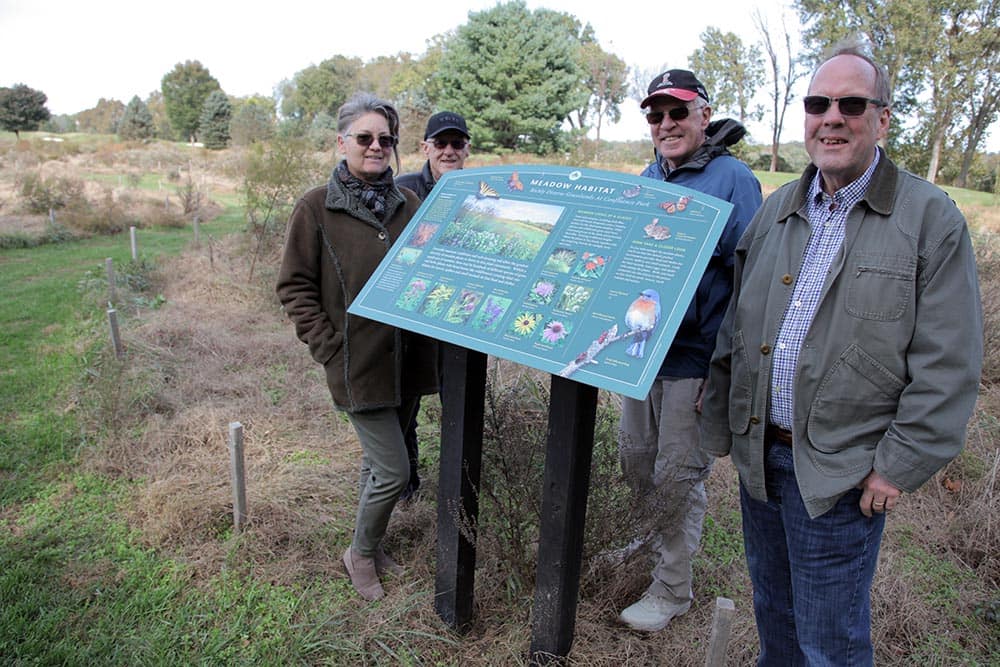 Over 60 percent of Loudoun residents, live in a Homeowners Association-controlled community. How these communities manage their landscapes can have a profound effect on the health of our local ecosystems, wildlife, streams and drinking water sources.
One group that is implementing best land management practices in their neighborhood is the River Creek Confluence Park Committee, which is made up of homeowner volunteers who work in coordination with their HOA. Located just north of Leesburg, River Creek includes over 1,100 homes and borders Goose Creek and the Potomac River.
"Everything will take about three to five years, and we'll build the park out over time," explains Susan Abraham, a conservation landscape designer and professor for the George Washington University Sustainable Landscape Program.
Confluence Park is 7.5 acres along River Creek, and some of the items installed so far include natural trails, a native meadowscape, a bioswale with more than 300 forbs and sedges, approximately 60 trees and 40 shrubs in a woodland entrance, and 200 shrubs and trees in a riparian zone.
In the future, the committee plans to create multiple natural playscapes (which will include recycled materials from the community), more riparian buffers, berm plantings and additional trails.
As we walked through the park, we came upon a basketball court that was purposely placed in between the bioswale and native meadowscape.
"We wanted to make sure these efforts were an integrated amenity for the community versus just leftover space. People can now go to a dynamic spot and it really serves the diversity of populations here. And I think over time it's going to do so much more. We have kids skipping through here now and asking questions," said Susan.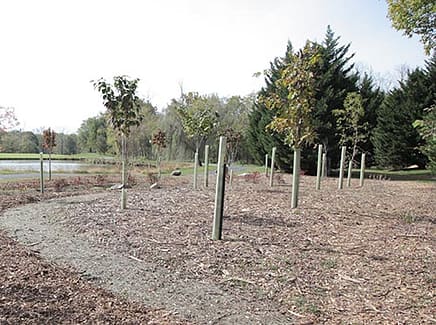 Frank McLaughlin, a Virginia Master Naturalist who is assisting with the River Creek efforts, said he began monitoring bat activity after the installation of the native meadow and other plantings. "When I do the monitoring, I aim toward the center of the field by the basketball court, and I record for an hour.
"There are no lights around the basketball court, but one night there were high-school-aged kids playing basketball anyways. When they decided to walk home, they walked by me and asked about my setup and the bat movement on my iPad screen, and I filled them in on what I was doing. I thought that was great!"
Walking up to the native meadow, a diversity of birds fluttered through and around the brush.
"I always say the first year of the growth is in its infancy. It's a toddler falling down a lot. But next year it will be an adolescent and it will start to shoot up. Then the third year, it really starts to reveal the character of the meadow, and then we'll do a burn," said Susan.
The committee formed in 2015, but according to River Creek resident and volunteer Jack McNamee, things didn't really kick off until they attended an HOA forum, "Common Space for the Greater Good," hosted by The Piedmont Environmental Council in 2016.
"The event was helpful in three ways. One was the presentations; second was being able to listen to what other HOAs were doing; and third was it attracted people who we don't normally run into. For instance, I ended up talking to the Fairfax watershed guy and the Loudoun sediment and erosion person," said Jack. "The ability to meet other people and also other HOAs was helpful. I got involved with the Belmont HOA, and they helped us and we helped them on some other ideas."
This past October, PEC's Gem Bingol hosted a second forum where Jack was a representative on the Homeowners Association panel and spoke about River Creek's efforts. The event drew nearly 100 guests representing 33 HOA communities.
"We look forward to hosting future programs for Loudoun HOAs with new information and ways they can help create a healthier, more resilient future," said Gem.
---
This article was featured in our Winter 2018 Member Newsletter, The Piedmont View. You can read more of the articles on our website or view a PDF of the issue.