This may or may not be a slow week. That first week, when I realize all of the trees had leafed out, is often a slow one in my brain, but this could be because of the enormous amount of pollen around. This is Week 17 of the year, which sounds like a good time for a break. I'm not sure there is one, though. 
Highlights this week:
Greene County Supervisors will hold a public hearing on Tuesday for a $46.2 million budget that features a cut to the property tax rate due to large reassessments of property this week.
Albemarle Supervisors will hold a budget public hearing on Wednesday for a much larger budget as well as one for tax rates which are not being reduced.
Charlottesville Planning Commission and the City Council will talk on Tuesday amongst themselves about zoning again but the third and final draft module of the new rules isn't out yet.
The director of Charlottesville Area Transit will present a look ahead at 2023 on the future of the agency.
The Charlottesville Redevelopment and Housing Authority's Board of Directors on Monday will move ahead with a procedural step to move forward with demolition of 24 units at Sixth Street to make way for double that amount at the same location.
The Albemarle County Planning Commission will be briefed on "planning toolkits" for an effort to designate "centers" in both the growth area and rural areas.
The Fluvanna County Electoral Board has a closed meeting Friday to talk about "election security."
There's a community meeting Thursday for a 290-unit apartment building that will replace the C-Ville Oriental store on U.S. 29
There is no meeting in Louisa County this week, but I encourage you to check out Engage Louisa by Tammy Purcell anyway just to be on the safe side.
Special thanks to the Piedmont Environmental Council for their continued sponsorship of this weekly look ahead to what's coming up in local and regional government.
Monday, April 24, 2023
Pantops community members invited to speak out on community concerns
The Pantops Community Advisory Committee will meet at 6:15 p.m. in the Kessler Conference Room at the Martha Jefferson Hospital Outpatient Center. That's at 595 Martha Jefferson Drive. (meeting info) (agenda)
Something new is on the agenda of this meeting. There's an "open mic for Pantops citizens." That could be interesting in a section of Albemarle that's experienced a lot of change over the past several years. I've tried to track some of it in this newsletter and this tab on Information Charlottesville will give you some background.
There will also be a series of updates on "projects and possibilities" in Pantops, followed by a Q&A period with Supervisors as well as a "getting to know one another" section for CAC members.
Albemarle Historic Preservation Committee to discuss recent demolitions
The Albemarle Historic Preservation Committee will meet at 4:30 p.m. in Room 241 of the county's office building at 401 McIntire Road. (meeting info) (agenda)
The group did meet in March and there's a lot from the minutes to review including an update on archaeology found in Court Square as part of the prep work for the construction of a joint General District Courthouse for both Albemarle and Charlottesville. The firm Rivanna Archaeological Services is working to review items uncovered at the site.
"The dig has been ongoing for a couple of months. An unexpected abundance of resources has been found at the site, resulting in an initial request for more time to catalog resources found, which was granted," reads the report from Lance Stewart, Director of Facilities and Environmental Services for the County.
The minutes state the additional time would cost an additional $25,000. I definitely miss the days when these were virtual as it was so much easier to write up a lot of stories.
There was also a lengthy discussion of the Albemarle County Comprehensive Plan review process. However, all of the committee updates from the March meeting were pushed to this one.
A list of resignations from the committee
A review of the recent dedication of a historic marker at Union Run Baptist Church
A review of the recent dedication of a historic marker at River View Farm
Discussion of having a committee member be a point of contact with the St. John Rosenwald School.
The historic building called La Fourche near Keswick was listed on the National Register of Historic Places as well as the Virginia Landmarks Register last year.
There will be a review of recent and pending demolitions of properties (view the list)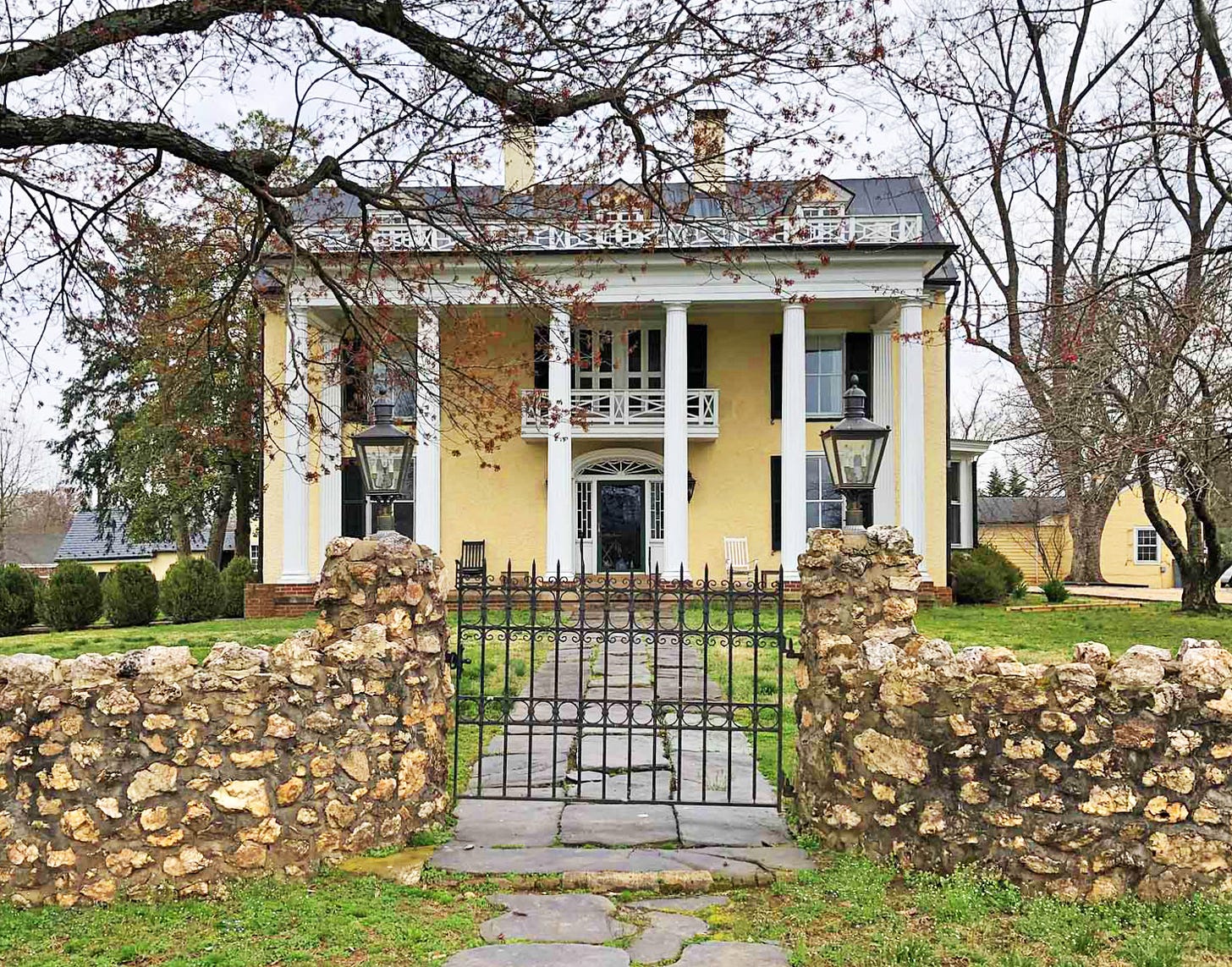 CRHA to take a step forward on Sixth Street redevelopment
The Board of Commissioners for the Charlottesville Redevelopment and Housing Authority meet for what could be their last virtual meeting of the COVID-19 era. Charlottesville has ended restrictions on meetings and the way forward will be one item discussed by the CRHA Board at their meeting which begins at 6 p.m. (agenda on cvillepedia)
The main action item will be a resolution on an application CRHA will make to the U.S. Department of Housing and Urban Development for the Sixth Street site. This is the latest site to be redeveloped which involves a lot of moving parts.
CRHA has created or will create a limited liability company for each site including Sixth Street which will be redeveloped in phases. The first consists of an existing 24 units in four buildings at 707 Sixth Street SE. HUD must approve a demolition and dissolution application for the existing units. CRHA is seeking Low-Income Housing Tax Credits. Here's just a section of the resolution.
"CRHA has applied to Virginia Housing, formerly known as Virginia Housing Development Authority ("VHDA"), for Low-Income Housing Tax Credits ("LIHTC") for the Project and Virginia Community Development Corporation ("VCDC") has offered to contribute equity to the Project in return for a limited partnership interest therein," reads one section.
"As part of the financing structure necessary for the use of LIHTC, Sixth Street Phase 1 LLC, a Virginia limited liability company (the "Company"), was created to own the Project, Sixth Street Phase 1 Management LLC, a Virginia limited liability company ("Management Company") was created to serve as the managing member of the Company, and Charlottesville Community Development Corporation, a Virginia corporation ("CCDC") was created to serve as sole member of the Management Company," reads the next.
Got that? Read the full resolution for more details.
Other items on the CRHA agenda:
There will be an update from the housing director
There will be an update on the housing choice voucher program
There will be an update on finances
There is a report from the Deputy Executive Director (report on cvillepedia)
We learn from the above report that a ribbon cutting for Crescent Halls is scheduled for June 6 at 3 p.m. A ribbon cutting for the new units at South First Street is also planned for June 6.
Construction of South Street First Street Phase 2 may be delayed due to a lack of bids.
In other meetings:
The Board of Directors of the Charlottesville Redevelopment and Housing Authority will meet at the Wool Factory at 2 p.m. That's at 1837 Broadway Street. There will be a presentation from Jay Simple of the Bridge Progressive Arts Initiative. (meeting info) (presentation)
The Board of Trustees for the Jefferson-Madison Regional Library will meet at 3 p.m. at the Nelson Memorial Library in Lovingston. One item on the agenda will be a discussion of a partnership with Nelson County Public Schools. This meeting can be reviewed remotely. (agenda)
Tuesday, April 25, 2023
Charlottesville joint work session with Planning Commission
The spring of zoning continues with another joint work session between the Charlottesville Planning Commission and the Charlottesville City Council. I have so many stories I still want to write about this process, which doesn't seem to get much interest from other writers. In fact, I just did a Google search on "Charlottesville zoning" doesn't turn up much.
This is the most transformative reform that will happen in Charlottesville in decades and I suspect most of my colleagues tune out on the details. I have been using my weekly column in C-Ville Weekly to highlight a few things here and where as I can, but there's so much more I want to write. I don't think this is getting enough attention and I don't think there is a sufficient forum to talk about unintended consequences that could arise after a brute force change in land rules.
But back to this meeting which takes place in CitySpace beginning at 5 p.m. This to be a discussion of "module two" but there's no sense of what feedback staff wants. The third module is not yet available. The Planning Commission also had a conversation about the second module at their meeting on April 11. I've not written that up yet, either.
This meeting will be held in CitySpace as a hybrid meeting. (meeting info)
Here's what I have written up if you want to get up to speed before this meeting.
Appointed and elected officials will speak for three hours about this topic. Will any of it change what's already drafted or is this all a foregone conclusion?
Greene County Supervisors to hold public hearing for FY24 budget of $46.2M
The five-member Board of Supervisors in Greene County meet for a closed session at 5:30 p.m. followed by an open-meeting at 6:30 p.m. They meet in the Greene County Administration Building in Stanardsville. (agenda)
There are four public hearings with the first three related to the budget for fiscal year 2024. Greene County is a locality in transition with officials agreeing to take on two major government tasks in recent years. There's now an Emergency Services Department as well as a Department of Water and Sewer.
There are not a lot of news articles that come up with a Google search for "Greene County budget" and I've not been able to cover the county as much as I'd like.
From what I can glean from the presentation, assessments in Greene County were up sharply this year. The real estate tax rate has been 82 cents per $100 of assessed value, but the equalized rate required to be published by Virginia code would be 66 cents per $100.
Unlike Albemarle and Charlottesville, community members in Greene have pushed back hard on the increase in revenues. The proposed FY24 budget is based on a new tax rate of 73 cents per $100. That's meant about $4 million in expenditure cuts.
"Expenditure requests were reduced as much as possible to keep the tax rate increase as low as possible without jeopardizing current service levels," reads page 22 of the presentation.
The final public hearing is a review of a proposed emergency communications tower for Pocosan Mountain.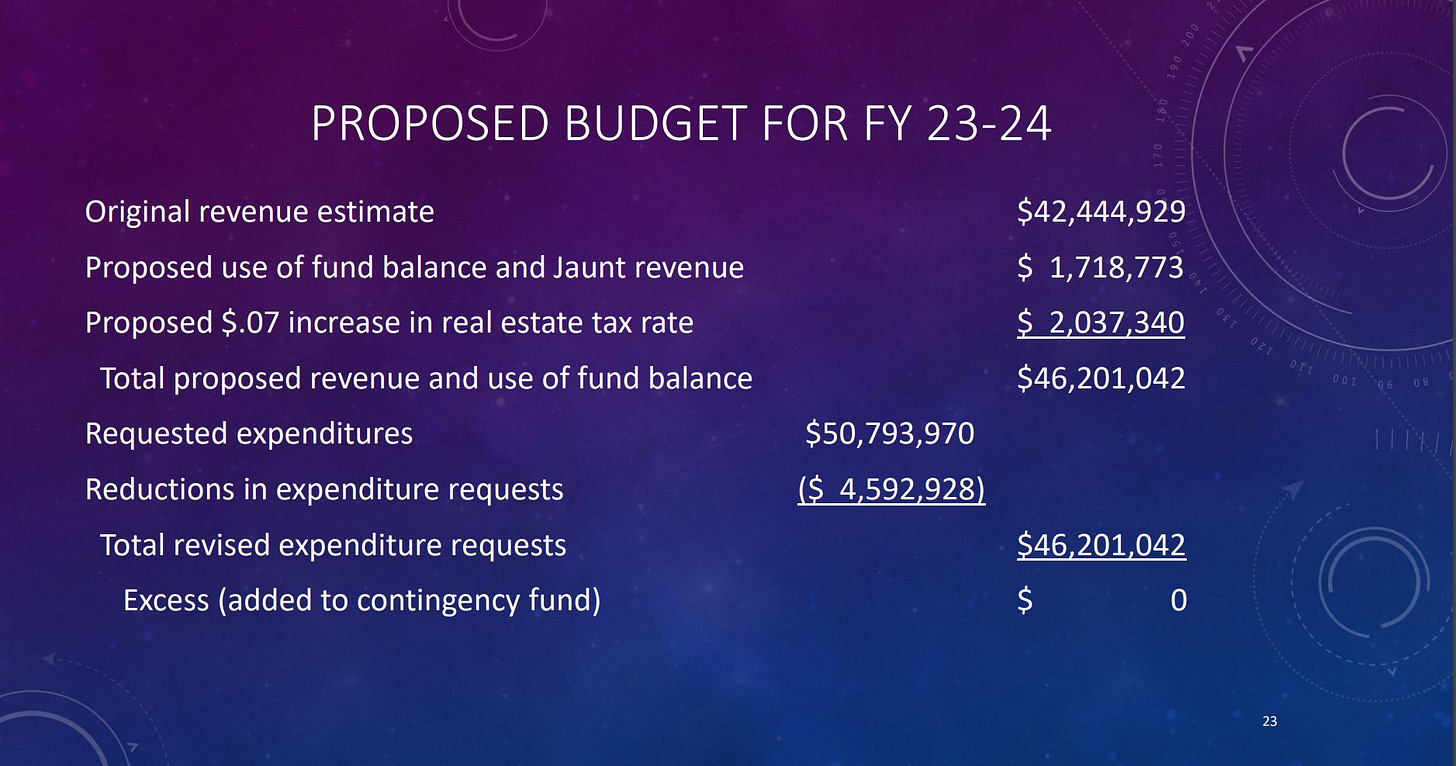 Albemarle PC to hold Comprehensive Plan work session on planning toolkits
The world of planning is filled with jargon and arcane terms that cause many people to just stop listening. A major reason for this newsletter is to explain what's going on so people can begin to get involved. Some local governments also want to make this process more accessible.
Albemarle County is in phase 2 of an update of its Comprehensive Plan in a process known as AC44. If you're new to this, you might start with an article I wrote in January when Supervisors got a briefing on the beginning of phase 2.
The Albemarle Planning Commission will hold a work session at 4 p.m. in Room 241 of the county's office building at 401 McIntire Road. Staff wants feedback on "planning toolkits."
"Planning toolkits provide detailed recommendations for coordinated land use and transportation planning and include guidelines for centers of activity, multimodal transportation networks, and land use and development patterns," reads the staff report.
But the jargon doesn't stop there! We learn from the staff report that the updated Comprehensive Plan will include a "multimodal systems plan approach (MMSP)."
"The MMSP will identify centers of activity in the Development Areas and a multimodal transportation network for safe and accessible transportation options both within and between centers," the memo continues.
Make sense? I would assume this builds off of centers already identified in previous master planning efforts. In fact, we learn from the presentation that there are over 50 centers, though some of them are very small-scale.
The new update will also be informed by an analysis of current and future jobs per acre. This effort will also identify centers in rural areas, some of which are already identified as "crossroads communities."
The real question with the updated Comprehensive Plan is whether it will recommend expansion of the growth areas. The county wants input on what criteria should be included to determine where that expansion should occur. Another question is whether rural interstate interchanges should be expanded to include non-residential, non-agricultural uses.
So far in phase 2, there have been 532 responses to a questionnaire that is supposedly on the phase 2 website.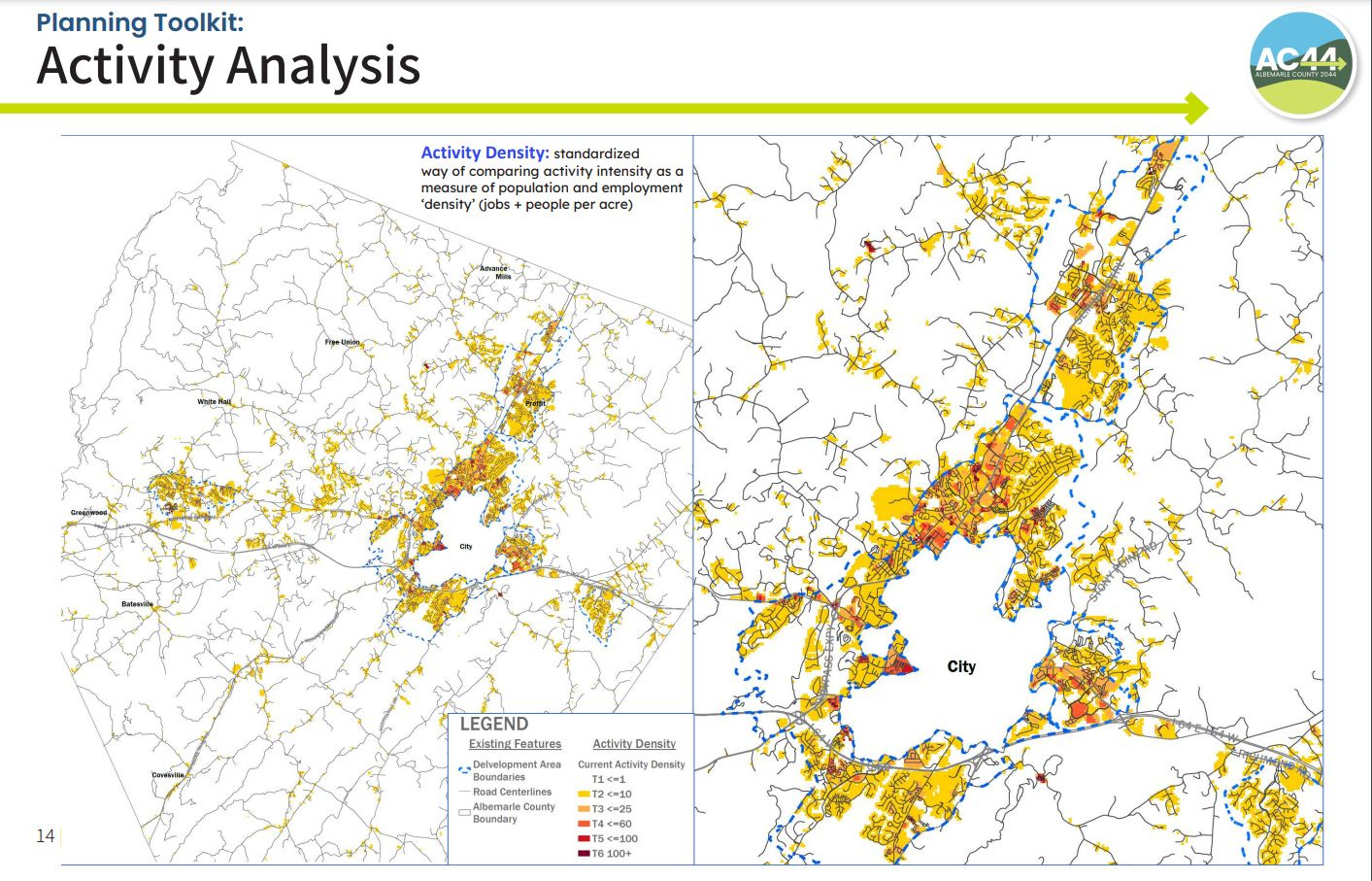 The Planning Commission's regular meeting begins at 6 p.m. in Lane Auditorium. On that agenda are three technical items. Two of these pertain to the airport impact area and the third is a planting strip waiver. (meeting info) (agenda)
In other meetings:
The Fluvanna County Board of Equalization will continue their work with review of five more appeals of real property tax assessments. They meet in the Morris Room of the Fluvanna County Administration Building at 1 p.m. (agenda)
The Board of Directors of the Rivanna Water and Sewer Authority will meet at 2:15 p.m. in the Conference Room at 695 Moores Creek Lane. This meeting can also be watched on Zoom and members of the public can comment that way as well. (agenda packet)
Albemarle County will hold a budget town hall for the Rio District at Northside Library beginning at 7:15 p.m. (meeting info)
Wednesday, April 26, 2023
Albemarle Supervisors to hold budget public hearing for FY24 budget
Last week, Albemarle Supervisors held the final work session for the development of a budget for FY24. A Google News search shows no ongoing coverage of this document which funds the government of a community of over 115,000. I've written a handful of stories but wanted to write more. Everything I've written on this topic can be found here.
The combined operating and capital budget recommended by County Administrator Jeffrey Richardson was $551,461,538. At 6 p.m. Supervisors will gather in Lane Auditorium for a public hearing on the budget and a second public hearing on the various tax rates. I don't seem to be able to find a list of significant changes. I will follow-up before Wednesday for a story.
One resource is a lot of all of the various presentations from the various work sessions. I know what I would assign a reporter if I had access to one. I used to work for an organization that used to cover this stuff, but quit when I was told no one wanted coverage like this.
Nelson County Planning Commission to review vacation house, outdoor entertainment venue
The Nelson County Planning Commission will meet at 7 p.m. at the General District Courtroom at the Nelson County Courthouse in Lovingston. (meeting info)
There are two public hearings. The first is for a vacation house to be located at 795 Afton Mountain Road in the North District. The owners who recently bought the house want to renovate it for their future use. In the meantime, they want to rent out the whole house to transient visitors. A special use permit is required because this is in a Residential-1 District.
There's some neat history in the narrative.
"This was the original farm house at Lillian and Orville Karicofe's OK ("Circle-K") Farm," reads the narrative on page 17 of the packet. "[Eighty] years ago, In January of 1942, one month after Pearl Harbor, this ready-to-assemble "kit" home ordered out of a catalog) arrived by train at Afton Depot, and Orville and Lillian loaded it onto horse-drawn carts and hauled it down the mountain to their 116 acre farm where they raised the structure themselves."
The structure has been abandoned for over 20 years.
The second public hearing is to allow outdoor music at a wedding venue at 3578 S. Powells Island Road. This requires a special use permit as the property is zoned agricultural.
In other meetings:
The Charlottesville Retirement Commission will meet at 8:30 a.m. virtually. (meeting info)
A subcommittee of the Charlottesville Housing Advisory Committee will meet at noon. There's no agenda at publication time. (meeting info)
The Albemarle Broadband Authority will meet at 5 p.m. in Room 241 at 401 McIntire Road but will also be accessible remotely. (meeting info) (agenda)
Thursday, April 27, 2023
Places29-Rio group to get first look at plans for five-story apartment building on U.S. 29
One of the purposes of the Albemarle community advisory committees is to provide a forum for community meetings for new development. The Places29-Rio CAC will take a look at a plan to knock down a specialty grocery store at 1193 Seminole Trail and replace it with a S-shaped mixed-use building. (meeting info) (agenda)
"The Project proposes a five-story building that contains approximately 10,000 square feet of non-residential space, and a maximum of 290 multi-family residential dwelling units with structured parking and modern amenities," reads the project narrative.
The Planning Commission had a preliminary work session in November and encouraged more density at the site. Take a look at that story if you would like more details about that conversation.
In other meetings:
The operations subcommittee of the Solid Waste Alternatives Advisory Committee will meet at noon in Room 246 of the county's office building at 401 McIntire Road. (meeting info)
The Regional Transit Partnership meets at 4 p.m. at 407 Water Street in Charlottesville. On the agenda is a look ahead from Garland Williams of Charlottesville Area Transit and a bike and pedestrian update from city officials. Why is this second item germane to a body that exists to try to make transit better? That's a question a skeptic would ask. This community needs more skeptics. (agenda on cvillepedia)
The Albemarle School Board will meet at 5:30 p.m. in Lane Auditorium at the county's office building at 401 McIntire Road. The agenda is not publicly available at publication time. (meeting info)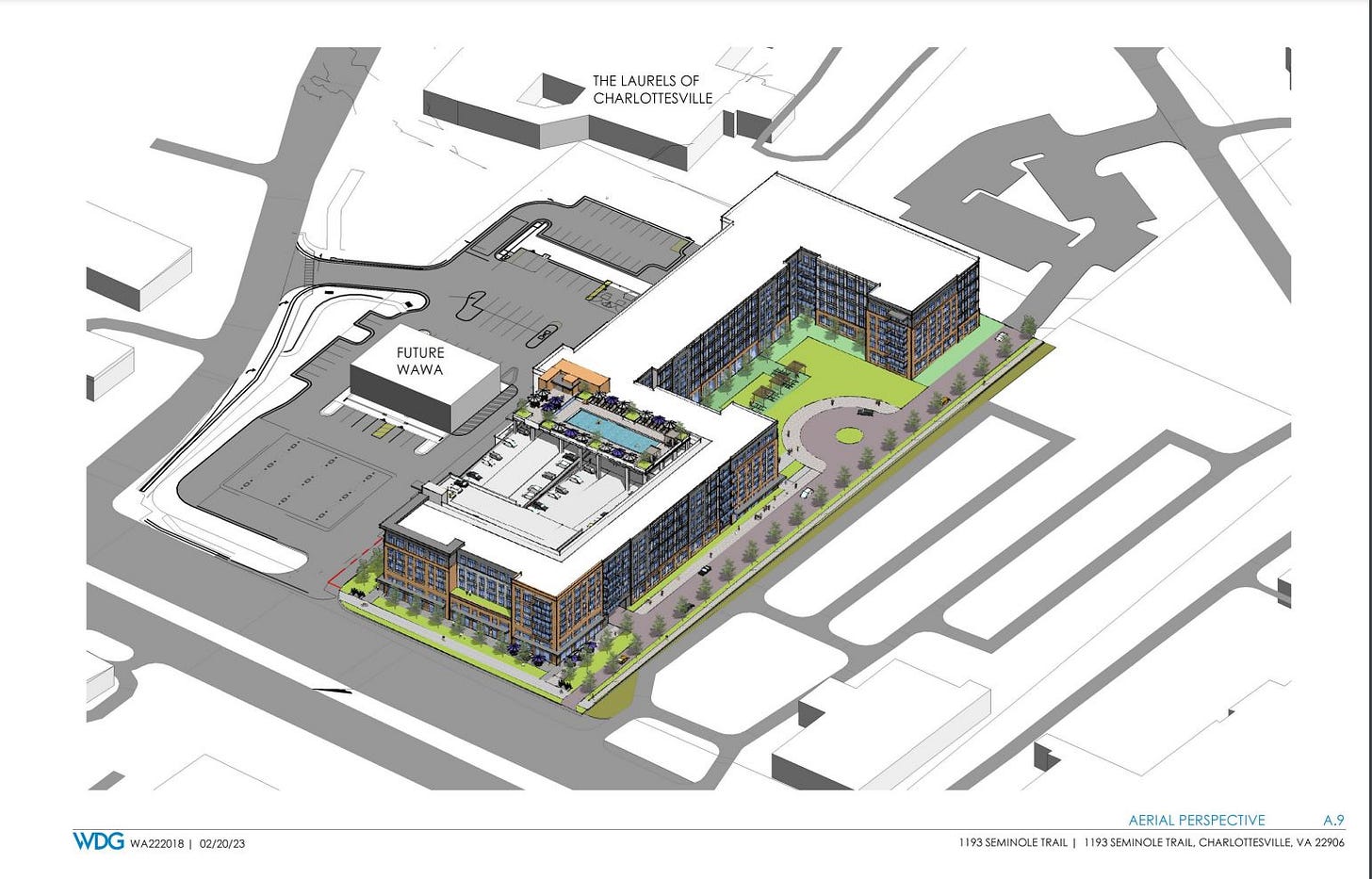 Friday, April 28, 2023
Fluvanna County Electoral Board to discuss "election security" in a closed meeting
The Fluvanna County Electoral Board will meet at 1 p.m. for a closed session with no agenda but "election security" is listed as the topic. The draft minutes for the March 24 meeting do not indicate this closed door meeting was going to happen as they adjourned to May 5.
What changed and is this an actual topic that this board is able to go into closed session for? What do open meeting rules say one this one? (meeting info)
In Virginia, every electoral board is a three-person body that is controlled by whatever political party holds the Governor's mansion. In Buckingham County, the registrar and the entire election office quit after what they described as intimidation from Republicans who allege fraud. There's an April 10 NBC News article worth reviewing here.
What's the need for an election security meeting in Fluvanna?
---
This post was contributed by Sean Tubbs. Sean is a journalist working to build a new information and news outlet centered around Charlottesville and Virginia. In 2020, he launched a daily newscast and newsletter and also created a semi-regular podcast on the pandemic.
Support for Sean's "Week Ahead" update comes from The Piedmont Environmental Council.