The following text was sent out via email on April 26, 2023. Sign up for PEC email alerts →
---
Dear Supporter,
Earlier this month, friends new and old joined us for the 20th Annual Bluebell Walk: Benefits of Beavers, Birds & Battling Invasives for Native Biodiversity along the banks of Cedar Run in Catlett, VA. A big "thank you!" to everyone who was able to attend and spend the afternoon learning with us and enjoying such a beautiful place. Today, I'm happy to share photos and provide links to the fantastic partner organizations who were stationed throughout the farm providing information on enhancing native meadows for grassland birds and other wildlife, invasive plant removal, forest health and riparian tree plantings.
Over the past 20 years, the Bluebell Walk has become a cherished yearly cue that spring has arrived and we can again explore the natural splendor here in the northern Virginia Piedmont. However, this event is more than a simple walk through nature – it is a visible demonstration of how incremental, small efforts in our own backyards can lead to positive environmental outcomes.
Bonny Brook Farm, owned by Mike and Margrete Stevens, is forever protected with a conservation easement. And for the Stevens, placing their land under easement was only the first step of their journey. Margrete and Mike have moved year over year toward improving the stewardship of land and water on their property – including participating in tree plantings through our Planting for the Piedmont initiative, restoring native meadows and managing pesky invasive plant species. They hope that the walk through their farm fields on the way to Cedar Run provides an example to other landowners who can improve the stewardship of their own properties. 
On the day of the event, attendees gathered at the historic farmhouse before commencing upon the roughly one-mile hike through flat grasslands to the banks of Cedar Run. Along the way, experts from PEC and partner organizations including The Clifton Institute, Blue Ridge PRISM, Smithsonian's Virginia Working Landscapes, and Virginia Department of Forestry were stationed to provide educational opportunities on topics ranging from invasive plant species identification and management to managing land for improved grassland bird habitat and forest health. Once the group reached the waters edge, children and adults alike rushed into the cool refreshing waters of Cedar Run to splash about. Those in attendance also had the chance to plant a tree and learn about the benefits of riparian buffers, leaving the property with 60 more trees than at the beginning of the day.
Cedar Run is exemplar of the importance of streams in the Piedmont; it serves as a source of drinking water for the Town of Warrenton, Prince William County, and the City of Alexandria. The riparian forest buffers along Cedar Run act as both a form of water quality and flood protection and as an important habitat corridor connecting to Wildcat Mountain, and ultimately, the Blue Ridge Mountains. Bonny Brook Farm is one of many protected properties within the immediate Auburn Battlefield which makes up the historic core of Fauquier's early agricultural history and continues to be part of a landscape of active farming.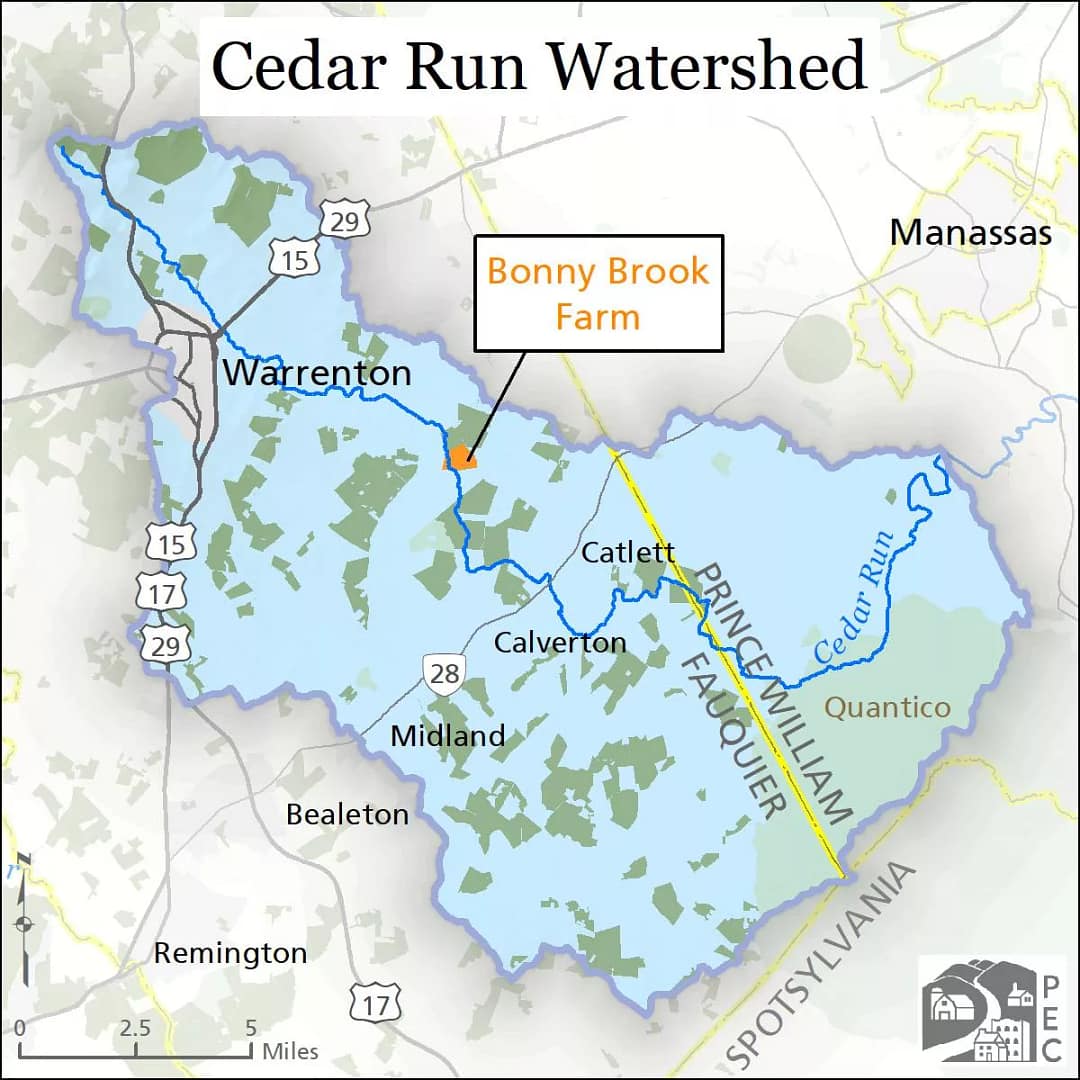 Learn more about our partners:
The Clifton Institute is a 501(c)(3) non-profit organization located in Warrenton, VA whose mission is to inspire a deeper understanding and appreciation of nature, to study the ecology of our region, to restore habitat, and to conserve native biodiversity. Their 900-acre field station, which includes forests, grasslands, shrub fields, and wetlands, provides a beautiful and easily accessible location for all of our programs and is permanently protected under a conservation easement.
Blue Ridge PRISM is a 501(c)(3) nonprofit organization dedicated to reducing the negative impact of invasive plants in the northern Blue Ridge Mountains of Virginia. PRISM supports education and outreach efforts throughout a 12-county service area in the northern Blue Ridge Mountains that includes Albemarle, Augusta, Clarke, Fauquier, Greene, Loudoun, Madison, Nelson, Page, Rappahannock, Rockingham and Warren counties.
Virginia Working Landscapes is a program of the Smithsonian's National Zoo and Conservation Biology Institute that promotes the conservation of native biodiversity and sustainable land management through research, education and community engagement. VWL researchers collaborate with citizen scientists, NGOs, universities, regional landowners and others to conduct research on private and public lands with a focus on biodiversity, ecosystem services and threatened species.
Virginia Department of Forestry is a state agency with a mission to protect and develop healthy, sustainable forest resources for Virginians. The Virginia Department of Forestry (VDOF) creates and uses a variety of conservation education resources for both children and adults – from publications and exhibits, to hands-on activities and workshops. Field staff deliver programming throughout the state to improve knowledge of forest ecosystems, forest resources, and forestry practices.
The Bluebell Walk is made possible by PEC's Julian W. Scheer Fauquier Land Conservation Fund (JSFF), which hosts the event and helps farmers and landowners cover costs associated with donating easements and implementation of agricultural practices that improve water quality and livestock health, such as stream exclusion fencing, tree planting, and alternative watering systems. JSFF is one of eleven donor-designated funds created for on-the-ground conservation and restoration projects in specific geographic areas within PEC's service territory. If you'd like to learn more about how PEC can assist with your land conservation and restoration efforts, please visit our website or reach out to me with any questions.
This event also takes the support of PEC's membership. If you are not yet a PEC member, we hope you'll consider joining us and supporting our work.
Bonny Brook Farm is an important piece of the bigger picture of conservation in our region and an excellent microcosm of PEC's mission, vision and values. Our updated strategic plan emphasizes the importance of conservation, restoration and empowering local residents to make positive changes for the environment, and the Bluebell Walk is a fantastic case in point!
Sincerely,
Maggi Blomstrom
Culpeper County Field Representative & Rappahannock-Rapidan Conservation Initiative Coordinator
mblomstrom@pecva.org
(540) 347-2334 ext. 7067
P.S. We've got a win-win opportunity for you: Refresh your outdoor gear for spring and support PEC's tree planting program! For the entire month of May, receive a special discount at Orvis retail stores in Arlington, Tyson's Corner and Leesburg when you donate to PEC. Offer valid on donations of $10 or more and during the month of May only. Two ways to donate – online at pecva.org/donate and in store at Orvis.