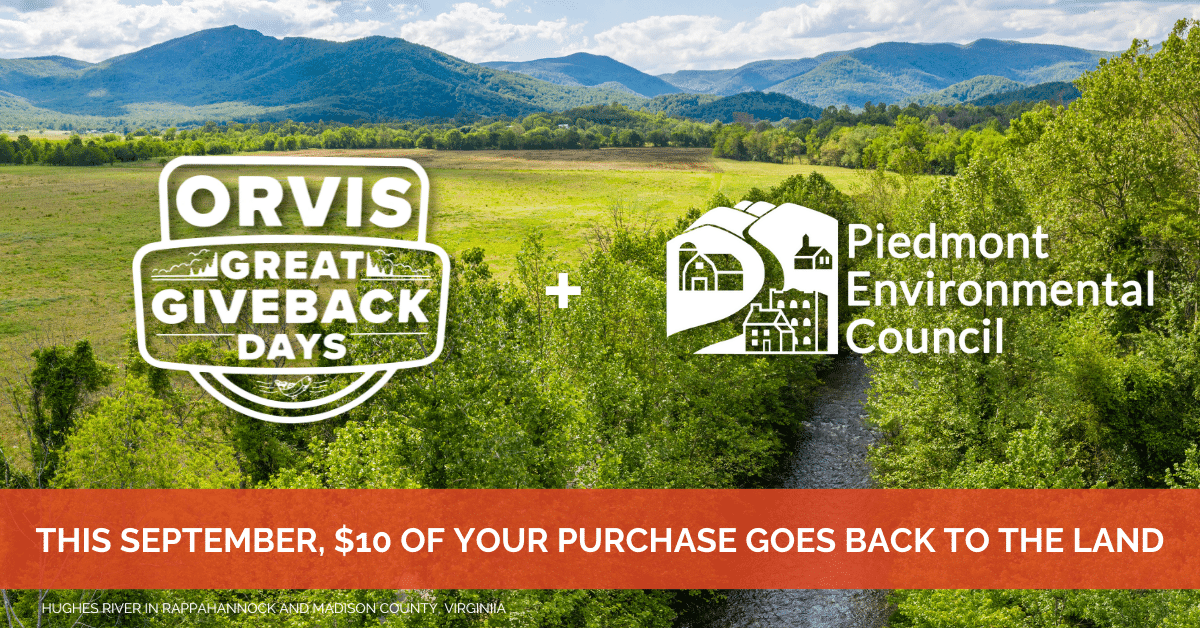 When you shop at your local Orvis store in Arlington, Leesburg, Tysons Corner during the month of September you can support local land and water conservation efforts! Receive a special discount when you donate $10 or more to The Piedmont Environmental Council's tree planting program as a part of Orvis' Great Giveback Days campaign.
Two ways to donate and get a discount at the Orvis Arlington, Leesburg or Tysons Corner stores (*limited to these locations):
In person at the stores
Online at pecva.org/donate – just bring in your email or printed receipt from your donation to PEC.
A huge thank you to our local Northern Virginia Orvis stores for choosing PEC as their nonprofit partner! To date, Northern Virginia Orvis stores have donated $39,544 to PEC's tree planting and trout restoration projects.
*If you shop at the Charlottesville store, your donation will go to our partners at the Rivanna Conservation Alliance.
Your purchase will help us plant thousands of trees
As a part of The Piedmont Environmental Council's Plantings for the Piedmont initiative, we're planting thousands of native trees to keep streams cold, clean, and connected for fish and wildlife habitat, and protect the drinking water supply for Northern Virginia.
PEC and our partners work to provide project design, trees and other planting materials, and labor for the planting of native trees and shrubs along riparian zones – streams and rivers – on properties in the headwater counties of the Rappahannock and Potomac rivers.
Orvis donations will go towards buying trees that will be planted by local volunteers throughout the spring and fall.
Learn more at pecva.org/buffers.
Why are trees along waterways important?
A forested canopy created by the tops of trees provides shade and cools water temperatures, which is essential for healthy fish populations and the food sources on which they depend.
Riparian forest buffers offer recreation to fishermen, birders, hikers, and paddlers.
Forested riparian buffers provide food and shelter for many wildlife species and serve as corridors for the movement between habitats. This is especially important because habitat loss from landscape fragmentation has reduced many wildlife populations.
Buffers help restore the Chesapeake Bay, the largest estuary in the nation and a significant regional economic and recreational resource. Buffers help restore the quality of the Bay and the ecosystems we depend on for a successful fishery.
Water flowing through a riparian forest is slowed and absorbed by the vegetation, leaf litter, and porous soils found there, therefore reducing soil erosion and sedimentation.
Questions? Please contact Maggi Blomstrom at mblomstrom@pecva.org.