In 2021, Smithsonian's Virginia Working Landscapes and The Piedmont Environmental Council launched the Virginia Grassland Bird Initiative (VGBI), an effort to stem the decline of grassland bird species. With most of our state's native grasslands now converted to agricultural landscapes, VGBI is working alongside producers to establish conservation practices that can simultaneously benefit this suite of birds and also work in tandem with the goals of these farms.
This important initiative relies on strong local partners and interested landowners working together with knowledgeable PEC and VWL staff. Learn more about the initiative at pecva.org/vgbi.
Meet PGBI staff Justin and October below!
Justin Proctor (he/him)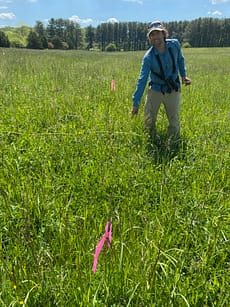 ProctorCJ@si.edu
607-229-6255
Justin works with Smithsonian's Virginia Working Landscapes and is the Coordinator of the Piedmont Grassland Bird Initiative, working to assist producers and landowners in adopting a suite of best management practices for bird conservation on their landscapes. Justin has spent 15+ years working in the fields of science, education, and conservation, affording him opportunities to conduct ornithological research across the western hemisphere. Justin is excited to be a part of an initiative that takes science and turns it into action that benefits biodiversity, landscape resiliency, and local communities.
Favorite grassland bird: Horned Lark
---
October Greenfield (she/her)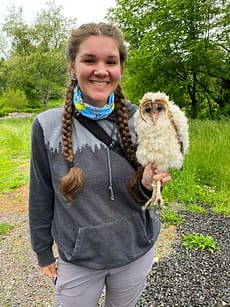 ogreenfield@pecva.org
(540) 347-2334 ext. 7051
October works as PEC's Wildlife Habitat Restoration Coordinator, where her work includes executing a diverse portfolio of wildlife habitat restoration projects, leading community-based conservation efforts, and promoting landowner engagement. With a passion for avian conservation, October has worked on a variety of research projects, studying species such as peregrine falcons, red-headed woodpeckers, American kestrels, barn owls, and more. October serves as the PGBI Co-Coordinator, where she manages delayed mowing.
Favorite grassland bird: Barn owl