The Old Carolina Road Trail at Roundabout Meadows is a half-mile long public trail in Aldie, Loudoun County, VA. In 2021, PEC opened the trail in partnership with NOVA Parks, Fauquier and Loudoun Garden Club and the Mount Zion Cemetery of Aldie. The trail winds its way through properties owned by PEC and NOVA Parks and is part of over 335 acres of protected land between Gilberts Corner and the traffic circle at Watson Road and Route 50.
Trail length: 0.5 miles
Difficulty: Easy
Surface: Unpaved, mostly grass
Route type: Out and back
Parking: Available near the trailhead at NOVA Park's Mt. Zion Historic Park. View on Google Maps →
Hours: Open year-round, dawn to dusk
*Dogs are welcome on the trail as long as they are leashed and all waste is bagged and removed from the site.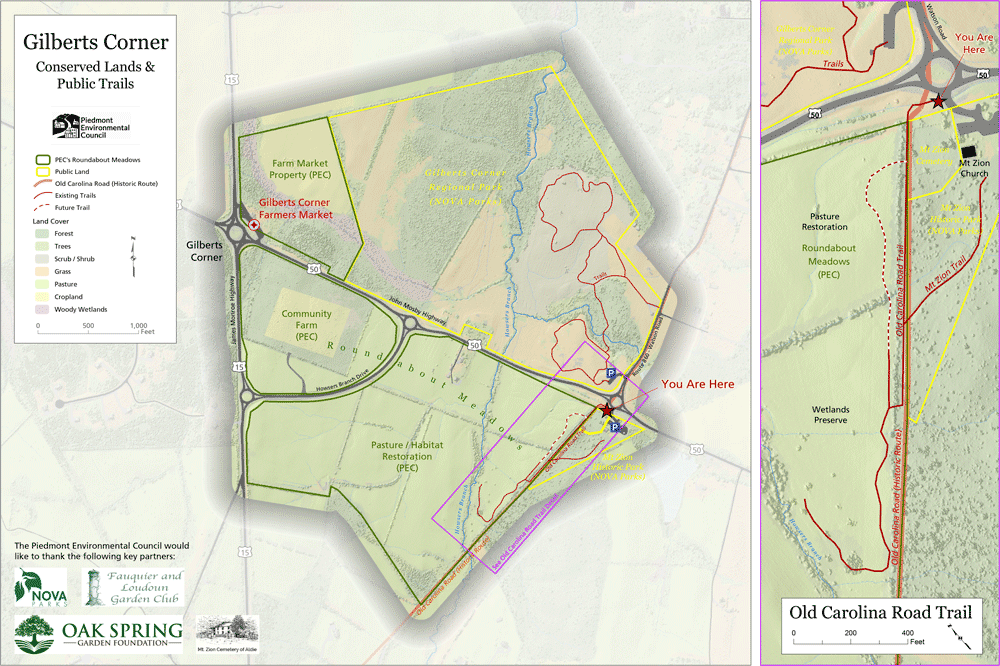 This beautiful walking corridor offers convenient public access to the scenic, historic, agricultural and natural resources of Gilberts Corner. The parking area at NOVA Park's Mt. Zion Historic Park gives visitors an up-close view of historic Mt. Zion Old School Baptist Church, which was built in 1851 and used as a Union field hospital during the Battle of Aldie in 1863. The trailhead and kiosk, located in front of the church cemetery wall, direct hikers to the top of the historic Old Carolina roadbed, once an American Indian trail used by early colonists as a north-south route through Loudoun County and beyond. The trail leads visitors past a portion of the 1852 cemetery, where 14 Civil War soldiers are buried, and past the 60 largely unmarked graves of the African-American congregation's cemetery. It then leads visitors into the seven-acre Roundabout Meadows Wetlands Preserve, a sensitive wetland site with a fantastic array of flora and fauna. And finally, the trail goes down to the edge of Howsers Branch stream, where PEC has been working to restore water quality for the past six years.
Interpretation of Roundabout Meadows and the Old Carolina Road Trail has been guided, in part, by a 2019 report by Michael Gaige and his team exploring the historical, geological and agricultural values the property offers. The report synthesizes the various attributes that make the property so unique, and offers guidance for its future conservation.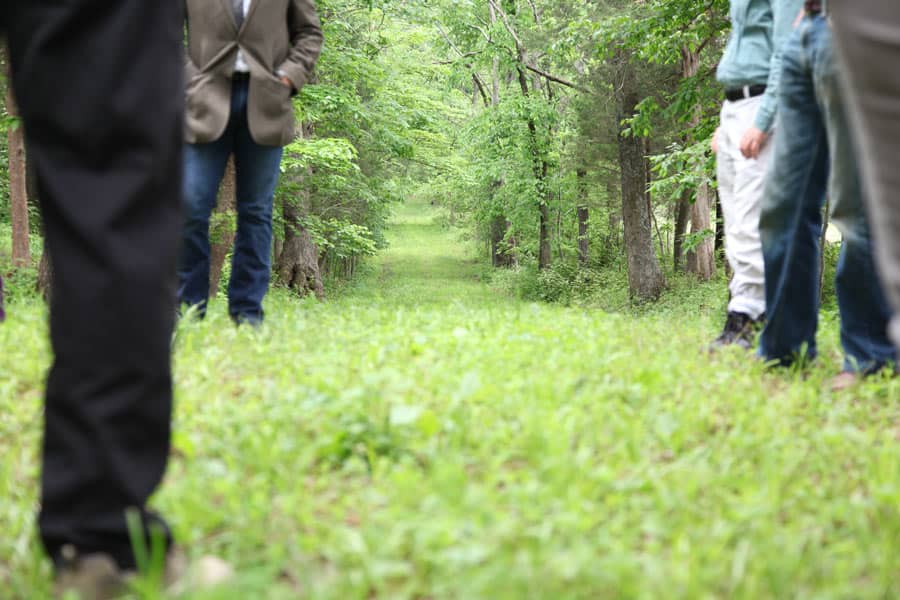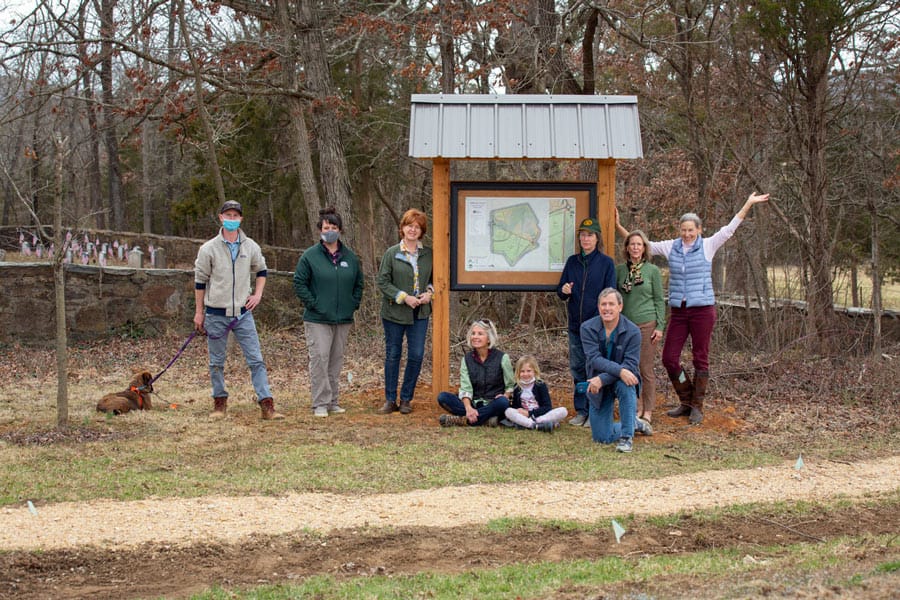 The entrance to the trail is marked by a kiosk and extensive plantings of native trees and shrubs funded by the Fauquier Loudoun Garden Club, which has partnered with PEC to enhance the visitors recreational and educational experience. This includes funding research by Dr. Andrea Weeks of George Mason University, a botanist and Associate Professor and Director of the Ted R. Bradley Herbarium (George Mason University College of Science).
The data collected at the site provides a glimpse of the diversity of flora thriving at Roundabout Meadows, some of which are less commonly found, such as Purple Milkweed (Asclepias purpurascens). More detailed information is available at the Southeastern Region Network of Expertise and Collections (SERNEC)
The Old Carolina Road Trail is part of PEC's ongoing effort with partners to make Roundabout Meadows a hub for community engagement, with interpretive history tours, pasture field walks, environmental education, native habitat restoration, volunteer service at PEC's Community Farm and an opportunity for people to purchase locally grown food at the Gilberts Corner Farmers Market.

Questions about the Old Carolina Road Trail or PEC's Roundabout Meadows property? Please contact Dana Melby at dmelby@pecva.org.