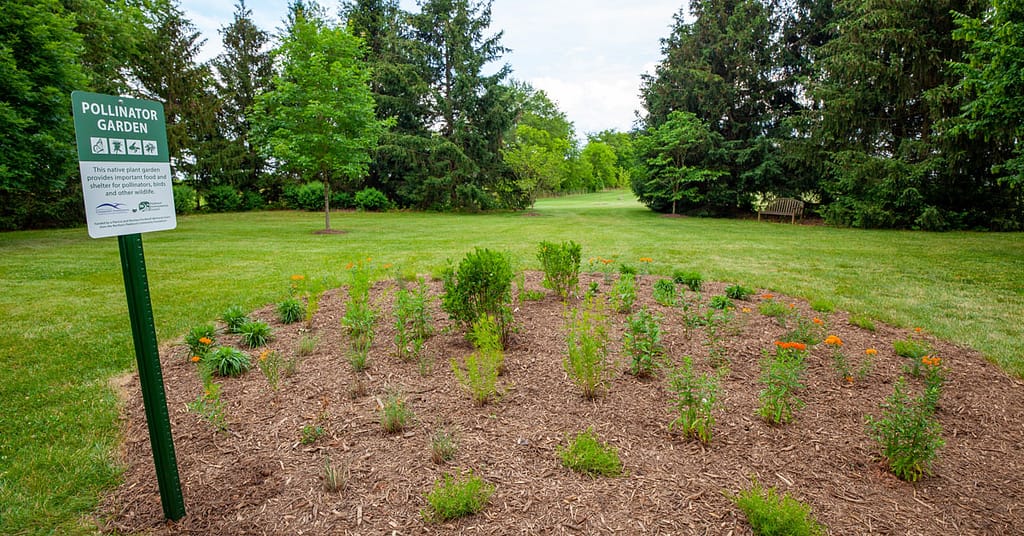 "This native plant garden provides important food and shelter for pollinators, birds and other wildlife," reads a sign introducing a small but impactful plot of brightly colored flowers.
As a part of our effort to promote sustainable landscaping practices, PEC collaborated with the Fauquier Parks and Recreation Department to install a native plant garden at C.M. Crockett Park in Midland, VA. The garden included numerous native plant species that are beneficial to pollinators and make a lovely addition to the Sanctuary: A Commemorative Grove — a welcoming space where mockingbirds chatter in the trees and visitors walk their dogs.
Demonstration gardens like this one help expose residents and visitors to native plants and encourage them to install similar gardens on their property to help restore our natural environment while also creating beautiful outdoor spaces for people to enjoy.
This project was made possible through a Patricia and Nicolaas Kortlandt Memorial Grant from the Northern Piedmont Community Foundation. The grant was for two complementary activities: planting a native plant demonstration garden and a webinar on sustainable landscaping. The Sustainable Landscaping Webinar was held on October 8, 2021. View the recording →
Our design included 11 native plant species:
| Common Name | Scientific Name |
| --- | --- |
| Blazing Star | Liatris spicata |
| Blue Star | Amsonia tabernaemontana |
| Butterfly Weed | Asclepias tuberosa |
| False Indigo Yellow | Baptisia sphaerocarpa |
| Garden Phlox | Phlox paniculata |
| Little Blue Stem Grass | Schizachyrium scoparium |
| Moss Phlox | Phlox sublata |
| Aromatic Aster | Symphyotrichum oblongifolius |
| Sweet Goldenrod | Solidago odora |
| Sweet Pepperbush | Clethra alnifolia |
| Threadleaf Coreopsis | Coreopsis verticillata |
---
The pollinator garden at C.M. Crockett Park is just one example of how native plants can be incorporated into pre-existing park spaces. PEC has also helped establish demonstration sites off a walking trail by Thornton River in Sperryville, VA, near the Town of Warrenton's Greenway trail and dog park, and in Rappahannock County Park thanks to funding from PEC's Krebser Fund for Rappahannock County Conservation.
While parks offer significant wildlife habitat, pollinator gardens are also needed in suburban and urban settings — in backyards, window boxes and along city streets. Our Larson Native Plant Garden in downtown Warrenton hosts over 50 species of Virginia natives in a landscape designed with the average homeowner in mind.
>> Learn the basics on how to create a pollinator habitat
>> Find Virginia native plant lists
>> Watch our Go Native! webinar
>> Watch our online event: Plant Northern Piedmont Natives – Changing How We Think About Our Landscapes