This text was taken from an email alert we sent out on February 25, 2011:
The 'Outer Beltway' Plan Returns
Supporter,
As I shared earlier this month, the Virginia General Assembly appears poised to approve Governor McDonnell's plan to borrow several billion dollars to put toward new transportation projects. Leaving us with the question — what exactly is this money going to fund?
The Bait and Switch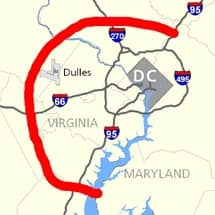 In public, the Governor has offered a list of some 900 road projects that might be funded by the new debt– a list that does not include a controversial outer beltway project around DC. (this list played a key role in getting Delegates and Senators — who face reelection this year — to sign off on the risky borrowing)
However, it looks like the Governor's priorities may have already changed. In a meeting of the Commonwealth Transportation Board (CTB) last week, the Governor's Secretary of Transportation and two CTB members announced a renewed effort to prioritize a highway connecting I-95 in Prince William to Rt. 50 in Loudoun.
This massive road, often referred to as the 'Outer Beltway' or 'Western Transportation Corridor', would go from I-95 south of Dumfries to Rt. 50, following the western edge of the Manassas Battlefield (eventually crossing the Potomac River somehow, and connecting to the ICC toll road in Maryland). It's a bad idea that has been repeatedly shot down by citizens and local governments, but the Outer Beltway remains a priority for those who stand to benefit from sprawling growth patterns in Northern Virginia.
During the meeting, the Secretary of Transportation asked the two CTB members when they plan to offer a resolution to make the project a "Corridor of Statewide Significance." Their response was that the resolution is not quite ready yet, but that they hope it will be by the next CTB meeting in March. Secretary Connaughton, who used to Chair the Prince William Board of Supervisors, then said:
"You guys would never make it on the PW County Board of Supervisors, we live for bushwhacking people."
The full audio of the CTB meeting can be accessed online (it's the "Meeting Audio" from the Feb 16 meeting, the discussion happens during the last 20% of the recording).
Ask the Transportation Board Not to Prioritize a New Beltway
Construction of an Outer Beltway would encourage increased development in areas which lack the necessary support infrastructure (water, sewer, schools, roads, and other services) –making existing congestion, fiscal and environmental problems worse. The real transportation need in Northern Virginia is for improved east-west connections, not another north-south corridor.
On top of that, the project would siphon money away from projects that citizens of the Commonwealth actually need — repair, maintenance and enhancements for our aging bridges, roads, and transit systems, and completion of the many local and regional transportation priorities that are needed to ease traffic congestion.
The Commonwealth Transportation Board will ultimately decide where to spend the multi-billion dollar transportation bond package. Please take a minute to write to the CTB [this text was linked to an online advocacy campaign], ask them not to waste limited funding on a project as destabilizing as the Outer Beltway.
Sincerely,
Chris Miller,
President Piedmont Environmental Council
---
Received this from a friend? Sign up to receive alerts and news from PEC.