What's good for wildlife is often good for water quality," said Celia Vuocolo, PEC's wildlife habitat and stewardship specialist, as she spoke to guests at the fifth Annual Thumb Run Open House.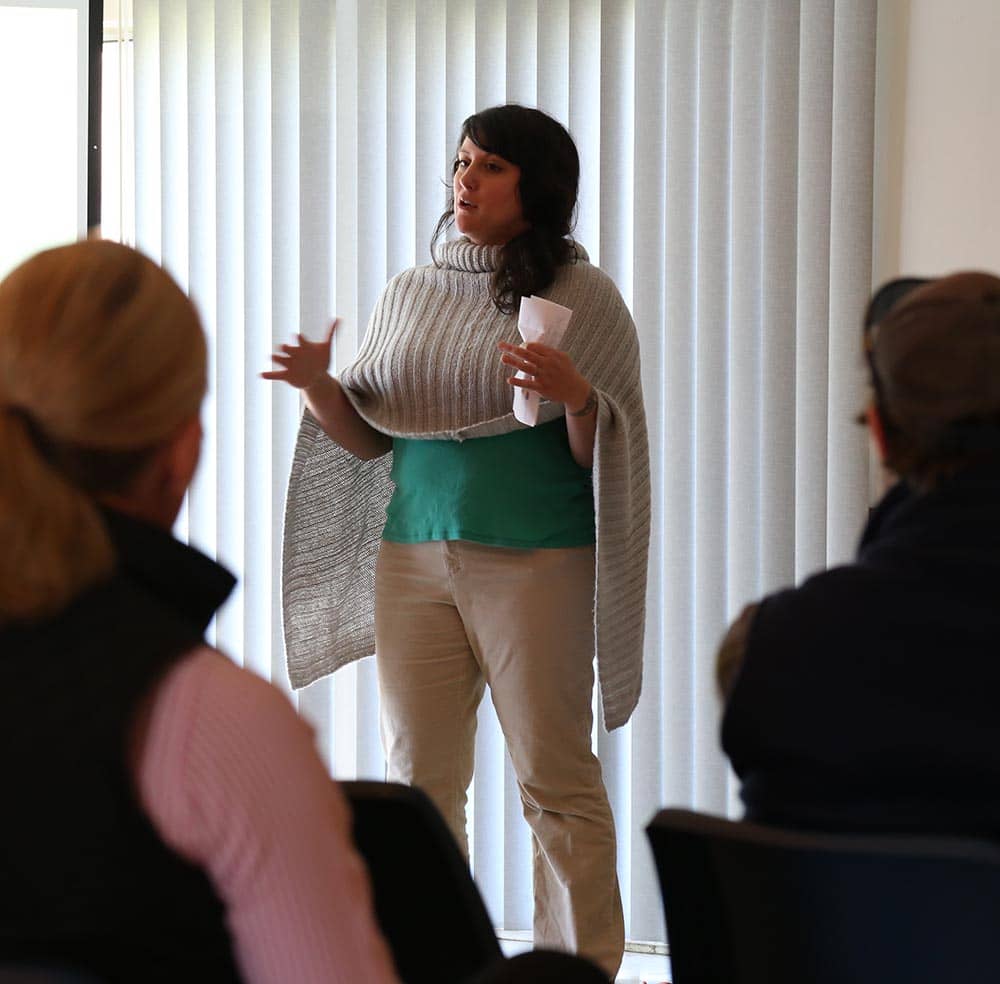 This sentiment was reinforced at the event, held on November 13 at the Orlean Fire Hall, by speakers Amy Johnson of Smithsonian Conservation Biology Institute's Virginia Working Landscapes Program, Janet Davis of Hill House Farm and Nursery and Dr. Tania Cubitt of Performance Horse Nutrition LLC, whose presentations focused on grassland bird conservation, landscaping for wildlife and healthy horse pastures, respectively. While the presentation topics varied, the underlying theme was the same — land stewardship supports clean water.
The Thumb Run Watershed Wildlife Corridor Project began in 2012 with a generous grant from The Volgenau Foundation, which remains committed to partnering with PEC and funding work in the watershed. Thumb Run is classified as an impaired waterway by the Department of Environmental Quality due to high levels of E. coli bacteria. The east and west branch of Thumb Run flow through Hume and parts of Marshall, before joining together near Orlean and emptying into the Rappahannock River near Amissville. Roughly 600 landowners call the Thumb Run watershed home.
Our project's focus is to create and strengthen wildlife corridors throughout the watershed, particularly around riparian buffers, which help filter runoff and contaminants before they enter waterways.
"Essentially, wildlife habitat serves as a vehicle to get to clean water. And we've expanded our focus to also include other land stewardship goals in order to support landowners who wish to improve the health of their property through other paths," said Vuocolo.
Land use in the Thumb Run watershed is similar to how land is used in much of the Virginia Piedmont. It consists of large horse and cattle farms, wooded lots and mixed use properties that are 50 acres and under. In order to assist all landowners with their property goals, we have partnered with several organizations that provide varied expertise and cost-share opportunities, such as John Marshall Soil and Water Conservation District, Virginia Department of Forestry, Virginia Working Landscapes and Friends of the Rappahannock. We've also helped organize watershed outreach events every year, which includes the annual Thumb Run open house and the popular "For the Rappahannock, From the Rappahannock" springtime event held at the Marriott Ranch in Hume, Va.
In 2014, we launched the "Backyard Habitat Costshare Program," which assists landowners of any acreage with the installation of a wildlife habitat garden. This program covers approximately 75 percent of the cost of native plant material and supplies, which are provided through a partnership with Hill House Farm and Nursery, one of the few nurseries in our region that sells only native plants.
Landowners are provided native plant groupings, which is a suite of plants (10-20 different species) that work well as a designed wildlife habitat, as well as installation advice and a garden design specific to their property. The landowner is responsible for 25 percent of the plant material costs and "sweat equity."
Since this program's launch, six private gardens have been installed in the watershed. Additionally, as part of the program, a public demonstration site at the Orlean Fire Hall broke ground this past fall. The demonstration site will allow local landowners the opportunity to see a completed habitat project. Once finished, the site will contain a small 'pocket' meadow and a creekside native shrub and perennial planting. The Orlean Community Trail System is stewarding the project and providing volunteer labor. Native perennials, grasses and shrubs were chosen for this project that provide habitat and food sources for pollinators.
Since the project's inception in 2012, both PEC and John Marshall Soil and Water Conservation District (JMSWCD) have implemented many on-the-ground projects. JMSWCD has been working in the watershed for a decade, and has completed 26 livestock stream-exclusion projects, which have protected over 40 miles of stream bank. We have completed over 60 landowner site visits to provide technical advice, finished 10 projects and held 17 outreach events in the watershed.
Despite these successes, Thumb Run remains impaired and needs more work. We and our partners are committed to providing continued assistance to landowners interested in making their watershed a healthy place to live — both for them and their neighbors, but also for their livestock and local wildlife.
---
This article was featured in our Winter 2016 Member Newsletter, The Piedmont View.