Honoring U.S. Colored Troops and African American contributions in Culpeper County
---
At the quiet, rural crossroads of Routes 610 and 724, barely beyond the threshold of Ebenezer Baptist Church in Culpeper, the once-booming area of Maddensville is arguably one of the most intriguing and historical locations in Culpeper County.
It lay at one time along the main trade route between the Shenandoah Valley and Fredericksburg. Madden's Tavern, with its associated general store, blacksmith, and wheelwright shop, served as a popular business and rest stop for travelers and teamsters before the war, and for both Union and Confederate soldiers during the war. Thousands in the 4th Division 9th Corps Army of the Potomac marched through Maddensville. On May 8, 1864, three unidentified veterans—United States Colored Troops (USCT)—were captured and executed by 9th Virginia Cavalry troops nearby.
On the clear, crisp morning of Saturday, Nov. 6, just days ahead of Veterans Day, about 150 people from far and wide came together at these crossroads to witness history—the dedication of a new Civil War memorial site honoring the men killed here and the African American Madden family, whose historic imprint on the area remains today. It is the first such memorial in Culpeper County, which has been called one of the most fought-over counties during the entire Civil War.
"It's easy to think of this dedication of a new collection of markers and memorials as simply that. But it is far more than that, in fact. This event is part of an inexorable, inevitable, and indispensable process of change… in how we see and understand our past…not by seeing less, but by seeing more…. And in that broader picture, it's easier for more of us to find our place in that story," said keynote speaker John Hennessey, retired chief historian with the Fredericksburg and Spotsylvania National Military Park.
The new, beautifully landscaped Maddensville Historic Site now welcomes visitors and residents alike with an elegant granite obelisk memorializing the ultimate sacrifice of the three unnamed men. Three striking Civil War Trails markers stand before it, describing the historical significance of the pre-Civil War Madden's Tavern, still standing within eyeshot; post-Civil War Ebenezer Baptist Church just across the road where congregants still gather today; and the service and sacrifice of 17 Culpeper-born USCTs who served in the 4th Division, 9th Corps Army of the Potomac.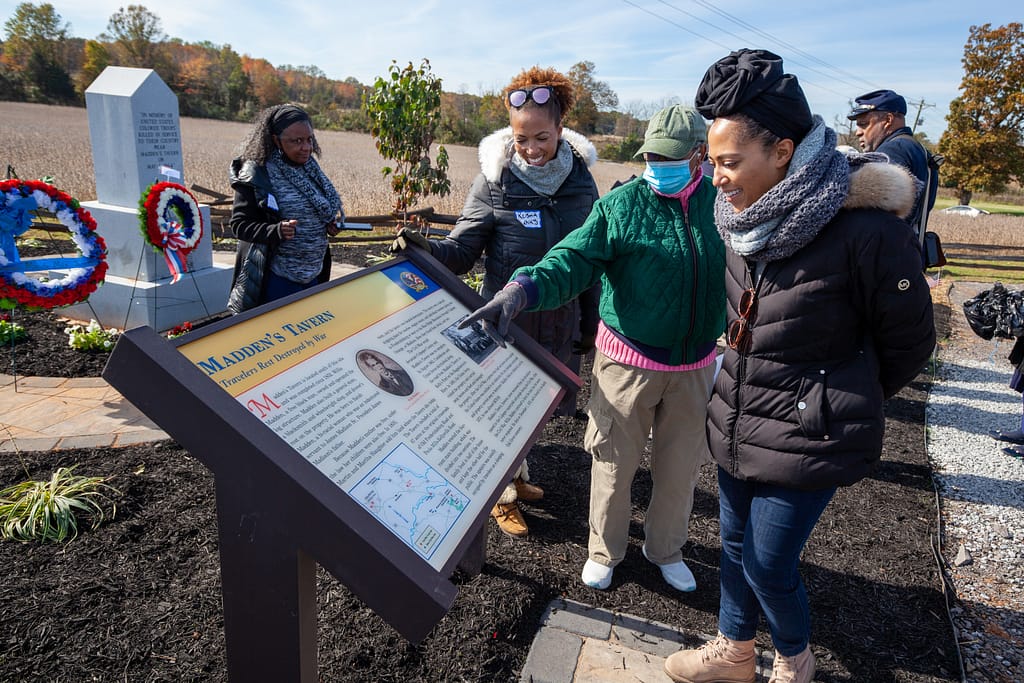 The memorial is the culmination of a years-long labor of love for Howard Lambert, president of the Freedom Foundation of Virginia, in partnership with The Piedmont Environmental Council, Civil War Trails, the Madden, Tingler, and Hawkins families, and many local citizens who contributed their time and talents on fencing, landscaping, hardscaping, a reflection bench and flagpole, and other elements of the site.
PEC is proud to have provided funding and support to help Lambert bring his vision to fruition, moving the project through various permitting processes and raising $25,000 for the interpretive signage, obelisk and site development.
"Our 50-year history of working with landowners to preserve historic landscapes has expanded to include the untold and under-told stories of the region. Civil War history is almost exclusively focused on white history, and these markers are a tremendous opportunity to tell a more complete story and to forever memorialize the contributions of African American soldiers and communities," said PEC President Chris Miller.
United States Colored Troops in Culpeper
Lambert describes Culpeper County as "a kind of ground zero" in the story of the USCTs, in that many formerly enslaved men who'd gone north returned to the place of their enslavement to fight for the Union cause. "They could have stayed free and enjoyed all the privileges thereof, but these men decided to join the Union army and come back as proud soldiers in blue to fight to free people who were still in bondage, knowing that if they were captured, they would be given no quarter, but would be lined up and shot, which is obviously what happened here near Madden's Tavern," he said. The Freedom Foundation of Virginia has identified nearly 120 USCTs who called Culpeper their home.
The many USCT descendants present at the ceremony gave faces to the names of the past, including Sgt. Daniel Steward and French Menefee, Sr. Menefee's great-great-grandson, Eugene Triplett, of Brandy Station and vice president of the Freedom Foundation, said, "It gives me a better appreciation for this area, knowing that I had relatives who traveled through here and who fought here. It makes me proud."
"I don't think you can fully understand the story of the Civil War without looking at the contributions of the nearly 200,000 United States Colored Troops who fought for the Union army, and you can't tell a full story of Culpeper County without telling the story of the United States Colored Troops," said Lambert, who calls Culpeper his hometown. "You've got to tell that story because it's integral to how the country eventually turned out."
Madden's Tavern
Constructed between 1840 and 1852, Madden's Tavern is a story-and-a-half log structure designed, built and operated by Willis Madden, a free Black man whose biracial mother Sarah gave 30 years of indentured service in the household of James Madison, Sr. She used seamstressing skills she developed there to make a living and help Willis purchase his first 87 acres of land. Madden rose from poverty to become the respected proprietor of what is the only known Black-owned-and-operated tavern in the Virginia Piedmont prior to the Civil War.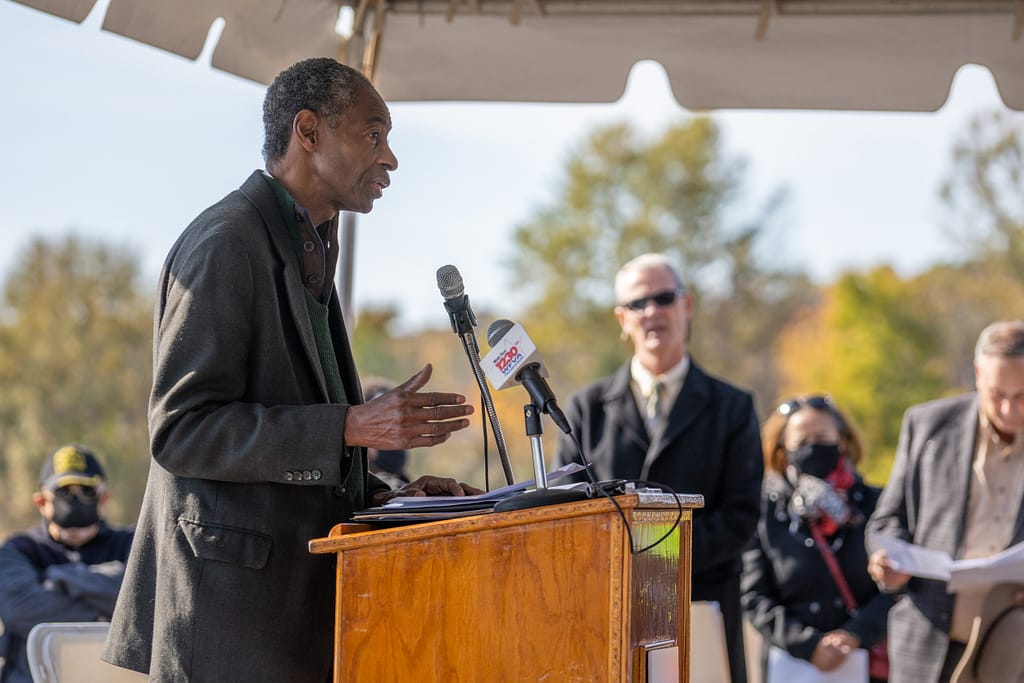 Though troop raids destroyed the original outbuildings and dealt the tavern business a fatal blow, the building remained in the Madden family as a private home until 2017. It still stands today as "a rare relic of pre-Civil War Black entrepreneurship in rural Virginia" and is included in the Virginia Landmarks Register and National Register of Historic Places. In 2001, PEC helped get the tavern building and 199.5 acres of surrounding farmland permanently conserved in partnership with the Virginia Outdoors Foundation and the Virginia Department of Historical Resources.
Madden's great-great-grandson, Bill Madden, unveiled the marker dedicated to the tavern, saying, "I remember many discussions by my dad and other family members about Madden's Tavern and those who passed through its doors. It is remarkable that it still stands today." His brother, Thomas "Obed" Madden III, and Obed's wife Evelyn were present to see their family's legacy recognized. Their sister Thomasene Madden Tarasuk, now in Canada, said she likens the fortitude and stamina of Sarah Madden to that of the troops who fought here. "Like her, the martyrs who sacrificed their lives at Maddensville knew that they were fighting for a greater good—a better existence—for themselves and the Negroes who would come in future generations," she said. Quoting Sir Isaac Newton, she added, "we all stand on the shoulders of giants."
Ebenezer Baptist Church
After the Civil War, African Americans were at last permitted to practice religion freely, and Willis Madden donated land and materials to help establish on Aug. 29, 1867 what was then the African Ebenezer Church just north of the tavern. It was one of the first post-Civil War Black churches in Culpeper County, doubling as a school for many years, and has long been a pillar in the African American community there. When the original church building burned down in 1884, Willis Madden's grandson Thomas Obed Madden, Sr. helped rebuild it, and that building still stands today.
Ebenezer Baptist Church deacons Michael and Betty Turner unveiled the marker dedicated to the church, as the names of its founders were read: Willis Madden, Maria Madden, Jack Davis, Robert Webb, Elizabeth Taylor, Thomas Fields and Henry Gillis. Reverend Douglass Green said, "We thank you for making this possible, because someone who didn't know will now have a greater understanding of why Ebenezer stands here today for 150 years. Prior to 1865, no religious gathering of enslaved or free people of color was permitted without the presence of a white pastor. It was and has remained the purpose, to be devoted to preaching the gospel of Christ."
Addressing the crowd on Nov. 6, Miller noted the significance of the dedication's timing, between the November 2 election when all could vote and Veterans Day the following week. "We're standing here today together as a democracy, and this is part of that. Our story is not always clean, it's a little messy, sometimes it's imperfect. I think collectively we've never given up on the idea that we can work together for a more perfect union," he said. "This commemoration and elevation of the story of the U.S. Colored Troops serve to remind us of the courage and sacrifice of those who fought to save our nation and move it closer to the highest stated ideals of justice and equality."
---
This story appeared in The Piedmont Environmental Council's member newsletter, The Piedmont View. If you'd like to become a PEC member or renew your membership, please visit pecva.org/join.