PEC's Sustainable Habitat Program Manager, James Barnes, often works with landowners in the Piedmont on a one-on-one basis—helping them find ways (and funding) to improve their properties to restore wildlife habitat and water quality. This conservation work is important, and Barnes has worked with many excited landowners. He's realized, however, that to make a lasting difference in habitat resoration in the Piedmont, landowners will need to start looking past their property lines.
"Most of the land in this region is under private ownership," Barnes explains, "and many of the species in decline—like bobwhite quail—have habitat needs beyond the scale of an average landowner. Conservationists need new ways to coordinate the work of neighboring landowners if we are going to make a difference for these species."
So, when PEC received a grant from The Volgenau Foundation in June 2012 to improve wildlife habitat in the northwestern region of Fauquier County, Barnes wanted to try something new. He created the Lower Thumb Run Wildlife Habitat Corridor Project—an innovative model for multi-landowner wildlife habitat improvement in the lower Thumb Run watershed.
"We're trying to get landowners in Fauquier to work together," Barnes says. "Thumb Run is an impaired watershed, so it made sense to work on a project that improved wildlife habitat and water quality at the same time. After all, what's good for wildlife is usually good for water quality."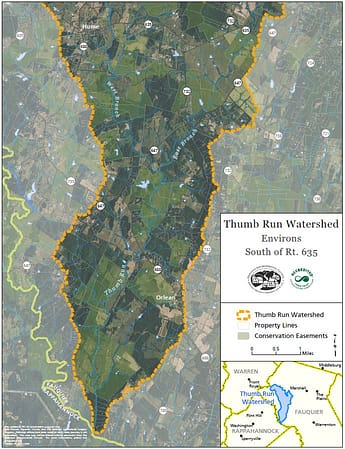 The Thumb Run watershed is listed as impaired due to its E. Colilevels. Restoring the water quality of Thumb Run would improve the health of the Chesapeake Bay and of the wildlife species directly in and around the watershed. Currently, farmers can receive financial assistance to improve water quality, but this does not cover all associated costs. For the Thumb Run project, PEC has partnered with John Marshall Soil & Water Conservation District and Natural Resources Conservation Service to provide farmers in the project area with 100% of the funds needed to implement wildlife-friendly best management practices—such as livestock stream exclusion and buffer plantings in the watershed.
There are over 300 private landowners are in the lower Thumb Run region, and Barnes is beginning to reach out to many of them. He will provide on-site wildlife habitat technical assistance to any interested landowner in the watershed, and joint site visits with neighbors are strongly encouraged.
The project will also feature educational wildlife "field walks," which will be hosted on properties that are successful examples of habitat improvement. The project officially kicked off with an informational open house in November, which was a great success. Over 50 local residents attended the meeting, and the attendees' interest in the work further motivated Barnes.
"From a big picture perspective, I hope to come up with model well beyond just Thumb Run," says Barnes. "From the local perspective, I hope we can help take this watershed off the impaired stream list, while bringing back some species that are either gone or rare in the area. I'm really excited about this project is because it is just as much about building human community as it is building wildlife community."