It all started ten years ago with a phone call to Doug Larson, PEC's former Vice President.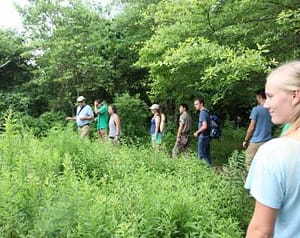 "A prospective donor called him one day and asked if we offered anything that educated the next generation of environmental leaders," said Karen Hunsberger Adam, director of membership for PEC. "We had our internships, but the donor and Doug thought there could be something more."
With his brain wheels turning, Doug worked with staff to devise a detailed proposal outlining curriculum, projects and field trips—and that's how our Fellowship Program came to life.
Boasting 116 alumni since its inception, the seven-week PEC Fellowship Program has helped future environmental leaders gain hands-on experience in a unique mix of topics such as land conservation, land use, sustainable agriculture, energy policy, habitat stewardship, historic preservation, transportation planning and geographic information systems (GIS) with experienced professionals.
We receive applicants from all over the country. Through a selective process, twelve college students are chosen to participate in the summer Program.
"It's a one-of-a-kind program, and it attracts the best and the brightest students," says Mary Liles, Fellowship coordinator for PEC. "Each year, the Fellowship grows into a stronger program, and we continue to be impressed with the participants."
Over the years, we have taken fellows on a variety of field trips across the Virginia Piedmont and beyond. Common outings involve historic sites such as James Madison's Montpelier in Orange County and Brandy Station Battlefield in Culpeper County. Participants of the Program also visit PEC-owned properties Piedmont Memorial Overlook in Fauquier County and Roundabout Meadows near Gilbert's Corner in Loudoun County to learn about land conservation and habitat restoration. Other trips involve local farms, canoeing, Shenandoah National Park, attending a planning commission meeting, the Virginia General Assembly in Richmond and meeting with Coalition for Smarter Growth in Washington D.C.
Fellows end the program by developing and presenting in-depth practicums. Some examples of the presentations from this year included researching how to improve public access to local waterways for recreation, creating an inventory of historic bridges within our nine-county service area, and conducting a survey to assess the pollinating insect population at our Roundabout Meadows property near Gilbert's Corner.
What Former Fellows Have to Say
I consider conservation and preservation volunteer opportunities more strongly since working with PEC. I know these efforts rely heavily on volunteers and have wide-reaching benefits.

– Ben Chrisinger · 2008 PEC FELLOW
Currently a postdoctoral research fellow at Stanford University School of Medicine
The Fellowship Program has influenced me to be more curious about the world in which we live from a greater interdisciplinary perspective. The experiences through PEC are practical and have helped me understand and codify a stronger interest in the field of historic preservation.

– Joseph Mutter · 2015 PEC FELLOW
Middlebury College, Class of 2015
The PEC Fellowship was a once-in-a-lifetime opportunity! I was not only able to refine my knowledge and skills regarding topics in environmental energy policy, smart growth, and agriculture through classroom discussion, but I was also able to learn about these in practice. This method of learning is something that you do not get in the typical University setting and has truly been invaluable to me.

Chantal Madray · 2015 PEC FELLOW
University of Virginia, Class of 2016
During one of our first meetings with PEC's President, Chris Miller, he explained how important it was to choose a career that we love—that we'll spend more time at our jobs than anywhere else. Being around so many passionate people who do so many good things, day in and day out, has been a lesson in itself.

Haley Wilbanks · 2016 PEC FELLOW
Sewanee: University of the South, Class of 2017
---
This article was featured in our Fall 2016 Member Newsletter, The Piedmont View.