The following text was sent out via email on August 31, 2023. Sign up for PEC email alerts →
---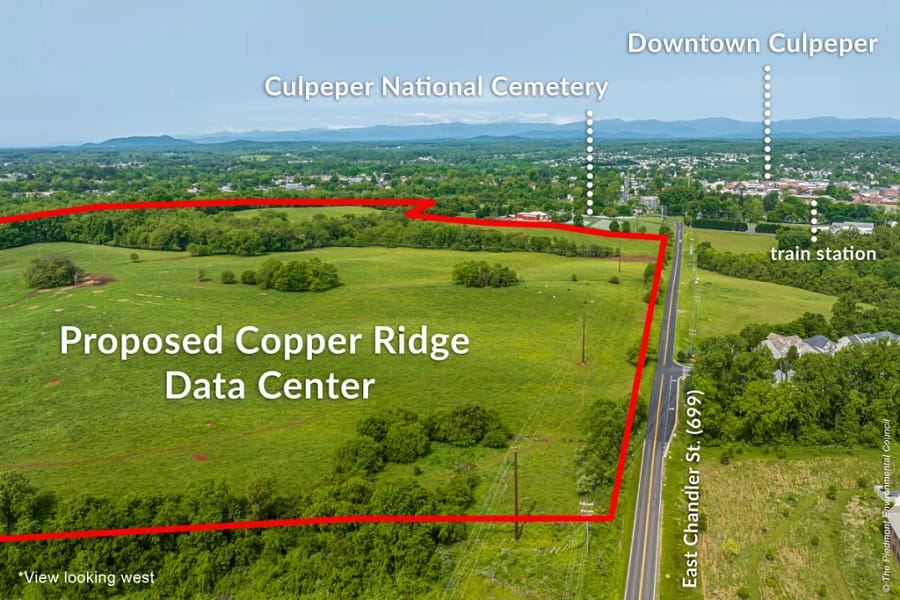 Dear Supporter,
On Tuesday, Aug. 15, the Planning Commission vote on Copper Ridge was tied 2-2, with one of the commissioners having recused himself. The data center campus rezoning now heads to the Town Council on Sept. 12 without a recommendation either way, and we are writing to ask you to weigh in with the Town Council before it votes.
Town Council Public Hearing
Tuesday, Sept. 12 at 7 p.m.
302 North Main Street, Culpeper, VA 22701
While we were hoping the Planning Commission would recommend denial based on the proposal's proximity to homes, tourist areas, and the Culpeper National Cemetery, we appreciate the time and thought that the Planning Commission put into its decision. We would also like to thank the many people who wrote to the Planning Commission. Your input was an important part of the public process and was instrumental in highlighting the gravity of this rezoning to the Commissioners!
A final vote on the rezoning is likely at the end of the Sept. 12 Town Council meeting.
Community awareness of this issue is crucial at this time. Because this proposed rezoning has not been highly publicized, we are concerned that many people who may be affected by this project do now know or understand the implications of a 2.2 million-square-foot data center campus this close to the Culpeper National Cemetery, the Culpeper Historic District and people's homes.
If you have a minute, please consider submitting a letter to the Town Council and sharing this email with friends and neighbors who may be impacted by this development.
And if at all possible, come let the Town Council know what you think in person. The public hearing on the Copper Ridge rezoning will take place at the Town Council meeting at 7 p.m. on September 12 at 302 North Main Street.
Our core concerns about the Copper Ridge data center campus have not changed.
Culpeper has worked hard over the years to develop a sense of place and community that makes the Town a great place to live and plays an important role in the local small-business economy. Data centers, although an important utility, are industrial in nature and should not be sited so close to people's homes, tourist areas, and important and irreplaceable cultural resources like the national cemetery.
The Town and the County have already approved 2.1 million square feet of data centers this year. This level of growth is unprecedented and may have serious, unintended consequences.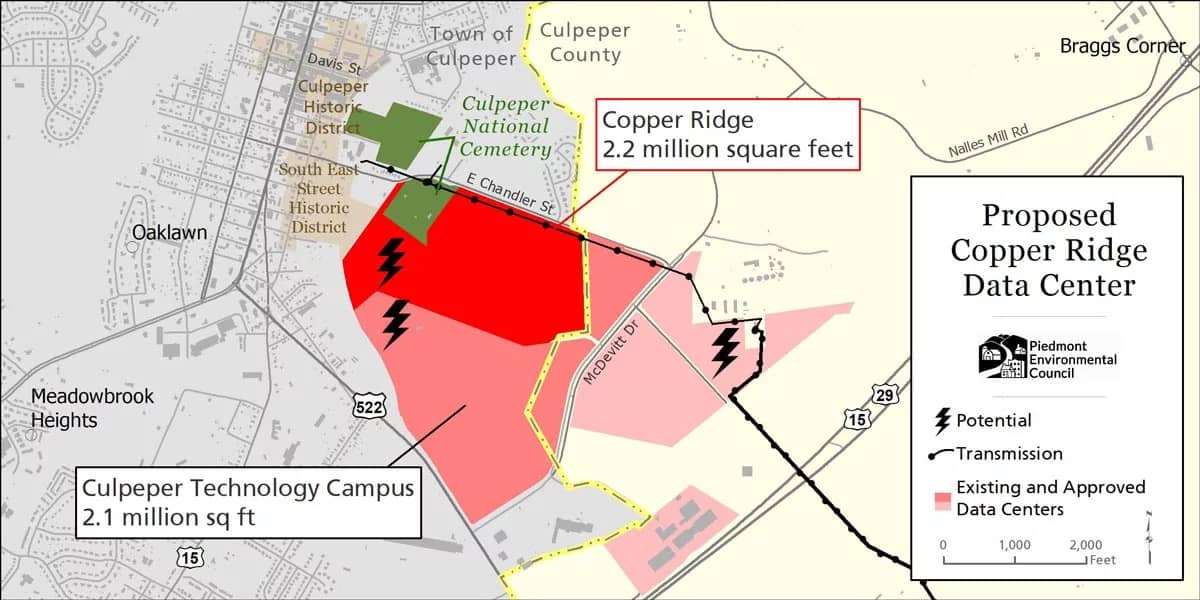 Noise:
In addition to the national cemetery, Copper Ridge would be located within 450 feet of the Mountain Brook Estates neighborhood. Depending on the type of cooling equipment used, homes near data centers can be subject to a constant buzz or humming noise from rooftop cooling equipment and substations. If noise impacts are not proactively evaluated and prevented, this nuisance could greatly reduce the livability of homes, as has been seen in Prince William County and Loudoun County, decrease property values, and create undesirable conditions for other uses like parks or cemeteries.
Unlike Prince William County, the Town of Culpeper has very limited staff to enforce and regulate data centers and can hardly afford a prolonged lawsuit over a noise violation. We have serious concerns about the Town's ability to respond quickly to noise violations to protect the environs of the Culpeper National Cemetery and the health and quality of life of people living within hearing of such a large campus.
Visibility From Cemetery and Neighborhoods:
The Copper Ridge site occupies a hill overlooking the Culpeper National Cemetery. It's hard to see how 2.2 million square feet of data center wouldn't be highly visible, even with a solid perimeter of vegetated buffers (trees will take years to mature). In addition to the potential noise, expanded overhead lines and substation, and extensive perimeter and building lighting at night, the visibility of the data centers would create an industrial feel in the area, which is currently being used as pasture for cattle.
We expect this property to be developed in the future, but given the adjacency of the national cemetery and existing houses, residential development may be more appropriate than a massive data center campus. As the final resting place for over 7,500 veterans, the Culpeper National Cemetery is an important ambassador for the Town of Culpeper; in addition to holding hundreds of memorial services annually, up to 1,200 people will visit the national cemetery to lay wreaths every December. The Town's treatment of the cemetery environs, a reflection of its regard for those who lie at rest here and their families, will not go unnoticed.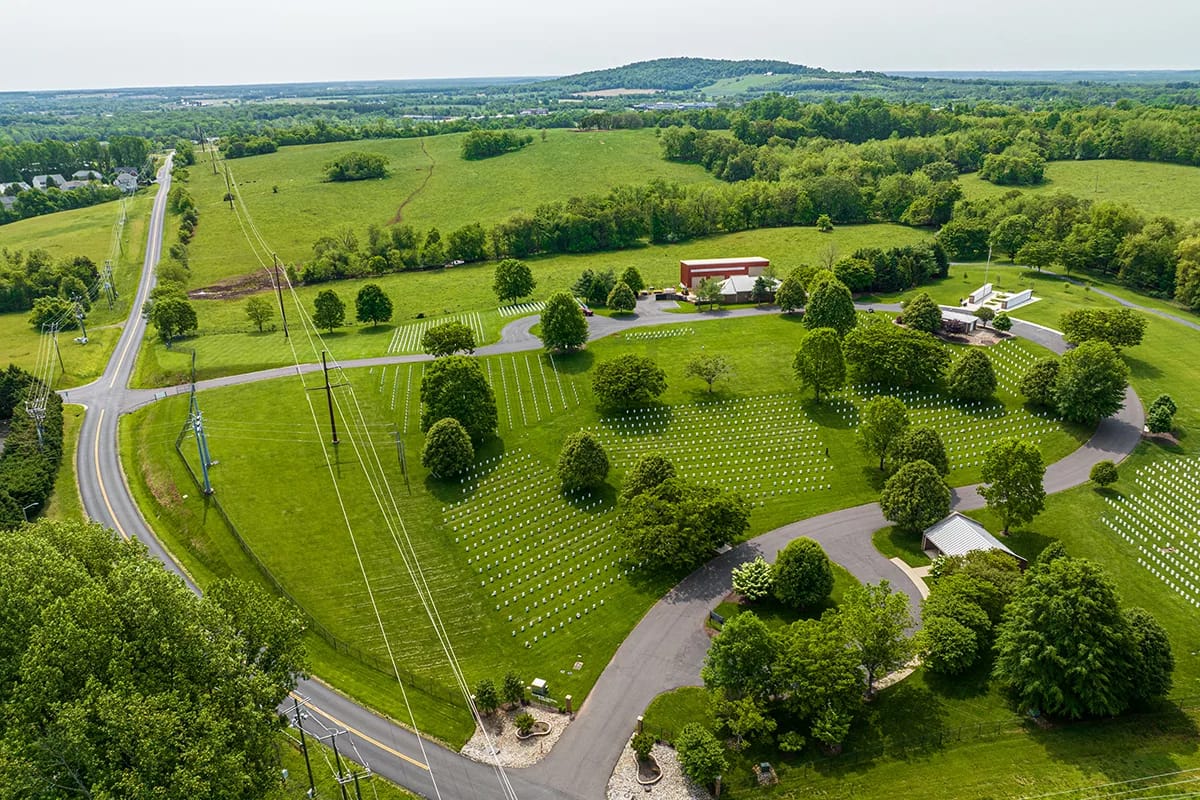 Power usage:
As recent forecasts show, Virginia is seeing alarming increases in power demand from data center development. The approval of massive data center campuses often requires transmission upgrades and/or new lines, which are built at the expense of ratepayers (and not at the expense of the developers) in the form of higher energy bills.
If approved, Copper Ridge will necessitate a transmission line connection to a substation. However, despite encouragement from PEC, the Town has not yet met with the utility to discuss what additional transmission lines and substations would be needed or where they might need to be located.
Just recently, the continued development of data centers in Loudoun County has created an energy transmission crisis that now requires two new 500-kV transmission lines through communities, which will impact sensitive resources such as floodplains and cemeteries. What will skyrocketing energy demand in Culpeper mean to the surrounding grid?
---
Write to the Town Council of Culpeper and if you can, please come and speak at the Sept. 12 public hearing, at 7 p.m. at 302 North Main Street.
Even though this project may not break ground for several years, now will likely be the last time that the public can have a voice in whether or not Copper Ridge happens. I hope to see you on Sept. 12 to take advantage of this last opportunity.
Sincerely,
Sarah Parmelee
Culpeper Land Use Representative
sparmelee@pecva.org
540-347-2334, ext. 7045