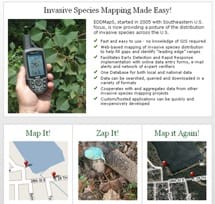 If you think you spot wavyleaf basketgrass, please note:
The location (use GPS if you can)
The owner of the property where the plant is growing
Landmarks to help find the location later
Take photos if you can! This will help botanists confirm the sighting.
To report your sighting, visit the Early Detection and Distribution Mapping System (EDDMapS).
Fill Out The Reporting Form
If you have never used EDDMapS before, you will need to register for a free account before you can report a sighting. To begin, click on the shape of Virginia on the map, or click on "Virginia" in the list of states located below the map to be taken to the reporting form. Required fields are labeled in red.
Note: The "Pest" menu is alphabetized by Latin name, so you will need to scroll about halfway down the menu and select "wavyleaf basketgrass – Oplismenus hirtellus ssp. undulatifolius".
Identify the Sighting Location
Click on "Choose Location" (under "Location Tools") to open Google Maps. Google Maps will open in a new window. If you do not see the window, you will need to adjust your popup blocker to allow popups from "eddmaps.org".
Zoom in and click on the map in the place where the sighting occurred. The latitude and longitude will automatically appear in the boxes below the map. Once you have selected a location, click "Update Report Form" to close the window and return to the reporting form.
Submit Your Sighting
When you are finished filling out the required fields, click the "Report" button located at the bottom of the page to submit your sighting.
If you have difficulty using EDDMapS, you can report a sighting directly to Kevin Heffernan by emailing him at Kevin.heffernan[at]dcr.virginia.gov or by calling him at 1-804-786-9112.
About EDDMapS
EDDMapsS is a web-based mapping system used to track the spread and control of invasive species in real-time. It was developed by the University of Georgia's Center for Invasive Species and Ecosystem Health. Sightings collected through the EDDMapS website are shared with Kevin Heffernan from Virginia Natural Heritage Program for verification.
View the map of wavyleaf basketgrass sightings.