Cycling for Sustainable Cities: A Presentation + Discussion with Ralph Buehler & John Pucher
May 7, 2021
@
5:00 pm
–
6:00 pm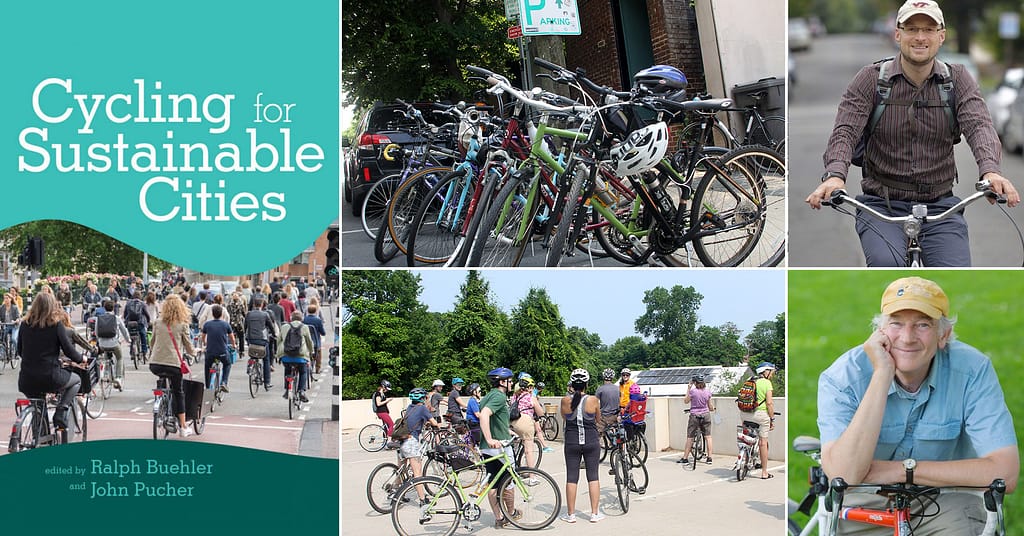 Update: Great News! Thanks to an anoymous donor, the Jefferson Madison Regional Library (Market Street branch) has free copies of the book, while supplies last!!
Celebrate Bike Month (May, 2021) with some inspiring stories about how to make cycling safer for everyone!
Cycling is the most sustainable means of urban travel, practical for most short- and medium-distance trips, as well as for recreation and exercise. Cycling promotes physical, social, and mental health, helps reduce car use, enhances mobility and independence, and is economical for both public and personal budgets.
Researchers Ralph Buehler & John Pucher will talk about their new book, Cycling for Sustainable Cities (MIT Press), which describes ways to make city cycling safe, practical, and convenient for all ages and abilities. They will include trends and policies, and share examples from across America and around the world–with cases similar to our own communities.
PEC is excited to host this free online event which will take place May 7 at 5-6pm (advance registration required).

---
Event partners:
More about the presenters:
Ralph Buehler is Professor and Chair of Urban Affairs and Planning in the School of Public and International Affairs at Virginia Tech's Research Center in Arlington, Virginia.
John Pucher is Professor Emeritus in the Urban Planning and Policy Development Program at Rutgers University's Edward J. Bloustein School of Planning and Public Policy.
They are co-editors of Cycling for Sustainable Cities (Island Press).
---
Since 1972, The Piedmont Environmental Council has worked to promote compact, livable cities, surrounded by distinctly rural lands where farms, forests, and natural systems predominate. In 2021, PEC brought together the Piedmont Mobility Alliance: a coalition of organizations that share a vision of a better-connected community for walking, biking and other forms of active transportation in Charlottesville and Albemarle County.
Questions? Contact Peter Krebs at pkrebs@pecva.org.