The Piedmont Environmental Council's Community Farm at Roundabout Meadows launched in early 2019. In its first season, the farm produced almost 5,000 pounds of fresh fruits and veggies including potatoes, tomatoes, squash, and melons. In 2020, with the onset of the Covid-19 pandemic, food pantries saw need triple almost overnight. In response, we pushed our expansion plans ahead of schedule and tripled our production. Throughout our 2020 season, we welcomed 468 volunteers who donated over 1100 hours of their time to the farm, while following CDC and health department guidelines. Our volunteers harvested more than 25,000 pounds of fresh produce for donation to Loudoun Hunger Relief.
Dana Melby joined PEC's staff in 2018 as the Farm Manager. A native of Frederick County, Virginia, Dana grew up surrounded by agriculture and developed a passion for horticulture at a young age. Prior to joining PEC she worked in a variety of roles throughout the industry, from greenhouse production to orchard management, and every step in between. Most recently she worked for Virginia Tech as a Field Research Specialist where she managed peach, apple, and cherry orchards as well as vineyards.
Dana earned a bachelor's in Ecology and Evolutionary Biology from the University of Colorado. After a transformative experience studying subsistence agriculture in Samoa, she went on to pursue a Masters in International Agriculture at Oklahoma State University. While at Oklahoma State she worked with a local food bank to develop a garden and production plan to supplement their programs.
Visit and Volunteer:
There are several management areas within the 140-acre Roundabout Meadows property owned by PEC. The Community Farm is located on the approximately 40 acres within the triangle created by the traffic circles at Howsers Branch Road, Route 15 and Route 50. The address is 39990 Howsers Branch Dr. Aldie, VA 20105.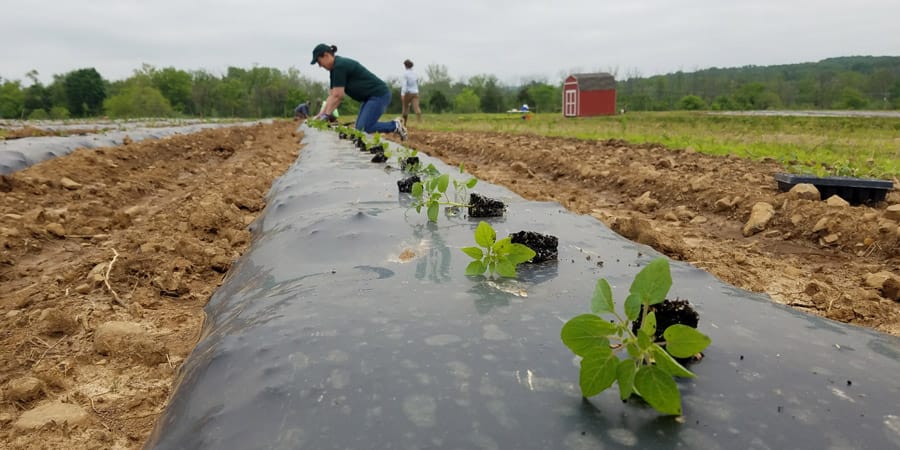 Approximately 80 acres of the property, on the south side of Howsers Branch, is being managed for livestock grazing. In 2017, livestock exclusion fencing, hardened crossings and alternative drinking water were installed. The result has been significant improvements in water quality. In addition, some areas are being converted to native warm-season grasses, with noticeable increases observed over the past two years. In 2018, the lease for the pastures was modified to encourage rotational grazing.
Another 20 acres in the southeast corner is being managed to demonstrate wildlife habitat restoration. Along with the Old Carolina Road roadbed, this area will be accessible for education and passive recreation by a trail being designed in collaboration with Oak Spring Foundation, the Fauquier Loudoun Garden Club, and NOVAParks.
Learn about volunteer opportunities on the farm >>