Volunteers play a vital role in our organization by building additional capacity and by strengthening the connection between PEC and the communities it serves. One of the greatest resources in the Piedmont region is the incredible range of talent and expertise of its citizens, combined by a shared commitment to making our communities better.
New to volunteering with PEC? Visit letsvolunteer.org to get started! PEC has partnered with the PATH Foundation to utilize their free Volunteer Hub to manage our volunteer opportunities. Visit the PEC opportunities page to browse current volunteer roles with us. In order to respond to a specific opportunity, you will need to sign up / log in.
Volunteer in the Piedmont
Show your commitment to protecting and promoting Virginia's Piedmont by becoming a PEC volunteer! Volunteering is not only a great way to contribute to an important cause—there are also many personal benefits:
Have a positive impact on your own community
Meet others who share your interests
Learn new skills and improve your career prospects (or give back during your retirement!)
Gain new experiences and learn more about your community
What are the requirements?
A passion for protecting and promoting the attributes of the region that make it so special (clean air and water, access to fresh & local foods, vibrant small towns, scenic beauty, etc)
A professional and friendly demeanor
Your own personal transportation to and from work locations
Must be high-school age or older (some volunteer assignments may be limited to those 18 and older)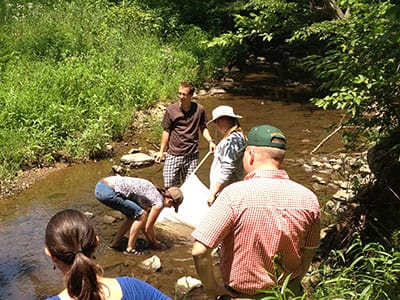 How do I get involved?
In order to make sure we're the right fit for you, please review the list of current PEC volunteer opportunities >>
If you don't see something of interest right now, check back later! You can also get in touch with Robin Cross, rcross@pecva.org, with any questions.
---
Types of Volunteer Roles
Volunteer opportunities will change from month to month and season to season. We find that most opportunities fall within the following general categories:
Advocate
PEC is frequently engaged in local policy discussions related to conservation and land use. Volunteers can play an important role in both educating the general public about current issues and making sure they know how to have their voices heard. Assistance may include circulating petitions, posting flyers that announce public hearings, writing letters to the editor, speaking at community meetings, or planning to host a meeting.
Clerical Work
Most clerical work takes place at PEC's Warrenton and Charlottesville offices, though some tasks can be done at a county office or at home. Projects may include mailings, data entry, preparing materials for a meeting, answering phones or making calls. Some tasks may require special skills, such as familiarity with a certain type of software, while others require minimal experience or training.
Event Assistant
PEC plans and participates in a wide range of special events throughout the year, particularly in the fall and spring. Volunteers may be asked to help with planning, set-up and clean-up, greeting guests, ticket sales, minor food prep, or other work that will help the event run smoothly. We also frequently need help staffing a table or booth at festivals, fairs, conferences, and other events.
Outdoor Work
All outdoor work assignments require some physical ability, though most are not overly strenuous. Projects may include trail cleanups, tree plantings, stream restoration projects, leading hikes, or assisting with conservation easement baseline reports/stewardship.
Specialized Work
On occasion PEC needs assistance from volunteers that have a special skill set or access to special equipment. Examples include photographers, videographers, graphic designers, GIS mappers, surveyors, and more.
Subject Matter Expert
PEC often needs help from experts on a wide range of topics. Work may involve writing/editing a publication, teaching in an educational setting such as the PEC Fellowship Program, leading tours, or presenting information to a governing body. Topics vary widely, and in the case of public hearings, are dependent upon what issue is being discussed. Topics may include but are not limited to water, air, or soil quality, transportation, urban planning, historic preservation, agriculture, and local food systems.
---
Some Past Volunteer Highlights: