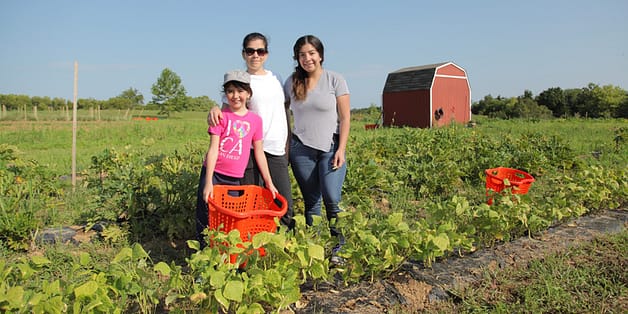 ---
Interested in volunteering? Since its first season in 2019, the Community Farm at Roundabout Meadows has donated over 100,000 pounds of produce to area food pantries. This would not have been possible without the assistance of our incredible team of volunteers. Volunteers help with planting and harvesting healthy food, among other farm tasks. On-site training will be provided. Previous experience is welcomed, but it is not required. Be prepared to work outside in variable weather conditions, get your hands dirty while doing a good deed, and learn about your local agriculture community. All ages are welcome. However, children must be accompanied by an adult at all times. There will be special days scheduled to accommodate the whole family!
Volunteer opportunities for 2023 will begin in late March / early April and continue throughout the growing season. We have multiple opportunities per week during the peak season (May-September). Due to the food pantry's availability to pick up produce, the majority of time slots are Monday- Friday. We are happy to coordinate specific days for groups of 10 or more. Upcoming volunteer opportunities are announced via email to all volunteers who have signed up through Letsvolunteer, LoudounCares or Volunteermatch (links below).
Ongoing Tasks (April-October):
Seed starting, planting, harvesting
Sign up!
If you are interested in volunteering, sign up online at:
You can use any of these websites to sign up!
Corporate and group volunteers are encouraged to schedule in advance by contacting PEC's volunteer coordinator Robin Cross at rcross@pecva.org.
Have other questions? Contact farm manager Dana Melby at dmelby@pecva.org or (540) 347-2334 ext. 7068.
"Volunteering at the PEC farm has been such a rewarding experience. I have had the opportunity to spend time on a beautiful piece of property and learn more about plants and gardening through hands on experiences. Best of all, When the harvesting is done, I know that my work has contributed to better nutrition and hope for the less fortunate by providing fresh produce to the area food bank." – Mary Peterson