Building Strong Rural & Urban Communities
October 20, 2018 09:30 am - 10:00 pm

Location:

Castle Hill Farm, 6132 Gordonsville Road , Keswick, Virginia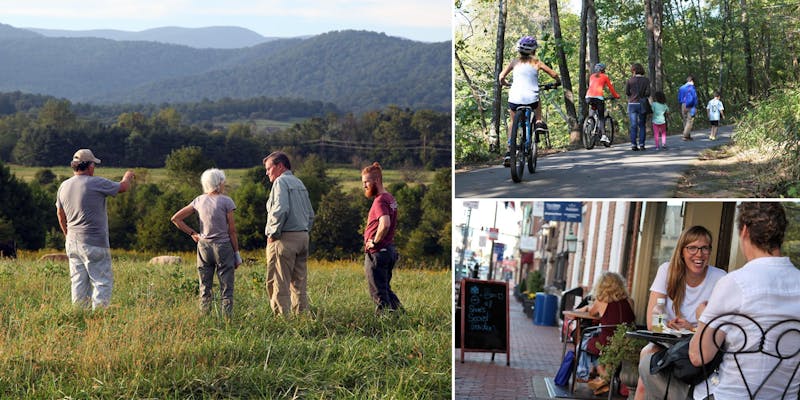 Good ruralism and good urbanism go hand in hand. Come visit Castle Hill Farm, a beautiful, historic property in Keswick for PEC's 2018 annual meeting. Start with light conversation, sit in on a short workshop, and then enjoy lunch while hearing from influential urbanist thought leader, Chuck Marohn of Strong Towns. 
Tickets are $25 for PEC members and $35 for non-members. Lunch is included. Kids under 12 are free. 
Annual Meeting - Schedule of Events
9:00 AM 
Optional walking tour of nearby Verling Park in Gordonsville. Tour led by Peter Hujik, PEC land conservation field representative. Directions: Meet on the corner of Market and Allen Streets, 112 Linney Street, Gordonsville, VA. (15 minutes from Castle Hill Farm)
9:30 AM 
Registration and Meet & Greet. Coffee and pastries available.
10:30 AM 
Workshops (select one to attend)
Georgian, Federal...An Evolution in Style
Led by Ed Lay, architectural historian and Kristie Kendall, PEC historic preservation manager
Professor K. Edward Lay will conduct a walking tour of the grounds and outbuildings of the National Register-listed Castle Hill, one of the oldest extant plantations in Albemarle County. In addition to discussing the architectural history of the buildings, he will share some of the interesting ownerships and evolution of the property through time.

 




Walk / Ride / Run: Better Bike and Pedestrian Connectivity 
Led by PEC conservation field representatives Rex Linville and Peter Hujik
Better bike and pedestrian connectivity can improve health and wellness, expand transportation options, strengthen communities and create opportunities for economic development. Come to this workshop focused on trails and greenways to hear about PEC initiatives in Albemarle, Charlottesville & Orange County.


Whose Dominion Is It? Linear Infrastructure, Solar & The Virginia Way 
Led by John McCarthy, PEC senior advisor and Dan Holmes, director of state policy

 

The decisions we make on energy policy and meeting future demand can have the greatest impact on our communities and the landscape. Join us for an in-depth conversation about the changing face of utility regulation and infrastructure, it's potential impact on on our natural, cultural and historic resources, Dominion's influence on policy and how we can best avoid and minimize those impacts and influence.
11:45 AM 
Lunch served: Catering provided by Jack's Shop Kitchen. Boxed lunches will include sandwich, fresh fruit and chips. Vegetarian options will be available.
12:00 PM - 1:00 PM 
Keynote Address by Chuck Marohn followed by short Q&A.
1:00 PM - 1:30 PM 
State of the Piedmont & Conservation Awards by Christopher G. Miller, PEC President.


---
More About the Keynote Speaker: Chuck Marohn
Charles Marohn is the Founder and President of Strong Towns. He's a Professional Engineer (PE) licensed in the State of Minnesota and a member of the American Institute of Certified Planners (AICP). Marohn has a bachelor's degree in Civil Engineering from the University of Minnesota's Institute of Technology and a Master of Urban and Regional Planning degree from the University of Minnesota's Humphrey Institute.
Marohn is the lead author of Thoughts on Building Strong Towns — Volume 1, Volume 2 and Volume 3 — as well as the author of A World Class Transportation System. He hosts the Strong Towns Podcast and is a primary writer for Strong Towns' web content. He has presented Strong Towns concepts in hundreds of cities and towns across North America and in 2017 was named one of the 10 Most Influential Urbanists of all time by Planetizen.
Questions? Please contact us at This email address is being protected from spambots. You need JavaScript enabled to view it..