Communications Specialist
Warrenton Office
schapin@pecva.org
(540) 347-2334 x7022
Sophia joined PEC's staff in June 2021 as the Communications Specialist. A Virginia local, she graduated from George Mason University's Honors College with a degree in Environmental Science in spring 2021.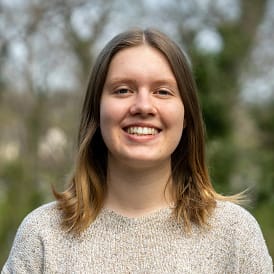 Focusing on conservation, Sophia's studies took her across Northern Virginia: interning in natural resource management at Huntley Meadows Park in Alexandria, VA, studying at the Smithsonian-Mason School of Conservation in Front Royal, VA, and conducting data analysis related to bird habitat in the Blue Ridge with the Clifton Institute in Warrenton, VA.
Her experiences learning about regional conservation, and previous work in communications with the Honors College and Virginia Environmental Justice Summit, led her to pursue her current role with PEC.
As part of PEC's communications team, she creates digital and written content, manages web and social media, and assists staff with emails, publications, mailings, and other outreach efforts.